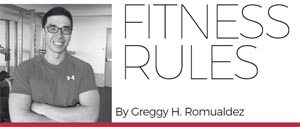 It's difficult to imagine that at one point in his life, Tobias Miguel "Tommy" Tiangco was diagnosed as a morbidly obese 12-year-old kid, who, at 5' 4", weighed 185 pounds.
Fast forward to the present, Tommy, who now packs a ripped, muscular physique into his 167 pound, 5'9" frame, recently bagged the Century Tuna 2018 Superbods People's Choice award. The newly business management graduate of the Ateneo de Manila University is admired for his muscular symmetry, undoubtedly the outcome of countless hours of tenacious gym sessions. The result of a rare kind of gutsy determination that is often misunderstood.
He lifts weights seven days a week with no rest days. Each gym session lasts from 60 to 90 minutes.  "I work out every day not because I have to but because I want to," Tommy said. "The gym is a home away from home. It's a place for me to chase my dreams, and forget about problems or challenges I may be experiencing in other aspects of my life," added the soft-spoken young man whose gentle demeanor belies the hulking physique.
Tommy shared that during his obese period, he did suffer from bullying, teasing and body-shaming. This led him to try crash dieting, and eventually got him into lifting weights at the age of 18. "My dad got me a personal trainer. He wanted me to be able to build my dream physique in a sustainable and healthy way. This is when I instantly fell in love with lifting weights," he said.
At first, Tommy intimated that he began working out to gain admiration and recognition from others.  However, it soon progressed into a passion that went beyond seeking validation. "My motivation ended up becoming the passion I found in fitness." For now, being a new graduate who is ready to take on the challenges of the working world, he is keeping his options open, and that includes a career path geared toward fitness.
His current workout program is a mix of bodybuilding and powerlifting exercises. His one repetition maximum for deadlifts is 485 pounds, and he can squat 385 pounds. He benchpresses 225 pounds for five sets of five repetitions.
Here is his sample workout split: Monday, chest and biceps; Tuesday, back and triceps; Wednesday, shoulders and abs; Thursday, legs. Then he repeats the cycle without a rest day in between.  The volume of his cardio is situation dependent. Now that he just finished a competition, he is keeping it at two to three times a week. When preparing for a contest or photo shoot, he ramps this up to five to seven times a week.
Nutrition-wise, he keeps track of his macronutrient intake to make sure that his fitness goals are met. When on a cutting/shredding  cycle, for instance, he goes on a caloric deficit by consuming 2,600 calories with the following macro-nutrient breakdown; 40 percent protein, 35 percent carbs and 25 percent fat.
Moving forward, Tommy's goal is to bulk up and gain additional muscle mass to enable him to compete and place in a men's physique division contest.  "I know the road ahead may be intimidating and scary, but it is only through going out of our comfort zones that we grow as individuals," he shared.
After recently winning the Gold's Gym 2018 Mr. Fitspiration  Philippines Youth title, more people have looked up to Tommy and sought his advice on how to achieve their fitness goals. "Fitness is a journey, it's not a destination. It's not just a one-hour session in the gym, or a few healthy meals. It's being able to incorporate the correct nutrition accompanied by a well-constructed training program into one's lifestyle," he wisely said.  "The journey will not be easy, but believe me, it's definitely worth it," Tommy stressed.
If there's one thing that Tommy Tiangco has shown the world, it's the drive and determination to get things done. The character that he has built out of his passion for fitness makes this young man not only a fitness inspiration, but someone to watch out for in the world of fitness and beyond.