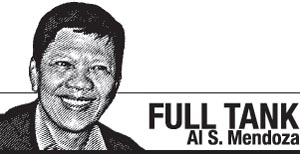 To get to plush Bonifacio Global City (BGC) in Taguig from Commonwealth Avenue Quezon City via Edsa, you need at least 30 minutes by car for a distance of roughly 27 kilometer. That is, if you leave home at between 4 and 5 a.m.
The Lexus Manila Inc. office/showroom in BGC was my destination on February 23.
"Sir, please, you need to be there before 7 a.m.," said the calm and composed Winda Payade.
Winda was the secretary of Danny "Sir John" Isla when Sir John was Lexus president until his retirement in 2016. Winda is now the secretary of Raymond T. Rodriguez, Sir John's superbly-fit successor.
"Sir, you will share a ride with a Lexus customer from Cebu going to Santa Elena," Winda said.
Santa Elena is the beautiful course in Cabuyao, Laguna—so well-manicured and meticulously maintained because of Junie Ledesma and Mary Grace Estuesta, the distinguished duo behind everything beautiful about the course; not to mention that the food there is probably one of the best, if not the best, in the whole golf course business.
For a bit of trivia, Santa Elena has been the home course of the Lexus Cup Invitational since Sir John unwrapped it in 2011 in unison with Lexus Chairman Alfred Ty.
I didn't leave house at 5 a.m. but at 5:30 a.m.
I had aimed for a 6:30 a.m. arrival. I missed it.
A "little" traffic at Edsa.
A little traffic at Guadalupe Bridge.
I got to Lexus at 6:47 a.m. Still perfectly fine. Winda was happy that I arrived before 7 a.m.
Joel T. Ong, the man from Cebu, was at Lexus also on time.
Onboard the extra-spacious GLX en route to Santa Elena, Joel asked of me: "What do you do for a living?"
"I write, Sir," I said.
"Oh, nice to know that," he said.
"How about you, Sir, I reckon you are a businessman?"
"Yes, I am," Joel said.
"I am in the electrical business.  Lights, wires, switches."
Joel would soon tell me, over breakfast (he copied my menu of fried daing na bangus, eggs and rice), that he also used to write.
"But my writing was confined to brochures on sales and marketing regarding our products," said Joel, who would only take coffee after breakfast "because if I had coffee while eating, I'll be struck by acid reflux."
Joel boasts of a colorful life.
Stateless once, he would be a dual citizen: Chinese and Taiwanese.
"I had two passports, one from Taiwan and another from Mainland China," said Joel, who was born here to parents originally from Xiamen, China.
Finishing a course in Statistics—he has a Master's—he would work in several countries like Belgium, Taiwan and the United States.
"I was given a choice once between working in Houston or in Taipei," he said. "I chose Taipei because over there, my car was a BMW. I junked Houston because they were giving me a low-end car."
Joel, who took his Master's in Loven near Brussels, finished outside the Lexus Cup winners circle, but he said, "I'm happy to have won new friends here."
Joel, a proud, brand-new owner of a Lexus RX, said he'd be bringing to Cebu fond memories of his first Lexus Cup that also drew the participation of top government officials like Executive Secretary Salvador C. Medialdea, Tourism Assistant Secretary Frederick M. Alegre and Ambassador Haneda of the Japanese Embassy.
I was pleasantly surprised to learn that Medialdea knew me from Adam, extending his hand for a warm handshake when we were introduced.
"Kumusta ka na, Al" he said, as if we've known each for so long.
"He knows you very well," said Davao's Boyet Lim, Medialdea's longtime buddy whose monster drives are a sight to behold.
I'm flattered.
Because Lexus is known to give it its best shot at all times, its dinner was a treat to remember. It consisted of crab and mushroom bisque for soup, with the main  course named "Surf & Turf" of chili soft shell crab served with fried mantou, pan seared lapu-lapu with tomato eggplant/mango confit, USDA tenderloin with rosemary sauce (served on truffle mashed potato and accompanied by a vegetable medley). For dessert, we had fresh fruit sabayon, served with durian ice cream. For our after-meal drink, what else but Macallan single malt.
After dinner, I got a bonus bottle of Macallan from jolly Mario Chan, whose generosity is legend.
Will Joel come back for the 9th Lexus Cup?
Theoretically, only the 2018 Lexus buyers can qualify for the 2019 Lexus Cup.
"But if I buy the NX, I have to convince my wife first," he said. "She is the boss."
In his speech, Ty said, "My only significant participation in this year's tournament was choosing the T-shirts that we wore during the round and during dinner. I hope you like them both. Thank you. Enjoy the rest of the evening."
Applause.
Simplicity, indeed, is beauty.
Here are the winners: Lexus Division—Danny Isla; Guest—Anton Cabangon; Ladies—Bing Liboro champ, Mika Kubota second; Division 2—K.R. Santos champ, Fernando Yap second; Division 1—Oh Yoong Jun champ, Sonny Lao second; Low Gross—Raymond Lacdao champ; Overall Winner—JP Reyes (1 eagle over Lacdao).
PEE STOP As per our dear friend Sarah Azucena-Reodica from PLDT, the MVP Media Golf Cup will stake anew a car as a hole-in-one prize on March 2 at the Manila Golf Club inside exclusive Forbes Park. This will be the tournament's sixth year, an event that traditionally puts together media personalities in flights with Smart, PLDT and other MVP-connected executives to foster friendship under a format filled with fun, relegating competition as merely second fiddle. Good luck, fellas.
Latest posts by Al S. Mendoza (see all)