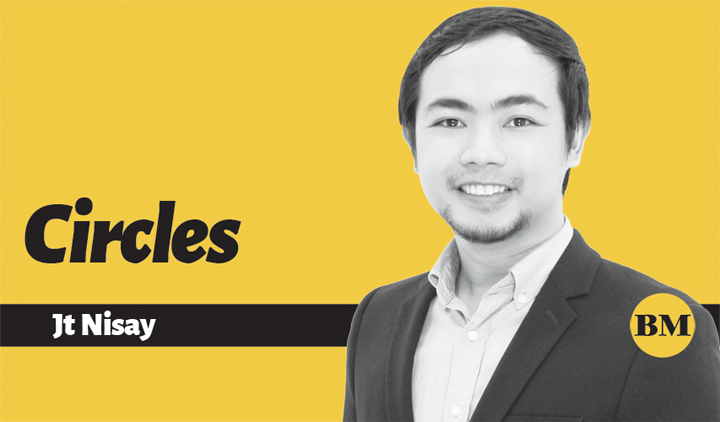 WHAT the great Filipino artist Juan Luna proved in winning the gold medal at the 1884 Exposición Nacional del Bellas Artes in Madrid with his masterpiece Spoliarium stands to this day: Filipinos are world-class.
Such is the belief of visual artist Kenneth Montegrande as he attempts to strengthen his presence in the global art landscape. Noted for his poetic brand of abstract expressionism that captured the local art market, the self-taught artist made waves worldwide last year with his debut international exhibition in New York. Montegrande is set to follow up the act next month with his second solo abroad in another major art market, this time in Hong Kong.
"Pasok ang galing nating mga Pilipino sa lahat ng industry, at sa art, pinatunayan 'yan ng isang Juan Luna," said Montegrande, who's fortifying his case to join the ranks of Ronald Ventura and Andres Barrioquinto as eminent Filipino global artists. "Gusto nating patunayan ulit na ang Pilipino, may pwesto sa international arts scene."
Montegrande first proved his case in 2018 when he caught the attention of renowned Japanese mega-art collector Yusaka Maezawa. Six of his works have been selected to join the collection of Contemporary Arts Foundation, founded and directed by Maezawa, earning Montegrande the title of the first Filipino and Southeast Asian artist whose works are housed in the prestigious collection. There, his artworks reside with several acclaimed pieces, including a world record-breaking Basquiat and select artworks of internationally renowned artists like Picasso, Christopher Wool, Jeff Koons, Bruce Nauman and Alexander Calder.
While Montegrande had been a rising star at that point—with his works calling into mind the techniques of Jackson Pollock and Willem de Kooning, as well JMW Turner, Claude Monet, and Rembrandt—the Maezawa distinction carried him to new heights. He became much more coveted by galleries and collectors, while achieving new feats along the way.
In 2019, Montegrande became the youngest artist to exhibit at the Malacanan Palace Museum. He has also been featured as a guest artist in museums like Fundacion Sanso, where he shared the spotlight with Presidential Medal of Merit Juvenal Sanso.
After impressing the Western market in his sold-out New York solo, Montegrande turns his focus to his upcoming Hong Kong showcase. Making the exhibit more special is the debut of Montegrande's moonscape series, which is inspired yet again by his faith-based messages of divine love.
"We always have to remember na laging nandyan si God, always lighting our paths," he said. "He is so great that He gave us the sun to light up our days and the moon to light up our nights. In this show, sana ma-appreciate natin na kahit gabi, kahit madilim, God is always there providing us with light even in the darkest moments."
The moon proves to be a natural addition to the scenes of Montegrande's moving trifecta of seascapes, cloudscapes, and seascapes. It heightens the dramatic effect as a light source that breaks through the clouds and bathes the land and sea below.
Montegrande's Hong Kong show will be hosted by Galleria Camaya. It will open on November 15, with the opening reception set at 6pm at the Visual Arts Centre at 7A Kennedy Road, Hong Kong Island.
The debut of Montegrande's moonscapes comes on the heels of another series launch. The artist rolled out in his recently concluded exhibition with Provenance Art Gallery the lighthouse series, which also featured a new fitting element to Montegrande's scenes.
The altruistic artist also continues to help those in need through his art. After assisting Fine Arts scholars through Fundacion Sansó's active scholarship program in a previous exhibition, Montegrande will donate part of his proceeds from the Hong Kong show to the International Care Ministries (www.caremin.com). The organization has been providing help, hope and change to impoverished families for 25 years.
Montegrande believes it is only right to give back and to continue to serve as an inspiration through his art. He also believes that while he has made remarkable progress in his career, many more talented Filipino artists deserve to be known.
"My hope in these international exhibitions is to ultimately widen my collector base, and to have my artworks reach more countries and inspire more people," said Montegrande, whose foreign invasion will reach Europe early next year with a scheduled solo in Milan, Italy. "Through my artworks, I want to tell the world about the remarkable talent of the Filipino people."