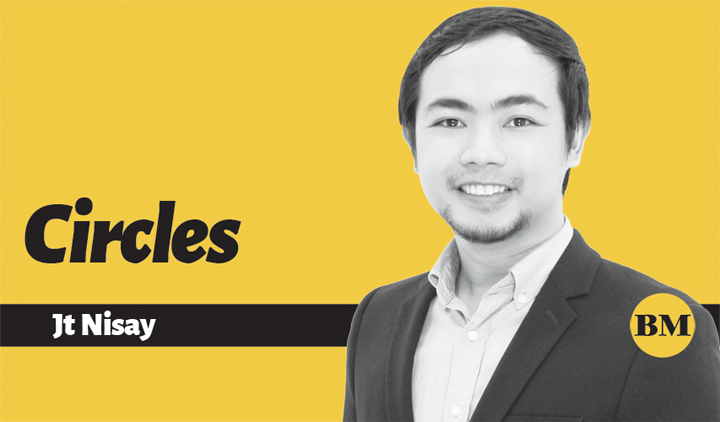 SET to open next Thursday, October 5, at Silverlens Manila is a pair of solo exhibitions featuring mid-career artists who captivate with visual narrations of personal experiences.
Yasmin Sison presents yet again autobiographical paintings as she has done for over two decades in shows here and abroad. In her upcoming exhibit, titled Time is a Restless Sea, the artist illustrates fleeting, intimate moments with her subjects set against a grand backdrop of vast sea and sky. The theme alludes to the notion of eternal recurrence by German philosopher Friedrich Nietzsche, who posits the never-ending looping of time.
"The cosmos is constantly roiling like a tempestuous sea," says Sison, who graduated from the University of the Philippines with a Bachelor's Degree in Humanities and then in Fine Arts with a major in Painting.
The artist was a member of the collective Surrounded by Water, and is the recipient of the Cultural Center of the Philippines Thirteen Artists Award in 2006. She was also shortlisted for the Ateneo Art Awards the following year. Sison has exhibited her works in both solo and group formats in the Philippines, Malaysia, Singapore, and New York. She has participated in international group exhibitions in Belgium (2000), Singapore (2002) and Italy (2009).
Opposite Sison's presentation is that of Bicol-based painter and printmaker Maya Muñoz. Her show, titled Drift and Vapor, figures as the artist's fourth solo with Silverlens Manila.
Muñoz takes the audience to the landscapes and communities that fill her every day. The new series of works explores expanded printmaking combining a screen-print process with painting and photography, resulting in a textured effect that mimics a faint memory.
The unique mixed treatments of Muñoz are the results of two years' worth of experimentation, wherein the medium becomes the art in itself.
Time is a Restless Sea by Yasmin Sison, and Drift and Vapor by Maya Muñoz will begin its month-long run at Silverlens Manila next Thursday, October 4. The gallery accepts walk-ins from Tuesday to Saturday, from 10 am to 6 pm.