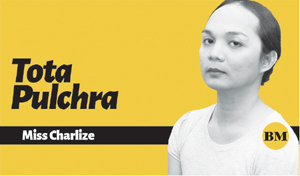 Sweden is a world leader in beauty: Greta Garbo, Ingrid Bergman, Lisa Fonssagrives, Anita Ekberg, Ann-Margret, ABBA, Yvonne Ryding, Marcus Schenkenberg, Vendela, Alexander Skarsgård, and Elsa Hosk.
With Greta Thunberg, the environmental activist, Sweden is leading the way for climate-change mitigation. Now, a future-friendly fashion industry is emerging. And, once again, Sweden is at the forefront.
The "Fashion Forever" event, held at the SM Aura Premier in Taguig City from September 8 to September 14, presented Swedish innovations, technology and collaborations that promote garment longevity and zero-waste production in textiles.
It was an exhibit on circular economy in textiles and fashion, in partnership with the Swedish Institute, SM Supermalls, and Swedish fashion brand H&M. "Fashion Forever" will be brought to other venues in the Philippines, including Cebu Design Week in November to find more ways for Filipinos to be sustainably stylish.
The other exhibitors are Zarah Juan and Lily of the Valley by Camille Escudero, who utilize local weaves, artisanal skills, and made-to-order processes to avoid excess production. Juan and Escudero are graduates of the Sweden Alumni Network, along with Anya Lim from Anthill Fabrics.
"Sweden and the Philippines have had bilateral relations for more than 75 years. With every year, our relationship strengthens and deepens, especially in the area of sustainable socio-economic development and climate action," Swedish Ambassador Annika Thunborg said in her speech.
The devastating impact of climate change are now seen and felt all over the world, including both in Sweden with a winter climate and in the Philippines with a tropical climate, with severe negative effects on flora and fauna, and on biodiversity.
"There is only one thing we can do to keep this development at bay and start to reverse it and this is to cut emissions of fossil fuel completely to reach zero net emissions. The demand for sustainable and green industries is increasing, pushing companies toward more circular business models—in energy, transportation, and textile and fashion," the ambassador implored.
"My government has put textiles high on its agenda. Becoming a world leader in sustainable fashion production and consumption is a key part of the national drive to achieve the global sustainable development goals of Agenda 2030 and the Paris Agreement on climate change," stated Thunborg.
The fashion industry is a big polluter and carbon emitter, Thunborg attested. She added that far too many textiles end up in trash bins and landfills, regularly thrown away with household waste. Each year, she said, 4.3 million tons of textile waste is deposited or incinerated in the European Union. "Through the integrated work of fashion retailers, design schools, and science parks in Sweden, supported by the Swedish government, the fashion industry can continue to be creative, exciting and lucrative, all while being kinder to the planet and better for the consumer," Thunborg assured.
Jonjon San Agustin, SM Supermalls senior vice president for marketing, deemed the exhibit as timely.
"It draws attention to the importance of sustainability and promoting a circular economy, and we look forward to hosting the exhibition in other SM malls in the country," said San Agustin. "SM Aura was the first mall to achieve the prestigious LEED Gold certification in the Philippine retail sector for meeting and exceeding international standards for its green features which help minimize waste, maximize efficiency, and safeguard resources."
San Agustin added: "More broadly, SM has long put in place initiatives to ensure our entire business operations are sustainable and environment-friendly by focusing on practical solutions for energy efficiency, solid waste reduction and water conservation, among others."
Meanwhile, Dan Mejia, H&M South Asia regional head of communications and PR, shared his company's virtues and visions: "We have a long-term perspective on working with sustainability. The term is not 'working with sustainability' but doing what we do in a sustainable way. And in H&M's case, the company has been doing it for close to three decades now.
"Our vision is to lead the change towards achieving a circular fashion industry with net-zero climate impact, while being a fair and equal company. To make that vision feasible and tangible, we look at our entire value chain—from design to raw materials, to manufacturing, transportation, to selling, to customer use, and post-consumer use.
"But despite all of these, we acknowledge that we are part of the problem…not exactly the opening statement you would expect from us, but that is the truth. By we—I refer not only to H&M but to the entire fashion industry—we all have a stake here. Now we may be one of the largest fashion retailers in the world, but we only represent two percent in the market. To move the industry to be truly fully sustainable, we need the other 98 percent to join in.
"There are still a lot of challenges, loopholes in the business model, criticisms and reports that go along with it, and we take these matters seriously by working with relevant stakeholders to find solutions together. This is, after all, an industry-wide problem and not something we can solve on our own.
"And let me end this with a quote from our CEO Helena Helmersson, who said, 'Cooperation must take place in our industry. We have implemented so many measures in recent years, but the system is not in place yet. We need to do more.'"