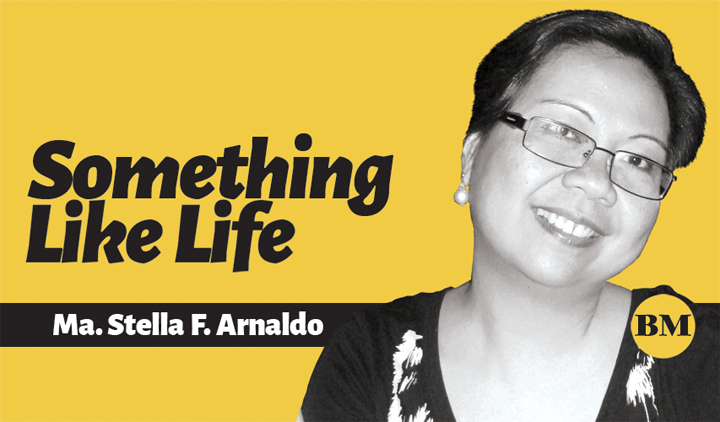 LIKE many Filipinos growing up in the late 1980s to early 1990s, I looked forward to every Thursday when I could sit in front of the TV and listen to an hour of just simply beautiful music, many of them original Filipino tunes, sung by our country's finest and celebrated singers of the day like Basil Valdez, Dulce, The Company, Louie Reyes, Kuh Ledesma, to name a few.
The show was Ryan, Ryan Musikahan, which featured prolific composer Ryan Cayabyab tickling the ivories, while his guests crooned their iconic tunes, his compositions, and a few American standards. The show opened with two wide shots of Cayabyab's fingers tippling the piano keys as he played a jazzed up version of his Metropop-winning hit "Kay Ganda ng Ating Musika."
So I can't really picture Mr. C, as his friends and fans call him, with anything but a piano. Which is why I was pleasantly surprised when I found out from a friend that Cayabyab is now a painter as well. Apparently, he picked up a paintbrush as a hobby while the Covid-19 pandemic raged, and artists and musicians lost their gigs.
Prior to that fateful day in March 2020 when the entire country shut itself away from the entire world, Cayabyab was usually swamped with so many activities—performing, conducting orchestras, composing or arranging music, as well as teaching. "But when the pandemic happened, I suddenly found myself inactive for the first time in a long time. There was a lull, and I had to fill it somehow," he explains.
The pandemic was a time for reflection for many, and it allowed Cayabyab to turn to his past to fill the empty, idle hours. Unknown to many, the composer also grew up around visual artists, so even at an early age he was already exposed to the craft. Paints and canvases were things commonly found inside their home (even as it also doubled as boarding house for music majors).
Relatives who stayed with his family painted all the time, so it should probably come as no surprise that he would become fascinated with the visual arts as well. In fact, Cayabyab even placed third at the YMCA National Painting Contest in 1968, when he was 14. Despite the near-win, he didn't think of painting as a serious career, deciding instead to enroll initially as a business administration major, then because of a scholarship as a music major at the UP College of Music (Cayabyab's mother, Celerina Venson Pujante, was an opera singer and faculty member at the college of music).
He thrived in and around music, with many of his compositions becoming great Filipino standards (or "classics" as the Millennials will probably describe them). All his hard work paid off. He was named National Artist for Music in 2018, then a year after was the lone Filipino recipient of the Ramon Magsaysay Awards.
Cayabyab surprised himself when he started tinkering with paints and brushes again, more than 50 years after his third place win at that national painting contest. "Out of curiosity, I bought a tube of cheap black acrylic paint. I know what oil paint is and what watercolor is, but I had never encountered acrylic.
When a friend mentioned that an acrylic painting can sometimes look like an oil painting, and can also sometimes be treated as watercolor, this got me triggered. I was so excited working with my first black-on-white paper acrylic. Immediately after, I bought red, yellow and blue. Para akong bata na nagkaroon ng bagong laruan," he laughs.
"When I posted my first acrylic works on paper, maraming nagkagusto. But they are my friends, so gets ko naman na supportive sila," he adds. "But when I started posting my canvas paintings, nagbago ang ihip ng hangin. My friends wanted to buy them. I was surprised, but happy. Ayun na, I began to paint and paint and paint and paint. Since walang work as a musician, I spent more time painting and enjoying the process."
Since that first "experiment" more than three years ago, Cayabyab has produced quite an impressive body of work that his friends kept encouraging him to mount an exhibit. They were willing to buy his works, they said. Some of them even asked if they could commission a painting.
The interest in his paintings tickled him, but he had to park the idea of an art exhibit as the world started to reopen in 2021. Cayabyab's days started becoming jampacked again as people were gradually allowed to gather in large groups, and a stream of musicals, concerts, plays and other live performances began in earnest and packing many venues.
Although his time for his painting hobby got tighter, he didn't abandon it. The LandBank of the Philippines, in celebration of its 60th anniversary, recently commissioned him to produce a 10 x 17-feet acrylic-on-canvas painting which now hangs at the bank's main office lobby. "We initially discussed about me writing a song for their anniversary, but in a talk during the bank's planning conference, I casually mentioned redicovering my love for the visual arts. So they commissioned me to do a painting on top of the anniversary song," Cayabyab chuckles.
Amid the flurry of musical activities he again finds himself, Cayabyab will finally be mounting his first art exhibit on October 21 at the Powerplant Mall.
"There's no profound reason why I want to put up an exhibit. I just want to show a collection of art pieces that reflect my current state of expression—after re-discovering color and texture in the visual arts," he says. Curated by artist Nell Belgado, the exhibit will showcase Mr. Piano Man's fun and spontaneous art pieces—a true reflection of his personality.
Cayabyab describes his music-making and painting styles to be largely the same: unplanned and spontaneous. There is no blueprint or roadmap in his head of what he wants to compose or paint. There's a seed of an idea, of course, but nothing is fully formed and just awaiting execution. This general picture, however, continually evolves as the process of creation progresses.
"The more unplanned and spontaneous the creation, the more satisfied I am with the final product. And it is the same when I start to work on a song—I don't stop until I have completed the entire song in one sitting—with mental notes to revisit the work after a day or two to make minor adjustments. The important thing is the structure and the general feel have been laid down. With bigger works that may take more days or weeks, I work like a machine that knows where to continue exactly where I left off," Cayabyab says of his process.
While music will continue to be the center of his life, Cayabyab is happy to have rediscovered his love for the visual arts, and will continue painting whenever he can. His works color our lives not just through music, but through his paintings as well.