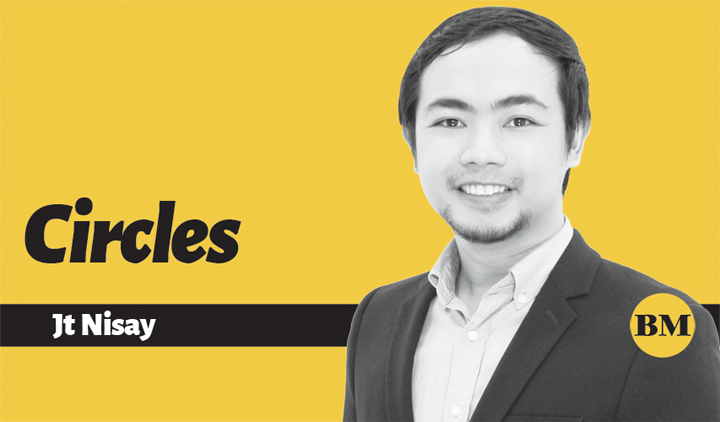 IN the copper-colored world of Filipino sculptor Ram Mallari, where zeppelins rule the sky and sprawling landscapes of scrapheap stretch far into the horizon, everything lives in perpetuity.
After all, how can these whimsical creatures and structures die—or, at least, die again—if every bit of their being has already surpassed their supposed end? Every screw, every nut, every bolt that serves as the building block of this fantastic realm were all once dismissed as trash. But through the mighty imagination and magical welding rod of the artist-creator responsible for all this, the junk now finds a second shot at life, serving an even greater purpose as steampunk sculptures.
Mallari figures as one of the Philippines' foremost sculptors. However in the list of top local proponents of steampunk, which takes inspiration from the aesthetics of the Industrial revolution and Victorian era, his name registers not just as "one of the" but the "top one."
His bold and brilliant artistic expression has taken shape as countless figures through the years. Mallari's renditions of grandfather clocks, chess sets, even busts of Marvel superheroes, for instance, are now among the favorites of the country's art-collecting who's who, including the rich and powerful.
It is then easy to visualize that for someone as highly regarded and much coveted as him, Mallari would act like the creator of a world that he is. But having met the artist in his home one lazy Sunday afternoon, wherein he shared his beginnings and preparations for his upcoming showcase at ManilART 2023, the impression proved to be far from the truth.
STEELY SCULPTURES, SOFT DEMEANOR
WE reached Mallari's home in Dinalupihan, Bataan, a few hours before lunch. Our early arrival caught him by surprise, and the gracious host instantly apologized for failing to change to a dressier attire, having gone from the wet market where he bought fresh seafood to be served at lunch.
"Pasensya na ha, nakakahiya," said the smiling Mallari, whose humility almost belies his status as an artist. Here is a man who brought to life a whimsical fantasy that captured the imagination of a bygone era, feeling so embarrassed in his slippers and shorts, that he first said sorry before saying hello.
Mallari's success as an artist surrounded us. Up front where we sat was the entrance to his full-scale studio the size of a mid-sized warehouse, complete with heavy machinery, an office and more. To our right was the rest of his family compound, and on the left was the site of Fort Malasimbo, Mallari's soon-to-open art museum that will feature a larger-than-life airship envisioned to become the world's largest steampunk sculpture. Yet, even in the presence of his fruitful rewards, the artist remains grounded and affable.
Mallari didn't have much growing up. He was born in Manila's Payatas area, which was once infamous as a dumpsite for neighboring cities. Living with scavengers and junkyard operators who salvaged scraps, instilled in the young Mallari the idea of viewing discarded objects in a different light.
Entering college, he was motivated in his passion for drawing and planned to take lessons in cartooning. He credits popular Filipino cartoonist Larry Alcala as an inspiration. However, pressed by the urgency to provide for his family, Mallari pursued architecture and eventually found himself studying as a draftsman.
Mallari worked in the Middle East before heading back home and setting up his own welding shop. He mostly fabricated window grills and gates. On a whim, he decided to fashion a motorcycle from metal scraps lying around. Mallari got the hang of the process and proceeded to create a human figure, then a helicopter.
His collection grew and, eventually, his reputation.
THE 'WOW FACTOR'
Mallari knew nothing about steampunk art. It wasn't until more and more people told him that his works classified as such that he researched about the genre and owned it as his creations' identity. Yet, he had a hard time accepting what he did qualified as art.
"'May bibili ba niyan?'" Mallari remembered saying to the gallery owner who offered to mount his debut exhibition as an artist—a solo showcase, at that. Not one to back down from any challenge, Mallari agreed to do the show anyway.
He recalls "studying" the market prior to his exhibit. "Studying" meant standing across the street from the exhibition space in Mabini and observing which passersby, whether walking or driving, would pay a glance through the window at the displayed artworks.
He noted that not many looked at the prior exhibition. That's why coming into his own show, Mallari was bent on making a mark. He wanted his pieces to catch eyes and attention by delivering a "wow factor."
Mallari requested to co-curate his show. He wanted his statement piece, a captivating steampunk tiger, placed where people could easily spot it. He returned to his outpost and observed once again. This time, looks lingered. A foreigner even parked his car to enter the gallery.
From that point on, Mallari has been drawing "wows" and people can't take their eyes off of his artworks.
A FITTING CELEBRATION
IN his Bataan home, the artist looked back at his career thus far with nothing but pure joy. It wasn't all smooth sailing, sure, but Mallari is never one to hold a grudge, much less pay attention to anything negative. He draws positivity by always exuding positive energy.
Mallari prefers to keep his eyes forward. That is why he beams with excitement over his upcoming special showcase with Artes Orientes at ManilART 2023, which runs from October 11 to 15 at the SMX Convention Center in SM Aura.
The exhibition, titled The Triumph of Steampunk, celebrates the win of the genre that Mallari has been championing for a decade. To be featured is a rich collection of the artist's creations, each one a product of his boundless imagination and masterful, instinctive execution.
Eiffel, for one, presents a sculptural snapshot of steampunk, featuring Mallari's take on the iconic airship beside the Parisian architectural marvel. His popular renditions of pop-culture characters make their way to the exhibition's pedestals as well. The Transformer's Bumblebee gets ready to fire off a missile from his left hand, while the Filipinos' favorite Japanese robot Voltes V whips out his Ultra Electro Magnetic Top. Newer creations featured in the show include Filipino superhero Darna in a power pose and a version of the Marvel Cinematic Universe's Iron Spider. Elsewhere, Mallari's art crosses more
boundaries. Glitzy foo dogs stand over platforms of metallic platforms of gears. A life-sized Spartan warrior tower intimidates with an imposing presence. Then, popular footwear brands, including that of cultural icon Michael Jordan's, are reimagined as tanks.
A decade in, Mallari's affection for steampunk only grows deeper. He continues to seek and learn the best processes and materials. In terms of the genre's following, he hopes that more people will come to appreciate steampunk. He even wishes for the country to be able to host an international convention, led by a united and dedicated steampunk community of Filipinos.
For now, Mallari celebrates what he—as an artist and a proponent—has achieved. It is by no measure easy or simple to single-handedly carry an entire art genre. That is why, all told, the triumph of steampunk can be chalked up as a hard-earned, much-deserved victory for Ram Mallari as well.