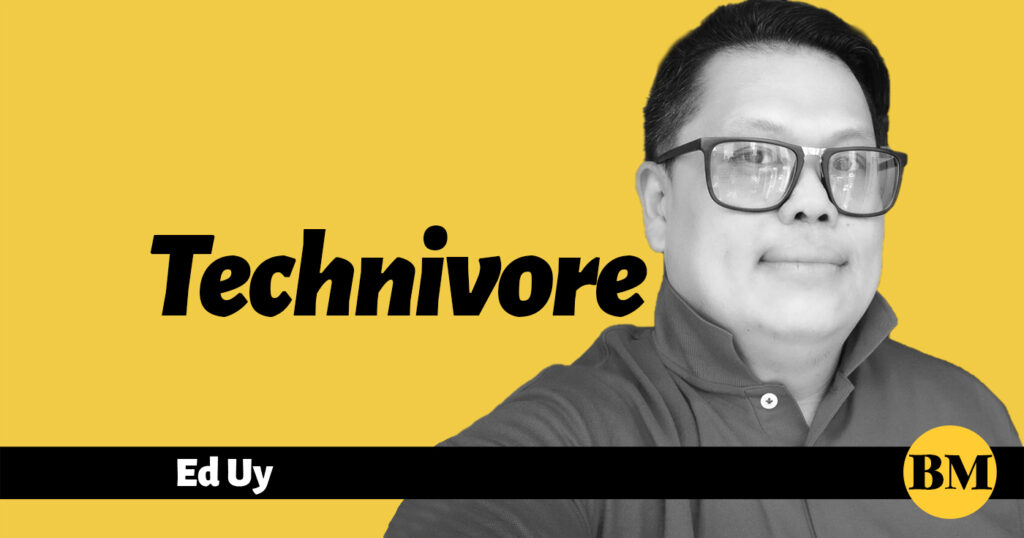 THIS week's biggest news was of course the re-launch of Eat Bulaga with a set of new hosts. Now instead of TVJ (Tito, Vic, and Joey), we get PBB (Paolo, Betong, Buboy) twins Cassy and Mavie, and Alexa (not the voice assistant).
Just kidding—although discussions about copyright and trademark of who owns the title of the noontime show would have probably been more entertaining.
I am of course talking about the unveiling of the Apple Vision Pro at the Worldwide Developers Conference 2023. Apple gave the world a first look at its mixed-reality headset and just by looking at the photos you know it's already much, much better than its Meta counterpart.
And unlike the Google Glasses, which looks like, well, your eyeglasses, the Apple Vision Pro looks more like a high-tech scuba mask or something Wade Watts from Ready Player One would wear.
Take note it's just an "unveiling" as it won't be available until next year, though I doubt you'd be lining up to buy one.
Unless you have $3,499 (P196,278.15) to spare, and that's a whole lot of body parts to sell.
But what can this toy for the rich boys do?
Apple describes it as an innovative spatial computer that seamlessly integrates digital content with the physical world, while keeping users present and connected with others. This groundbreaking device introduces a fully three-dimensional user interface controlled by natural and intuitive inputs such as a user's eyes, hands and voice.
Running on its own visionOS, the world's first spatial operating system, the Vision Pro allows users to interact with digital content that feels physically present in their space. The device features an ultra-high-resolution display system with 23 million pixels across two displays and custom Apple silicon in a unique dual-chip design, delivering real-time experiences right in front of the user's eyes.
Tim Cook said the device "puts big virtual screens on the world." Apple's CEO also said it marks the beginning of a new era for computing, introducing spatial computing that goes beyond personal and mobile computing.
The design of the Apple Vision Pro showcases Apple's expertise in creating high-performance products. It utilizes advanced materials, including three-dimensionally formed and laminated glass that acts as an optical surface for cameras and sensors. The glass seamlessly blends into a custom aluminum alloy frame that curves around the user's face, providing a tailored fit. The device features a Light Seal made of soft textile and flexible straps for audio placement. The Head Band, available in various sizes, offers cushioning, breathability and stretch. The device houses an array of technology in a compact design, including a breakthrough ultra-high-resolution display system, advanced audio capabilities, and a high-performance eye-tracking system.
Central to the headset's functionality are the dual screens—one for each eye. Those screens mimick the natural depth perception of human vision, providing a sense of depth in the digital world, and enabling users to interact with virtual objects as if they were real. The pixel density of these screens is said to be a staggering 64 times that of the iPhone, ensuring an incredibly sharp and immersive visual experience.
But more than just a pair of fancy interactive movie glasses, some tech experts believe that it represents Apple's vision for the future, maybe even a replacement for the smartphone. It serves as a medium for watching content, communicating and using familiar apps in a whole new dimension. As the headset offers an expansive display that fills the entire field of vision, it can provide unlimited space for apps and transforming the way users interact with technology.
The visionOS provides a three-dimensional interface that liberates apps from display boundaries, enabling side-by-side app displays at any scale. Users can be more productive with infinite screen real estate, access to favorite apps, and new multitasking capabilities. The device supports Magic Keyboard and Magic Trackpad, allowing users to wirelessly bring the powerful capabilities of their Mac into the Vision Pro, creating a large, private and portable 4K display.
Beyond the screens, the Vision Pro boasts an array of sensors and cameras—make that a lot of cameras. It has a total of 12 cameras, 5 sensors and six microphones. The 3D cameras and lidar scanners capture a three-dimensional view of the user's surroundings, enhancing the augmented reality experience. The cameras within the headset enable users to effortlessly take photos and videos, offering a novel way to capture memories. The internal cameras also play a key role in controlling the device, tracking eye movements, and providing a natural and intuitive user interface. So instead of holding a separate control pad you can just look at an item and click using your hands.
To make the Vision Pro a social experience, it has a second set of cameras on the inside to facilitate interactions. These cameras record eye movements, enabling the creation of a photorealistic digital avatar during FaceTime calls. Why would they FaceTime just to see your avatar? I don't know, but at least you don't have to dress up and be presentable when you do get a call.
It can also project a 3D model of the user's eyes onto the external screen, ensuring others are aware of their focus. Yes, its creepy as it looks. The external screen itself is also 3D and adjusts its image based on the viewer's angle, further enhancing the social aspect of the headset.
In terms of entertainment, the Vision Pro can transform any space into a personal movie theater with its ultra-high resolution displays and advanced Spatial Audio system. Users can enjoy movies, TV shows and three-dimensional videos with immersive audio. The device also offers new possibilities for gaming, supporting over 100 Apple Arcade games on a large screen with immersive audio and popular game controller compatibility.
The Vision Pro introduces immersive environments, called Environments, which expand beyond the dimensions of a physical room, providing dynamic landscapes to help users focus or reduce clutter in busy spaces. The device also features Apple's first three-dimensional camera that allows users to capture and relive their favorite memories with Spatial Audio. Photos and videos can be viewed at a life-size scale with brilliant color and detail, creating a sense of being right there in the moment.
I do find it a bit weird though that in one of the demo videos, a man (who I presume is the dad) was wearing the Apple Vision Pro watching and recording a girl (probably his daughter) blow a candle. I'm pretty sure I'd want to witness a canon event like that (Spiderverse reference) with my own eyes and just record it with another camera. Another concern is that with all its interactive features, it could potentially further increase screen time and decrease personal interactions.
Since it's still a year away from its release, it gives developers plenty of time to create more apps and uses for it, and honestly if I had the money I would definitely get one. But for now, I'm saving my kidney for the iPhone 15 Pro Max.
Image credits: apple.com