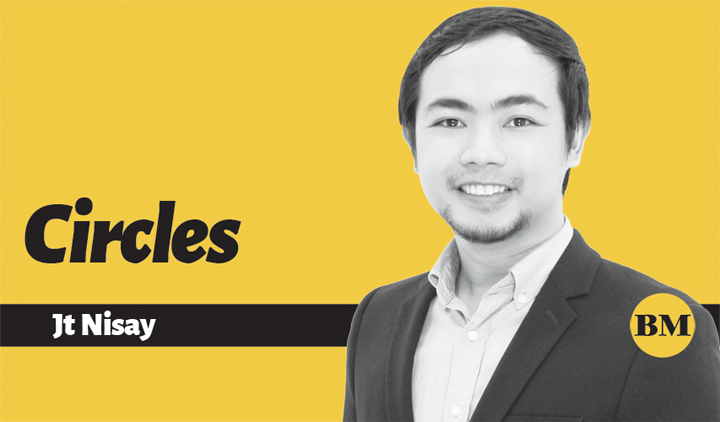 A special collection of artworks by National Artist Vicente Manansala converted into NFTs went under the hammer last week, featuring artist-proof, privately-owned pieces that "have never been put on exhibit or circulated commercially."
The NFT silent auction took place on May 26 at Rockwell Center's Manansala Building through the efforts of multi-channel creative platform Art House (@thearthouse_), in collaboration with Artifract, an Asian fine arts NFT pioneer. The Manansala pieces selected for NFT minting provide snapshots of the master's life from different perspectives: Manansala as a friend, contemporary, grandfather, student and, finally, a prime mover of abstractionism and transparent cubism in the Philippine contemporary art scene.
"Through these NFTs, collectors get a chance to own a piece of these private artworks that would otherwise not be accessible to the public," Art House CEO Juan Carlos Pineda said in a statement ahead of the auction.
There were four featured Manasala artworks, all of which were broken down into NFT tiles that came with free signed and authenticated limited-edition Giclee prints. Each work also auctioned out five carefully selected premium tiles.
Here are the four Manansala artworks, with the descriptions provided by Art House:
• El Viejo "Conquistador," 1979, watercolor on paper. Every week, friends of Manansala would schedule weekly visits to the master's home and studio in Binangonan, Rizal. On special occasions, he would give his friends a painting as a gift for arriving early or directly sell it to them. It was on one of the weekly visits of friends of Manansala that this privately-owned painting was acquired. Since it was sold by the artist in 1979, El Viejo has remained safe inside a private residence, never circulated or put on exhibit for public consumption.
El Viejo "Conquistador"  is a brilliant and rare study of Manansala's Transparent Cubism style, utilized to portray historic moments and faces in Philippine history. Depicting the image of Miguel Lopez de Legazpi, the Spanish conquistador who led an expedition to the Philippines in the mid-16th century, the artwork is a clear departure from the artist's more famous works that zoom in on rural and urban local scenes—its contrasts and similarities, all interacting in one canvas. Manansala's genius is reflected in this portrait as it brings together geometric forms and shifting planes, to create a moving image that preserves the integrity of his subjects' figures and physical traits.
• Doves, 1971, watercolor on paper. Some of Manansala's most iconic works—The Bird Seller or Birdman (1976), Birds of Paradise (1965) and Sabongero (1977)—are themed around winged creatures set against local landscapes. Collectors of the modernist master's works remark that birds were one of his favorite subject matters.
An early work done during his artist residency in Europe, Doves is a retelling of Manansala's journey toward becoming a modernist master and father of Transparent Cubism in Asia. This privately-owned, artist-proof early work captures quiet moments in an otherwise busy European plaza or square. To avid collectors of the master's works, Doves is considered a prelude to some of Manansala's finest avian-themed compositions in the mid to late '70s.
• Banaklaot, 1977, watercolor on paper. Manansala, in his younger years, was part of the labor force. When he and his family lived in Pampanga, he was entrenched in the fisherfolk communities of the province. He also took on work as a newsboy, caddy and shoe shine. It then comes as no surprise that scenes of local life and depictions of hard labor would become recurring themes in his body of work.
Banaklaot captures local fisherfolk at the break of dawn, setting out to sea. The master utilizes his signature geometric shapes and translucent planes to depict the raw, biting, hard-edge quality of manual labor in the Philippines. Although a master cubist, Manansala's take on coastal life remains faithful to the human forms, nuances, expressions and movements of his subjects. In Banaklaot, Manansala immortalizes seemingly ordinary moments of life in Philippine coastal towns, infusing them with palpable energy and life force through his distinct Transparent Cubism style.
• Nude, Artist Study, 1960-1980. During the Martial Law years, a collective of visual artists called the Saturday Group emerged. Members congregated every Saturday at Taza de Oro in Malate to discuss art and sketch. There was a demand for nudes at around that time, which inspired many of the prominent artists including Vicente Manansala to draw figures of the female form on the spot during these weekend meets.
This nude sketch, which is part of the Manansala family's private collection, echoes the master's "great obsession" with nude drawings and sketches. Throughout his career, Manansala took it upon himself to continuously develop and enhance technical proficiency. He believed that the ability to draw nudes was "the most important weapon a painter must possess." In this rare, family-owned study, Manansala shows his mastery and magic in achieving transparency to depict the unique curvatures, shadows and depths when light hits the female form. Unlike his cubist works, Manansala's nudes allude to another facet of a master—that of an artist faithful and dedicated to honing his craft.
Aside from the NFT auction, Art House celebrated the life and works of Manansala through an exhibit titled Alab. The showcase, which featured 15 artists who paid tribute to the master, ran from May 25 to 28 at the North Court of the Power Plant Mall in Makati City.