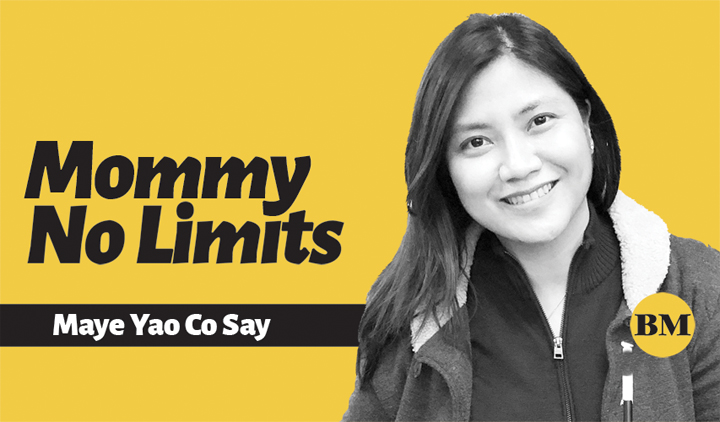 LAST May 14, I was invited to be part of the Let's Talk Momly event, organized by Moms Support Moms PH. This is a "sisterhood of women that support, love and encourage each other because no one understands a mom better than a fellow mom." They believe that motherhood has many faces, and each mom has their own inspiring story to tell. Whether one is a working mom, stay-at-home mom, work-at-home mom, or mom-preneur, everyone has their own wonderful story that makes their motherhood journey unique yet relatable to many.
The event was filled with inspiring conversations with what they called "Mom-Believable Passionate Moms," as well as fun games. This was held at the Eastwood Mall.
Let me share some of the questions and my responses during the event:
1. What kept you busy prior to becoming the COO of Richwell?
I started my career as a working law student, working as a brand assistant in the morning and studying at Ateneo law school at night.
Even if we owned the business, my father taught me to fully assume an employee hat so I could understand our employees better. I got married at 26 and was pregnant at 27. Since I was taking on more roles like operations, licensing and sales, I decided to take my MBA at AIM during my pregnancy. I remember finishing an HR finals paper right after I came out from the recovery room.
2. What does a typical day look like for a mom who is running a business?
When my children were babies, I was usually up by 6 am to pump or feed. Then after bathing, I would read and we would do sensory play exercises. At night when I got home, it was usually free play time; then I would prepare my baby for bed by reading and then feeding. As my kids got to school age, I would make it a point to bring them to school. On the way, we would play games in the car. Then I would go to work.
What I found most helpful was planning my play tools at the start of the month then guiding the person who takes care of my baby at home every Sunday what the activities were for the coming week. I called this my Ogalala monthly PLAY-list. I would divide the activities in crates by day.
3. What does work-life balance mean to you, and why is it important?
What I have always stood by is convergence and consistency in my role as a mother and an employee. I believe that motherhood is a gift to our workplace. And our work is a gift to motherhood. I don't like the word "balance" because more often than not, physically when you balance things, there is a higher chance of falling. I prefer to choose a side, be fully present when I am in it, so I prefer time-blocking. This means I assign a time to do that one thing and I do that one thing with my full focus, energy and heart.
My most favorite example of this is when I did Ogalala nurture play with my child after work with her Melissa and Doug toys. I would enter my daughter's room tired from work. No phones, no interruptions. We would have a ritual where she would say, "What's your order, Mom?" Then I would say maybe a slice of cake and coffee, then later on I would add like a scoop of ice cream. I believe this formed her sense of accountability early on, that even if she was just a toddler, she was able to contribute to the family.
This is part of the latest introduction of Ogalala called SEL or socio-emotional learning. Nurture play, games and other SEL toys like the Learning Resources Pineapple My Feelings toy are able to allow your child to express their emotions in a guided way, while developing other skills like fine motor skills or logic when they follow instructions.
4. Is managing your time properly equivalent to success?
I would like to go deeper and say it is more about managing more what you value and the time part will follow. If you are able to identify what your top value is for that day or hour, then follow through with focus for that period of time, you will feel more fulfilled than trying to do many things at one time.
Motherhood teaches us a lot of great values to be patient, fair and nurturing. At Richwell Phils. Group of Companies, I bring these values in being an effective leader to my people. On the flipside, our everyday activities—whether we are working or managing a household—throws us a tasks and experiences that hone our ability to efficiently manage situations.
5. What are your tips for moms who are struggling to manage their time for their family and career?
My first and most important tip is: simplify parenting. I follow the rule of three's. We all want many benefits but always pick the top three.
For example, in choosing a product for my child, my top three are: first, "Trusted Globally as a Sustainable and Researched-Based Company" for many years; second, "Expert-recommended;" and third, "Mom-attested by local moms." My other tip is to remember this term: "I-Parent." I always tell moms to remember you are an "I" first before you became a parent. Don't forget to value yourself because the fuller you are as a person, the more love you are also able to give to the people around you. That's why I am happy that there are companies like Lansinoh that care about reducing pain after childbirth to help moms for a more comfortable breastfeeding experience, as well as prevent too much discomfort that might lead to post-partum depression.
Belated Happy Mother's Day, everyone.
Image credits: John Schnobrich on Unsplash