Even before it formally opened its doors last March, the Angeles City-based Best Western Plus Metro Clark (BWPMC) had already gained a reputation as a must-visit and must-experience hotel north of Manila.
It first opened in 2019 as Best Western Metro Clark as a quality but affordable hotel catering to business and leisure travelers, with 85 well-appointed rooms with adequate amenities including food and beverage options, an infinity pool and fitness center, and function and meeting rooms for Meetings, Incentives, Conferences & Exhibitions (MICE) and other social events.
Even then, the hotel has earned numerous accolades for its superior service and excellent facilities. In 2019, it was given the "Best Standards Award" by the Best Western Hotel Group and cited for "Excellence in Quality, Standards and Service" by the Best Western Hotels and Resorts. Also in 2019, particularly in Q4, BWPMC was granted the "International Quality Assurance Award."
Although the pandemic has had an adverse effect on many businesses including and especially the tourism and hotel industry, the owners and operators of Best Western Metro Clark, Savers Group Holdings Inc. saw the resulting lockdowns as an opportunity to embark on a comprehensive expansion program. The said expansion, however, was not without its fair share of challenges.
"It took a lot of hard work, determination, and patience. There was disruption of the supply chain, sudden surge in material costs, shortage of manpower due to the epidemic, and health protocols, but we were able to overcome those hurdles, as we have weathered in the past few decades of our company's existence," recalled Jaime "Jack" Uy, Savers Group Holdings Inc. Chairman and CEO.
Since its expansion, the bigger and better and newly-renamed Best Western Plus Metro Clark is a 14-story hotel complex with a 4-star rating and boasts a total of 186 luxurious rooms complemented by more amenities suitable for business and leisure.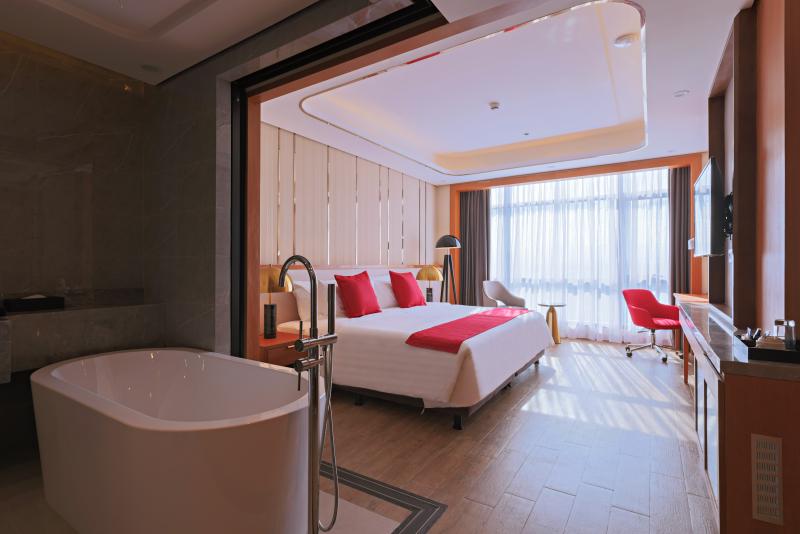 No surprise that just last year, Best Western Metro Clark was given yet another stamp of approval with its "TripAdvisor Traveler's Choice" award.
The hotel's "smart rooms" are equipped not only with high-speed Wi-Fi connection provided by Converge but also come with advanced automation and intuitive options for lighting, temperature, entertainment, and room service. These options and other aspects of the room are controlled by an electronic panel that also provides access to a selection of entertainment options including streaming services like Netflix and Spotify.
In terms of dining, there are four specialty restaurants that guests can choose from. For those who crave for delicious yet reasonably priced Japanese treats, there's Namari Japanese Bistro. Cactus Jack Smokehouse is ideal for the more adventurous types looking to savor international favorites ranging from tempting appetizers to hearty entrees. Jack's Pool Bar is perfect for those who feel like having drinks and treats while marveling at a magnificent view of Angeles City. And for those who prefer authentic and traditional Cantonese gustatory treats, then look no further than The Legend Hong Kong Seafood Restaurant.
Even those who want to chill and unwind over coffee and light treats should find Café Sebastian as the perfect place to simply hang out.
As part of an international brand, BWPMC provides exclusive perks and discounts at all local and international Best Western hotels and resorts with the award-winning loyalty program, Best Western Rewards.
From meetings and conferences to parties and weddings, event venues are sought out every day by hundreds of clients, increasingly looking for distinct venues which Best Western Plus Metro Clark proudly delivers. Everything from fine dining to superior entertainment is covered in this lavish hotel, definitely, a once-in-a-lifetime experience that shines above all else.
Its close proximity to the Philippine Arena and the recently concluded Clark Aurora Music Festival makes it an ideal landing spot for concertgoers looking for accommodation options near these concert venues.
"Here at Best Western Plus Metro Clark, we strive to give you the best experience from the moment you enter our doors, up until you check out of the hotel. We do hope that you will continue to support our vision as the premier business and leisure destination here in Angeles City," said Justine Uy, Best Western Plus Metro Clark's VP of Marketing during his speech at the formal launch.