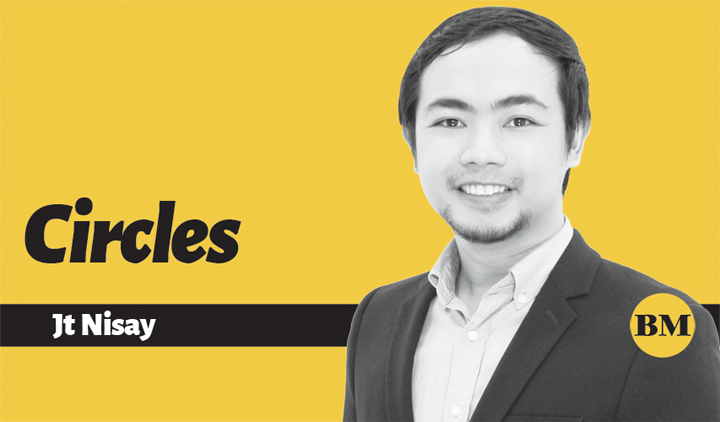 More of us should take comfort from the fleeting nature of undesirable situations. While inevitable, they pass, and, we, too, should move on with our heads up. It's a message of hope and optimism that visual artist Kenneth Montegrande reflected on and shared in his 17th solo exhibition, titled Circle of Life. The show closed the year's first quarter lineup of Galerie Joaquin Rockwell.
"The exhibition reminds us that life moves in a circle," Montegrande said. "If we encounter problems and roadblocks, we must continue to keep the faith and look ahead, as God has a plan for us always."
Mounting inspirational solo exhibitions centered on faith has been a staple in Montegrande's art calendar, which includes staging an annual showcase during his birthday month of March. This year, it was Circle of Life, which apart from exploring the figurative shape of life likewise featured for the first time circular canvasses.
It was a conscious effort by Montegrande to accentuate the metaphor, with the circle associated with abundance and eternity, and life viewed as a cycle of that goes round and round with constant changes. Amid all the impermanence, however, a lone certainty stands its ground like a stern rock in a gushing river: the unending and constant love of God. After all, it is which Montegrande constantly celebrates and attributes everything to, including his second shot at life after battling a severe case of Covid-19 a couple of years ago.
There were a total of 18 artworks on round canvasses, featuring Montegrande's distinct abstractions. It's a style characterized by what has become the artist's signature color palette of mainly earthy pastels, along with expressive impasto.
Such is in full display in Life is a Flower of Which Love is the Honey Series 1, which showcases the qualities that have made Montegrande one of today's premier abstractionists. There's a visual poetry taking place, drawing in the disarmed viewer, as does the other pieces in the show.
Montegrande assured that his coveted cloud-and-sea scape paintings figure in show as well, with three new featured creations. As always, these artworks draw shades of JMW Turner's dramatic landscapes and Rembrandt's chiaroscuro, all the while being undeniably Montegrande's.
Circle of Life also served as the curtain-raiser to Montegrande's second decade in the art industry. After shooting to fame as a celebrity artist with notable distinctions during his first 10 years, Montegrande has set his sights for more.
Lined up this year is a series of highly anticipated collaborations and international showcases. In May, Montegrande is set for a high-profile exhibition at Malacañang Palace in collaboration with noted Filipino fashion designer Puey Quiñones. The artist is also preparing for second part of his tie-up with Sanso in June. In September, Montegrande will be having another big solo exhibition, this time with Provenance Gallery.
Then, as a follow-up to his international debut in New York last year, Montegrande will be featured in an exhibition in Italy for the first time, where he traces his family's roots.