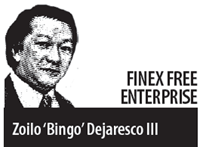 THE country's economic growth was stopped abruptly by the Covid pandemic. But with Covid now spoken in the past tense and the economy reopened after the world's longest lockdown, are we headed for Paradise? Hardly.
The headwinds are still bellowing and painful adjustments and repairs of the RP ship are needed to sail soundly to the tempestuous seas with confidence.
Despite the optimistic government forecast of 6.4-percent to 8.0-percent gross domestic product (GDP) growth rates from 2023 to 2028, galloping inflation at over 8 percent and high-interest rates—the Bangko Sentral ng Pilipinas just adjusted to 6.25 percent recently—are two factors that will dampen both economic growth and investment appetite in the country.
Capital formation (foreign and local investment) had spurred our neighbors in the Association of Southeast Asian Nations region many decades ago already while we languished in that category resulting in our infrastructure inferiority that, in turn, discourages investments.
Investments would have created jobs and trimmed poverty.
The Philippines faces tight fiscal space—National Economic and Development Authority (Neda) head Arsenio M. Balicasan admits—in the coming years and makes private sector investment a desired necessary adjunct to our growth.
But no matter how the country opens, by legislation or by some constitutional change (Cha-cha), many sectors to foreign ownership, if there are no basic reforms in the way we do business (corruption, long approvals by investment managers and local government units), operational bottlenecks and defective, inconsistent policy-making, we will remain a barren desert, unattractive to smart businessmen.
The Neda admits the need to make our PPP (public private partnership) rules more competitive, transparent and fair to participants and should implement amendments to the Build Operate and Transfer (BOT) rules, one of the main vehicles of the PPP.
Our ability to borrow intensively now has been constrained by the humongous debt RP incurred in fighting the Covid malady for three years. The narrowing fiscal space necessitates attracting foreign Joes and local Juans in suits and barongs to join the parade of funding our businesses and especially infrastructure.
The Neda has committed to undertake P9 trillion in infra projects or about P1.2 trillion per year, representing 5 percent to 6 percent of GDP.
Water (potable, irrigation and flood control), transportation (land, air and sea), digitalization, renewable energy, mining, tourism, information and communications technology and high-tech and creative industries have been identified for funding.
Equally important segments are those responsible to improve the Filipino human capital to cover education, health care, nutrition and subsidies (to the poor sector). A healthy and globally literate manpower is needed for us to continue to be a force in the global work market and to have ready competent workers for investors opening firms here.
In a zoom forum initiated by the Neda recently, Balicasan admitted that while the list of the targeted projects is impressive, it will take at least two years to finish all the feasibility studies and hurdle the approval of the Neda Investment Committee. Thus the project implementation will likely happen only in the years 2025 to 2028.
Meantime, the biggest problems faced by Filipinos today remain to be food security and the very high cost of food- a large component of the 8-percent inflation.
If one cares to notice, most of our basic agricultural goods ( rice, sugar, salt, onion, garlic, fish and seasonally some vegetables, pork and poultry) are imported by us from other countries- that makes us vulnerable to supply chain disruptions and the impact of foreign exchange rate movements of the peso.
Improving domestic productivity to bring down these agri prices will not happen overnight and will be an arduous task.
Thus, our fear, is that, through all of these big plans and aspirational goals, we may continue to face high food prices and inflation in the next few years to come. We would be fortunate to have only a 5-percent inflation for the full year of 2023.
The high-interest rates will also impact our debt-servicing capability which will be P602-Billion this year representing a high 11.6 percent of the GDP.
The latest unemployment figure is still high at 4.8 percent representing 2.37 million jobless Filipinos partly explaining why more than 20 million people are still living under the poverty line.
This year the Philippines will still be on deficit spending of P1.470 trillion due to massive P5.177-trillion spending versus revenues of only P3.707 trillion.
Added to this will be the 2023 ($1.6 billion) Balance of Payment deficit, an improvement from 2022's high ($7.3 B) deficit but coming from a surplus of $1.3 B in 2021.
This will be contributory to the slight deterioration of the Philippine peso.
Certainly, therefore, we are not out of the woods (or the tempestuous storm, if you wish) yet.
Former banker Zoilo "Bingo" P. Dejaresco III is a financial consultant and media practitioner. He is a Life and Media member of the Finex. His views here, however, are personal and do not necessarily reflect those of Finex or the BusinessMirror. Contact the author via Dejarescobingo@yahoo.com.