We've all been told: never meet your heroes.
People say this because meeting your heroes might only bring you disappointment once you realize the heroes you idolize are far from perfect.
Barbie Almalbis was arguably one of the heroes many '90s kids—from ardent music fans to aspiring musicians—looked up to. With songwriting and her guitars as her weapons and music as ammunition, she fought many battles with them: adolescence, heartbreak, depression, and coming-of-age. She led her army of followers, first as the frontwoman of Hungry Young Poets, then of Barbie's Cradle, and eventually, as a solo artist working with a fine selection of musicians.
On Barbie's anniversary concert dubbed "Firewoman—25 Years of Barbie Almalbis," the talented and seasoned singer-songwriter celebrated milestones of her career with former and current bandmates, colleagues in the live music scene, and supporters from day one.
Majority of the audience was middle-aged, like Barbie. Barbie herself requested that seats be provided for their benefit, even if 123 Block is usually a standing-only venue.
Gates opened at 3:00 p.m., making way for meet-and-greet sessions for VIP patrons. I Belong to the Zoo and Kai Del Rio, Barbie's sister-in-law who performed in public for the first time in years that afternoon, each delivered 30-minute sets before Barbie set foot on stage with her current bandmates and performed some of her compositions as a solo artist, including "Just a Smile," a hit song previously used in a toothpaste commercial, and tracks from her recently released album, "Parade," such as "Dahilan."
Bird was a pleasant surprise that had a couple of first-time listeners comment on how great the band's alternative/surf/vibecore music sounded live. Clara Benin, on the other hand, was poetry in motion, with every lyric and every strum of her guitar.
Next on stage were Barbie and her bandmates from Hungry Young Poets (HYP): bassist Ricci Gurango and drummer Franklin Benitez, aka Zild's father. HYP's set was punctuated by live renditions of tracks from their eponymous album, such as "Deep," "Firewoman" and what is probably their biggest and most famous hit, "Torpe." As an observer, you'd know which people in the audience were HYP's loyal fans: they sang along to the lesser-known songs, verse by verse.
Gabby Alipe's acoustic set shortly followed—a calming experience in comparison to Urban Dub's amplified sets. The momentary calm, however, dissipated when Sandwich—another act that celebrated its 25th anniversary recently—performed on stage, with a repertoire that included the band's first-ever hit, "Butterfly Carnival," as well as "Betamax" and "Under the Glow of the Satellite."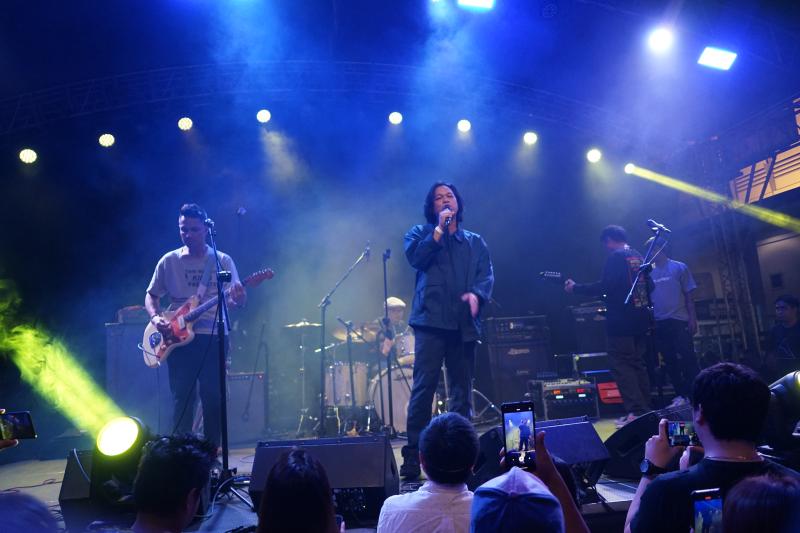 And then, it was time for the final act.
When Barbie returned to the stage, this time with her cradle bandmates Rommel dela Cruz, Wendell Garcia, and Kakoi Legaspi—a later addition to the band—the feeling of nostalgia was already in full swing yet the audience kept asking for more. More music from a time when songs written and recorded by a much younger but equally celebrated singer-songwriter conquered the airwaves, and were packaged in the form of compact discs and cassettes.
Barbie's Cradle opened its set with "Tabing Log," the radio-friendly hit which was also used as the theme song for a hit TV series. The band also performed choice cuts from its three albums, namely "Barbie's Cradle," "Music From the Buffet Table" and "Playing in the Fields."
One thing about Barbie's Cradle's songs is that they can take you from light-hearted and easy with songs like "Shiny Red Balloon," "Boat," "Money for Food," and "Limang Dipang Tao" to contemplative and melancholy with "Floating," "BamBam," "All I Need" and "It's Dark and I am Lonely." The band took the audience through a rollercoaster of emotions cruising through overflowing nostalgia with these songs.
Barbie's saccharine voice perfectly complemented the beautiful, soothing melodies she had created with some of the most talented musicians from that era and beyond. Barbie, Rommel, Wendell, and Kakoi tried to say good night to the crowd with—you guessed it—"Goodnyt" as a final song, but fans chanted, "More!" as expected, and the band relented with "Independence Day."
Barbie's Cradle didn't play "The Dance," "When the Bough Breaks," "Belinda Bye-Bye," and "Dear Paul" that evening. These songs are—to this writer—some of the band's most underrated work. Nevertheless, Barbie Almalbis, in her 25th year, proved that she could be everything, everywhere, all at once (or rather, all in one evening); that she is a hero worth emulating and one that does not disappoint; and that she is still a firewoman—not the one that waters down her fans' desire for her music, but one who sets their hearts ablaze as she passionately shreds her guitar and sings on stage.
Image credits: Finn Radovan