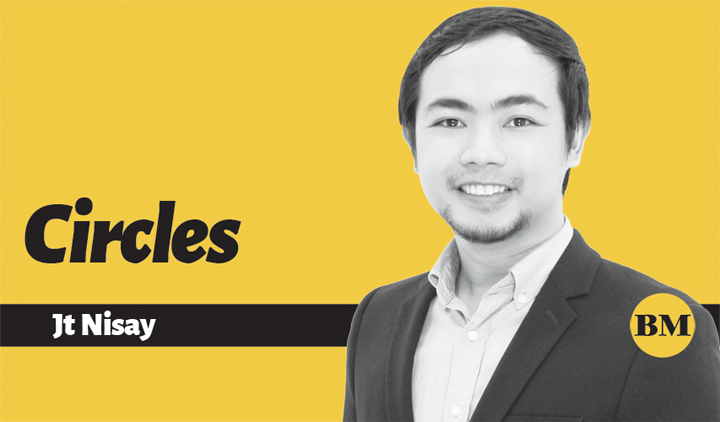 TWO solo exhibitions share the spotlight at Silverlens Manila, one featuring a foreign artist scrutinizing semantics on a philosophical level, and another narrating a transformative rebirth. Mit Jai Inn's Ocular Vocabulary and Wawi Navarroza's As Wild as We Come are on view until April 5.
In Mit's presentation, the Thai artist and activist reflects on "Spraschspiel," or language-game, a philosophical concept developed by prominent
20th century thinker Ludwig Wittgenstein. The idea refers to the malleability and relativity of meaning, in which a word acquires definition only as a result of the "game" at hand. The word "water," for instance, could mean as an order, a question, or the answer itself.
Mit's thematic choice speaks of his critical nature. In an essay for Artbasel.com, the artist recalled how he, as a boy, "loved to break things."
"I was always rebelling against authority," wrote Mit, also the cofounder of Chiang Mai Social Installation and founder of Cartel Artspace in Bangkok. "I realized that being an artist was my only option. Breaking things apart is what modern artists do. It's like modern society, constantly renewing itself."
In his ongoing show with Silverlens Manila, Mit presents several of his ongoing series. Among these is Marking Stones, an interactive artwork that invites the viewers to take a painted object made from recycled material in exchange for sharing documentation. The project is inspired by an earlier project by Mit in 1991, Vienna Apartments, in which the artist invited his friends and residents of the city to take an object made from found material and furniture and open their homes for a public exhibition.
Opposite Mit is Navarroza's latest showcase, featuring the Filipino contemporary artist's latest works first exhibited at Kristin Hjellegjerde Gallery in London last year and recently shown at Art Fair Philippines's Special Exhibitions section. In As Wild as We Come, Navarroza, known for her multi-layered self-portraits, capture her current transformative phase, from moving countries to becoming a mother.
"The suite of large format colorful works marks a celebratory return and regeneration through the power of art-making," the artist writes in the show's exhibition note. "She is the Woman at the Threshold; these are her portraits. What is the threshold if not the picture frame, if not a portal to a new life, new place, new time—a woman's season of change."
Navarroza has exhibited widely in the Philippines and internationally, including the National Museum of the Philippines, Metropolitan Museum of Manila, Singapore Art Museum 8Q, and the Hangaram Museum (Korea), to name a few.
She has also presented in galleries in Australia, Japan, Malaysia, Singapore, Laos, Cambodia, London, Spain, Italy, and Russia; with continued participation in international photography festivals and art fairs such as Art Basel HK.