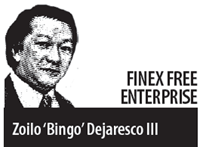 "Crowdfunding" provides a platform that affords mostly small businesses to get funding options and investors to participate in the growth of companies online. In the Philippines, companies can source as much as P50 million a year. Crowdfunding has also been approved by the Securities and Exchange Commission (SEC) as a safe and sustainable form of investment.
As of May 2022, crowdfunding in the United States of America has attracted $73.6 billion, the United Kingdom $12.6 billion and Brazil $5.3 billion. Crowdfunding is also strong in Germany, Italy and France. It has even reached Africa, a continent that has surprisingly reported the highest number of entrepreneurs, mostly women.
So far, the biggest crowdfunders are Kickstarter PBC and Indiegogo Inc. for profit-oriented firms and Mightycare Solutions GmbH for non-profit ventures.
In February 2022, the SEC approved the first permanent crowdfunding license to "Round One," a unit of the Eastern Securities Development Corp. The latter is a stock brokerage listed at the Philippine Stock Exchange since 1977 or 45 years ago. One of the prime movers of "Round One" is Eastern Securities President Brandon P. Leong.
Investors can come in the form of equity (common and preferred), a loan or a hybrid of the two as options. Effectively, the "Round One" platform matches Filipino investors and fundraisers, stands as a payment and payout portal and maintains friendly investor relations. It has a group of financial advisors and strives to maintain sustained education in finance to participants through webinars and the like.
In the formal launching of "Round One" at the Solaire Resort and Casino recently, some fund seekers were already announced as engaged (in varying stages) with "Round One." The list of activities being funded is quite interesting.
In the Philippines, short of dealing with "5-6" shylocks, many small businesses have to deal with stringent bank requirements to get a loan like a three-year period of operation and/or the presence of collateral. On the other hand, small-time investors are often flooded with information for listed shares and do not get personal attention from investor relationship managers who provide up-to-date financial and market data of the issuers, which crowdfunding platform can, as a matter of course.
This occasion makes sense of crowdfunding.
Among the companies listed are: automates fare collection of public utility vehicles on a nationwide basis; first digital health marketplace and hub providing both online and on-site consultation and medical supplies; end-to-end management of customer real estate property and assets; and, a pioneering Filipino legal regulatory technology hub (compliance and legal matters) accelerating the ease of doing business.
Other companies include: one that builds modern web-based systems solutions for organizations, especially cooperatives; one that provides policymakers and program implementors with community correct and current data and information; and, one that provides environmentally-friendly mobility to customers and communities (schools, etc.) through bike rentals.
Other firms include one that connects buyers and suppliers in the area of discoverability, saving and enhanced sales and one that provides the connection to affordable, independent hotels and resort getaways in the country and Southeast Asia (50 locations) and promotes coconut products.
The list is as diverse as it is challenging and provides perhaps the future "big companies," which may later qualify for a potential IPO and a chance for ordinary Filipinos to participate in a possible potential growth of firms without being involved in their management and earning short-term dividends or interest at the same time.
The era of crowdfunding has begun in the Philippines; "Round One!" as they say in boxing.
Zoilo "Bingo" P. Dejaresco III, a former banker, is a financial consultant and media practitioner. He is a Life Member and Media Member of the Financial Executives Institute of the Philippines (Finex). His views here, however, are personal and do not necessarily reflect those of Finex and the BusinessMirror. He could be reached via dejarescobingo@yahoo.com.