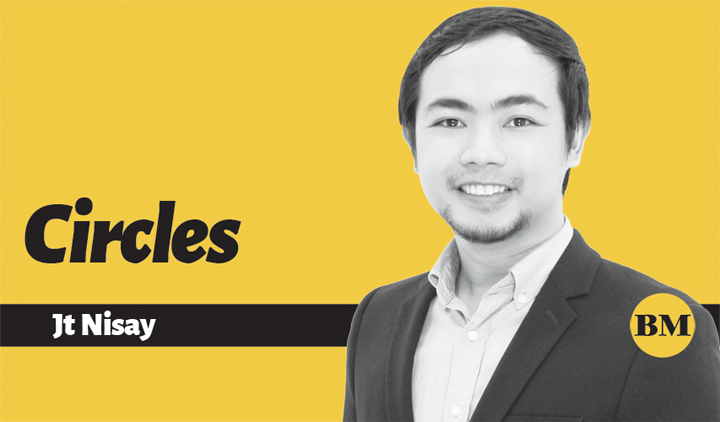 IN presenting blindfolded subjects, their eyes covered by dashes of textured paint, visual artist Marko Bello invites us to think not of the sight obstructed by darkness but the vision it opens.
Pangitain is Bello's latest solo exhibition, which explores the concepts of enlightenment and awakening. The show is on view at Art Verité Gallery in BGC.
A self-taught artist from Marikina, Bello's art focuses on people and relationships: social, interpersonal and otherwise. The idea is to reel in the viewer with relatable themes and make them reflect on their experiences.
Such is the case in Bello's new show about premonitions—on receiving and interpreting messages from one's surroundings. The artist takes the cue from his own process that starts with meditation. Bello collates ideas he believes are communicated to him by God, as well as learnings from observing other people. Only after ideation does the artist begin composing his artwork.
In The Provider, Bello depicts a man with nothing but a white cloth covering half of his face, including the eyes. His open palms face skyward, with a red arowana, a symbol of prosperity, hovering above them. Is he, as the title suggests, providing for those in need, or is he gesturing for solicitation, and to great success? The former strikes a stark irony, considering the man appears with not much to give, while the latter proposes a resolution that leaves much to be desired, calling to mind the proverb about the case for not giving a man fish but teaching him how to catch one.
There are lots more equally intriguing artworks in the show. Stages of My Life offers a harrowing image of a man, again blindfolded, in complete surrender as he follows a higher being represented by the Eye of Providence.
Meanwhile, Looking at You Looking at Me shows a subject in deep thought, distressed and sinking under the weight of anxiety. Yet in the cyclone of infinite scenarios shines slivers of clarity—there is hope that everything will be fine.
This is, after all, serves as the lesson Bello's Pangitain hopes to impart: That in the messages we receive and encounter, we should exercise the liberty of interpretation for our betterment at all times.
At least that, we can control.
More information is available at www.artverite.net or info@arteveritegallery.com.