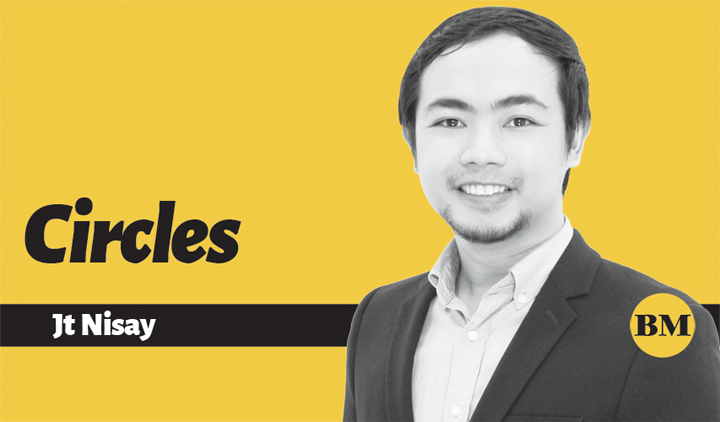 MOTION characterizes the latest round of presentations at Silverlens in Makati City—in terms of visuals for a group show and the concept of a one-man exhibition.
Aquifer presents the works of Dina Gadia, Jenifer Wofford, and MM Yu. Each having established their distinctive styles, the artists "explore the affinities that spring from the well of their respective practices:" Three different streams that, in this show, somehow intersect at the point of liquefication. The artworks bear a certain sense of fluidity in colors and patterns.
Gadia is recognized for exploring social issues through a visually arresting style that's also playfully representational. In Aquifer, her series of paintings and drawings circle on the idea of water and its related commonplace objects. Yet boiling beneath the mundane is a commentary on how we are wired to default to pretensions—on scouring for meaning where there is none.
Instilling humor in her works as well is San Francisco-based artist/educator Jenifer Wofford, who tackles themes of hybridity, history, calamity and global culture. Here, she takes us back to the flamboyance of '80s pop culture, featuring colors that pop and patterns charged with zing. The period is where art has seemingly ceased to take itself seriously, which perhaps stems from a light atmosphere of hospitality that embraces diversity. The idea is fleshed out in Wofford's parody video of the vibrant era, titled Klub Rupturre.
These concepts of liquidity and movement are likewise showcased by MM Yu. Her artworks across photography and painting have always framed the subject front and center. But in this show, she favors process over expression in a series of "drip paintings." Yu performs as a mere detached composer, allowing art to form on its own, as if it were an act of denouncement to "stubborn assumptions" about what is accepted as the subject in a painting.
In Aquifer, what we consider as established notions are melted, liquified into something with as much the same form as paint flowing freely.
Alongside the group show is the Silverlens solo exhibition debut of Nicholas Grafia, titled Comeback Kid. Movement defines this show as well, but in terms of how the artist's journey across the world informed his featured artworks.
Grafia was born in Angeles City, Philippines, in 1980 and currently moves between Düsseldorf, Germany, and Paris, France. His multidisciplinary practice covers paintings, videos and performances, juxtaposing historical events and current global events.
"Looking at the history of my home country, the Philippines, and comparing it to the increasingly neo-liberal, xenophobic and right-wing tendencies I have encountered while growing up in Europe, I came to realize new examples for mainly two things: How many national government systems have radically exploitative, alienating and marginalizing agendas; and how interconnected national histories and issues in political power dynamics are on a global level," Grafia writes in his artist statement for the show.
The exhibition's title takes cue from the artist's intention to counter victimhood culture, to enunciate his practice of subverting systematic oppression through manifold elements and emotions. Thus, presented in Comeback Kid is Grafia's vignetted compositions where historical, anonymous and alter ego figures converge as empowered shapeshifters.
There's writer and activist James Baldwin, nurse heroes, as well as the artist's mother all standing in images of powerful symbolism.
As the artist puts it: "Employing non-linear dialogue styles, theatrical disguise, masks and ambiguous physical shapes throughout my multidisciplinary practice, I wish to irritate and subvert established power relations and conventions within my heteronormative western surrounding and positively familiarize it with previously othered subjects."
Comeback Kid and Aquifer are on view at Silverlens until September 10. More information is available at www.silverlensgalleries.com.