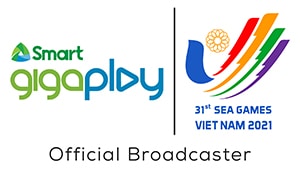 THE country has nothing to be ashamed of over its overall performance at the just concluded 31st Vietnam Southeast Asian Games, Philippine Sports Commission William "Butch" Ramirez said on Tuesday.
"It was a good finish considering the challenges Filipino bets had to face in the build-up to the meet," he added.
The 31st SEA Games closed on Monday with Vietnam handing over the hosting chores to Cambodia, which will be bringing the biennial games to its shores for the first time in May 2023.
"Our performance in bringing home 52 gold, 70 silver, and 104 bronze medals in placing fourth overall in the medal standings was a good finish despite the various challenges our national athletes had to face amid the Covid-19 pandemic before competing in Vietnam," Ramirez said.
"It would have been a very good finish had we converted 50 percent of our silvers (to gold) and bronzes (to silver)," said the PSC chief, who closely monitored Filipino athletes from the PSC offices in Manila and Pasig City throughout the games.
He pointed out that funding training programs to develop elite athletes for international competition was expensive.
"You need money for coaches, both local and foreign, airfare, transportation and hotel for international exposure to season them, plus the logistical support like proper nutrition, sports psychology, and medicine for athletes discovered abroad or locally," he said.
As a PSC official who began his stint as commissioner in 1998 then as chairman for the first time from 2005 to 2009 and again as chairman from 2016 to the present, he said that short-term programs to nurture top athletes took at least four years and they would need a minimum of 12 years to be world-class.
Weightlifter Hidilyn Diaz was a wildcard entry at 17 in the Beijing 2008 Olympics, then won a silver in Rio 2016 before finally delivering the country's first gold medal in Tokyo last year when she was 30 years old," Ramirez said.
Ramirez renewed his commitment and support to PSC's private partners—Philippine Olympic Committee and national sports associations—in promoting and nurturing athletes for international play.
He said while the Philippine Amusement and Gaming Corp. (Pagcor) remitted to the PSC a sufficient share before the pandemic, the PSC "still has to get the five percent of its gross income as required by Republic Act 6847 that created the government sports agency."
Ramirez also said that the Philippine Sports Institute needs adequate government funds to pursue its goals of updating the country's know-how in sports medicine and technology, including the improved sports rehabilitation facilities, in keeping abreast with the rest of the world.
He mentioned that the country's success in the Tokyo Olympics, where Filipinos achieved a milestone of one gold from Diaz, two silvers from boxers Carlo Paalam and Nesthy Petecio, and a bronze from fellow pug Eumir Felix Marcial, were products of intensive training and exposure overseas funded by the PSC.
He was hopeful that the PSC's allocation in the national government budget, a portion of which goes to grassroots sports, would be increased in tune with the times. Ramirez also was grateful for the private sector like the MVP Sports Foundation in helping some NSAs and encouraged more institutions and personalities to chip in and recognize the value of investing in the development of athletes.
As one of the architects of the country's successful campaigns in the Tokyo and Rio Olympics, 2018 Asian Games and 2019 Philippine SEA Games, Ramirez credited these positive results to his "dedicated board of commissioners through our leadership in guiding and collaborating with our stakeholders."
With Josef Ramos
Image credits: AP