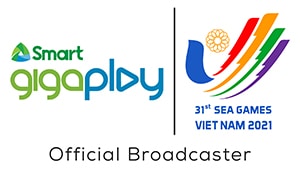 BAC NINH, Vietnam—Tokyo Olympics bronze medalist Eumir Felix Marcial barged into the men' middleweight final of boxing with a convincing second round referee stopped contest victory over his opponent from Thailand on Thursday night at the Bac Ninh Stadium.
Rogen Ladon, on the other hand, survived a tough battle against another Thai to also figure in the men's featherweight final at the Bac Ninh Stadium.
Marcial, 26, gave 21-year-old Peerapat Yeasungnoen of Thailand a beating of a lifetime and scored abbreviated victory. The now professional boxer fights Timor Leste's Delio Anzaqeci Mouzinho in the gold medal bout on Sunday.
Ladon, of Bago City in Negros Occidental, barely beat Thanarat Saengphet of Thailand through a split decision to move to the finals in the men's flyweight category.
The three-time SEA Games champion Marcial delivered heavy combinations to the body and head of Yeasungnoen, urging the referee stop the fight in the 1:54 mark of the second round.
"I engaged him because I knew I can take his punches so I focused on counterpunching," said Marcial, who added that he didn't spar during their training camp in Thailand to avoid being scouted by the SEA Games boxers.
Image credits: Nonie Reyes