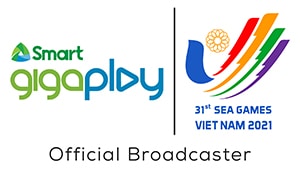 HANOI—Filipino-American Kayla Richardson emerged as the fastest woman of the 31st Southeast Asian Games on Wednesday when only three gold medals were added to the Filipino athletes' coffers that imperiled the country's grip of third place in the overall medals race.
Richardson ably filled the void left by her more illustrious teammate Kristina Knott when she snatched the women's 100 meters gold that went with victories by the women's archery team of Abby Bidaure and sister Pia and Phoebe Amistoso and the men's 9-ball triumph of Johann Chua.
The lean three-gold haul allowed Team Philippines—backed by the Philippine Olympic Committee and the Philippine Sports Commission whose chairman, William Ramirez celebrated his 72nd birthday Wednesday—to hold on to third place by a hair.
The Philippines hiked its tally to 36 gold, 45 silver and 59 bronze medals, but Indonesia was one gold behind with 35 that went with 48 silvers and 44 bronzes.
Singapore also threatened with 35 golds on top of 31 silver and 42 bronze medals at fifth in the medal tally board where host Vietnam looked unreachable with a haul of 118-72-69.
Richardson, a slow starter, picked up the pace halfway through and held steady to win the eight-runner field in 11.6 seconds.
Shanti Pereira, the 200 meters queen from Singapore, clocked 11.62 seconds for the silver medal and Thailand's Supanich Poolkerd placed third in 11.66 seconds.
Chua won the all-Filipino final with reigning US Open champion and buddy Biado, 9-6.
"It's my first time in the SEA Games and I was so nervous," Chua, 29, said. "I couldn't get over this one yet, it's really different when you compete for flag and country."
Chua fell on his knees after the winning shot and gave Biado, his roommate at the team hotel, a right bear hug.
Archery contributed its first gold following a 26-25 nail-biter over Vietnam in a thrilling shoot-off for the women's team recurve title at the Hanoi National Training Center.
Abby Bidaure, 20, emerged as the heroine for Team Philippines, hitting the bullseye in the final arrow of the shoot-off for a 10 with just 10 seconds left on the clock.
They battled back with a 57-49 win in the fourth frame after trailing 1-2 in the first three, forcing a shoot-off that came down to Abby's winning shot.
Image credits: Nonie Reyes