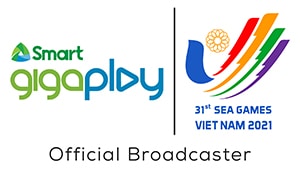 HANOI—Mary Francine Padios delivered the Philippines' first gold medal in the 31st Southeast Asian Games on Wednesday following her victory in pencak silat's women's seni (artistic or form) tunggal single event at the Bac Tu Lien Gymnasium.
The victory of the 18-year-old native of Kalibo, Aklan, put the Philippines on the medals table that Vietnam started to dominate a day before the biennial multi-sport festival officially opens at the My Dinh National Stadium.
Padios's gold was a level better than the silver she bagged in the Philippine 2019 Games.
Her inspiration? Her dad, Jerome, who met a near fatal accident just before Christmas.
"My dad has become my inspiration after he figured in a terrible car accident on her way home in Aklan just before Christmas," said Padios, whose dad remains in a coma to this moment. "He was so exhausted and drowsy from work he slept at the wheel and met the accident.
"He's been motivating me ever since," said Padios, whose score of 9.960 powered her past 2019 winner and favorite Arum Sari of Indonesia, who settled for the silver with 9.945 points.
Vietnam bolstered its bid to snatch the overall title from the Philippines, having amassed a front-running haul of six gold, five silver and six bronze medals as of 3 p.m. (Hanoi time) on Wednesday.
Malaysia also had a six-gold output but had less silver and bronze with one and four, respectively, followed by Indonesia (3-4-0 gold-silver-bronze), Singapore (1-3-3) and Thailand 1-2-3.
Outside of the hosts, the Malaysians and the Filipinos, no other country in the 11-member SEA Games has won a gold so far.
Padios's golden feat lit the Philippine campaign here that met some stiff winds in kurash, beach handball, football, and rowing.
Helen Aclopen accounted for a silver medal in the women's minus 48kgs of kurash, which also came up with bronze medals courtesy of Charlie Quelino and George Baclagan.
Filipino beach handball players gave Vietnam fits on Tuesday but eventually lost in a shootout 14-12, 18-12 (8-10) to settle for a silver medal that coach Joanna Franquelli said shone like gold.
"I am really proud of what the team has accomplished in two years that we were not able to train together because of the restrictions due to Covid-19, but we're happy with the result," Franquelli, a former national athlete in basketball and fencing, said.
"We exceeded expectations and no one expected us to get this silver. They were expecting Vietnam and Thailand to slug it out for the gold, but it turned out that we're the one who fought for the gold and it was a close one," Franquelli added.
In football, Myanmar stopped the Philippine under-23 squad's semifinal bid on Tuesday night with a 3-2 come-from-behind win at the Viet Tri Stadium in Phu Tho province.
The Filipinos saw their goal of entering the semifinals for the first time stopped as Lwin Moe Aung and Soe Moe Kyaw struck in the 51st and 53rd minutes, respectively, to lift the Burmese atop Group A with their second straight win, good for six points.
Veteran striker Jovin Bedic scored a brace in the 34th and 38th minutes but his heroics went for naught as the charges of coach Norman Fegidero absorbed their first loss in three matches and remained in second place with four points.
They were still ahead on goal difference at 4-3 over defending champion Vietnam, which also had four points on a win and the scoreless draw with the Philippine last Sunday.
The Filipino booters will have a much-needed two-day respite before they battle Indonesia in a must-win match tomorrow at the 16,000-seat Viet Tri Stadium in the Phu Tho provincial capital, 70 kilometers northwest of Hanoi.
They will also be hoping the Burmese can also upend the reigning champions the same day that would pave the way for the Philippines to reach the men's semis for the first time since the national squad bannered by Fegidero last achieved the feat in the 1991 Manila SEA Games.
Filipino rowers made their presence on borrowed boats with a silver and bronze medal, respectively, in men's doubles lightweight sculls and women's quadruple sculls at the Thu Nguyen Boat Racing Center in Hai Phong Bay.
Tokyo Olympic Games veteran Cris Nievarez and Christian Joseph Jasmin settled for silver with a time of seven minutes and .05.585 seconds, finishing behind Indonesia's Ardi Kasadi and Kakan Usmana (7:01.385).
Joannie del Gaco, Amelyn Pagulauyan, Mireille Cua and Kristine Paraon won the bronze by clocking 7:28.879 and contributed to the country's medal output for the day.