MALOLOS CITY—Two government cultural agencies have installed historical markers honoring the history of the Immaculate Conception Parish-Cathedral and Minor Basilica in Malolos City.
The dedication ceremony was held in front of the historic church on March 14.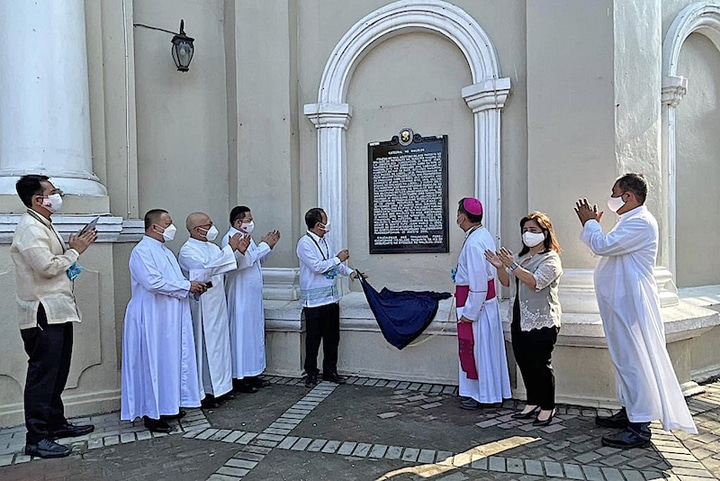 It was attended by some officials of the National Historical Commission of the Philippines (NHCP), the Bulacan Provincial History, Arts, Culture and Tourism Office (Phacto), and the Malolos diocese.
The NHCP marker was unveiled at the belfry in the presence of Bishop Dennis Villarojo, Malolos Cathedral Rector Fr. Alberto D.J. Santiago and Malolos Church Cultural Heritage chairman Fr. Vicente Lina Jr.
The Bulacan Phacto also installed its own marker, citing Malolos Cathedral's significance in the history of Malolos City and of the province.
The event was part of the commemoration of the 60th anniversary of the Diocese of Malolos, which was celebrated on March 11.
The celebration was highlighted with a Mass presided over by Archbishop Charles Brown, Apostolic Nuncio to the Philippines.
Founded in 1580 by the Augustinian friars, the Malolos Cathedral is one of the country's oldest parishes dedicated to the Immaculate Conception.
In 1888, the church became the historic venue for the dialogue between Spanish Gov. Gen. Valeriano Weyler and 20 women of Malolos, resulting in the grant given to them to learn Spanish for the first time.
During the First Philippine Republic of 1898-1899, Malolos served as the first capital of the country.
The cathedral's convent was also converted as the Presidential Palace for President Emilio Aguinaldo.
In 1962, the church was elevated as the cathedral of Malolos diocese.
On the occasion of the Centennial Year of Philippines Independence (1898-1998), the church was granted the title of minor basilica. It is one of only two churches in the Philippines that is both a cathedral and a minor basilica; the other is the Manila Cathedral.
Called by scholars as the "freedom shrine of the Philippines," the historic church is remembered for its remarkable contribution to the history of the Church and of the country.
Image credits: Sandigan-Diocese of Malolos