A study conducted by VPN provider Surfshark indicated that the Philippines ranked number 77 out of 85 countries in terms of average broadband and mobile download speeds and stability. This makes the country's connection one of the slowest and least stable in the world.
This poses a problem as the COVID-19 pandemic has made internet connection no longer a luxury, but a necessity. Moreover, the rapid pace in which technology is developing means the Philippines might be left behind if no one takes the initiative to change.
As the fastest growing fiber internet services provider in the country, Converge has been connecting many FIlipinos to the world wide web. As such, the company is instrumental in making sure that Filipinos are able to keep up with the needs and demands of the emerging digital landscape. It is this drive that Converge introduced 10GPON, an industry first in the country.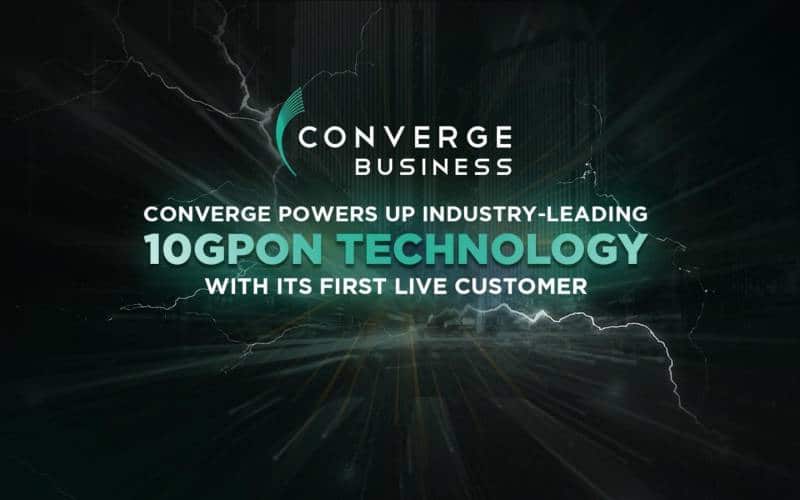 Mainstream fiber
According to Jesus "Boboy" Romero, Converge Chief Operations Officer, GPON is the current mainstream fiber to the home technology running at up to one (1) gigabit per second. 10GPON is the next evolution of fiber broadband providing 10 times more bandwidth than the current mainstream GPON variant.
"However, Converge selected the better version of 10GPON called XGS-PON, which is symmetric. The upload and download are the same speed. This is important because many of the applications today actually require more upload than download," he said.
In addition to it being symmetric, the technology allows Filipinos to be better equipped for the future such as the upcoming Metaverse and also address "current technology limitations" such as slow upload times.
"We send a lot of data to the cloud, we also back up a lot of data to the cloud. To do that, you need to have a lot of bandwidth going out to do the data transfer faster. Since it's ten times faster, you don't have to wait too long and you can start working again," he said.
"In other countries, virtual reality is becoming more popular. Soon, there will be versions of Zoom and Google Meet that are VR based. You're talking of a lot of bandwidth-20 to 30 megabits per user. Whether to play or you are developing software for the Metaverse, you need this kind of technology. Hopefully, this puts us on the map with world class telecom and internet infrastructure," he added.
Empower businesses
Moreover, the new technology can empower small and medium businesses by allowing them easier access to cloud-based technology. Called a "great equalizer in terms of automation", it allows businesses of any size to be on the same level as bigger corporations in terms of digital transformation. It also has the potential to be a "game changer" for industries that use a lot of data.
"There are certain industries that could hopefully be addressed better, like video editing. When you create videos, there is a lot of back and forth. You have to send the video to the customer to review, then send it back. Another one is engineering design. We have good engineers and architects here, and then we have customers abroad. They work on very big files, like CAD files. So imagine if you are able to more efficiently send, receive and collaborate on data, then it could provide more opportunities for our country men," said Romero.
Another problem the Philippines faces in terms of internet connections is weather based interruptions. As the country moves through the new normal, this poses a problem of daily life being forced into a halt due to bad connections. Fortunately, 10GPON, being a passive connection, is immune to rain.
"There are no electronic parts that could get rusted or shortened. Fiber technology is more immune to rain and moisture and electrical interference. So that is why, for example, if you compare the incident rate, yes there are customers who have problems, but if you compare the users on fiber versus the users on the old copper- the DSL, the rate is much, much lower," Romero added.
10GPON is currently being rolled out, with the PSE Tektite Towers being the first to receive it last December. As of date, Converge has been working on rolling out in other buildings and hopes to make the technology more readily available.
"The overarching theme is that we want the Philippines to be a globally competitive country when it comes to services that Filipinos can offer," he ended.