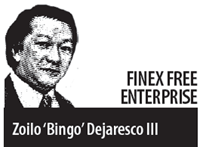 THE primary historical comfort that ensures this Covid-19 and its variants will not last forever comes from the fact that no virus ever escaped conquest by science.
The dreaded "Spanish Flu" in 1918 that afflicted a third of the world's population and killed 50 million people vanished in two years or so. The human survivors "developed an immunity gained from dealing with various mutations till they became less virulent." Others?
Polio was eradicated in 1979 and, according to the World Health Organization (WHO), so was smallpox in 1980. The human immunodeficiency virus, which had a 10-year life incubation, was effectively prevented; deaths from such virus are now few and far between. SARS (severe acute respiratory syndrome), which exploded in 2002 to 2003 only resulted in a mere 774 deaths and all but disappeared.
But today—just when the world had used 9.4 billion anti-Covid vaccines on over 8 billion population and some normalcy has approached; a variant called Omicron appeared and punished South Africa in a frightening way.
But in just a few months after, the African Council for Scientific and Industrial Research reported "a significant decline" in Omicron infection, hospitalization and death in themselves and in comparison to the virulent Delta. Now, except for the midnight-to-5 a.m. curfew, South Africa's "restaurants, shops, cinemas, bars and gyms are all open"—both for outdoor and indoor usage.
Will all other nations result in such a trajectory of eventual virus liberation?
The US (90 percent Omicron-afflicted) has been hit badly—at one time with one million new infections in one day and supersonic surges were observed in India, UK and France, among others.
Hospitals in America are now once again challenged. The Washington Post reported that anti-Covid pills' supply is once again outpaced by demand (Paxlovid by Pfizer and Merck's Molnupiravir). In the same media outlet, US President Joe Biden told Americans: "Be concerned about Coronavirus but NOT alarmed—unless you are unvaccinated."
Though the fact remains that Omicron can infect both the vaccinated and the unvaccinated. But the chances of the unvaccinated being into serious symptomatic troubles or death are preponderantly higher than those who got the vaccines.
US scientists dared to say that current vaccines are effective against Omicron. The Times of Israel released a statement that a fourth shot of the Pfizer-BioNTech vaccine will boost the number of antibodies within a space of a week from an injection.
So, is the world winning or losing the war versus Covid? In the Philippines?
Many places here including the National Capital Region (NCR) have been placed under Alert 3 as the number of new infections hit 26,000 last Friday against what was only 200-plus a day. Newspaper accounts last weekend said that 2 of 5 of those tested were declared positive or over 50-percent positivity rate. Does this mean that if 100 million Filipinos were to be tested simultaneously, 50 million Filipinos would likely have the virus?
We do not know if we got that right, but Manila insists the surge is still mainly Delta-based though Omicron cases have been confirmed to be in existence in the NCR. What we do know is viruses mutate—they do not die and a new wave of viruses attack. Mutate means they metamorphose—they change characters and potency—say, from Delta to Omicron.
Our hope is that, eventually, all virus attacks will be from Omicron here; why?
Because while the transmission rate of Omicron is high (many will be infected), the virulence is very mild—in fact, the mildest among the variants—which means only a few will be hospitalized and fewer deaths will occur.
We'd rather have a sample of the "Omicron South African" nightmare here but end up where that African nation is now—celebrating brand new normalcy their people have not seen in two years. To Africans, South Africa had hopefully seen the "endemic"—the last of the variants in Omicron and will declare themselves soon "Free from Covid."
Exaggerated or not, we hang on—and suspend our disbelief as we hear OCTA Research Fellow Fr. Nicanor Austriaco boldly speak about the "benefits" of Omicron. Says the Man of the Cloth: "Omicron is a natural vaccine booster against all various Philippine variants starting from June 2020: Delta, Gamma, Beta, Alpha and D614G. Thus, it helps us against all variants."
Omicron used to have two pathways to the other body cells. But, luckily, it seems, changes in the mutation of the virus, resulting in its preference to lodge at the "upper respiratory tracts, not the lungs"—lessening the severity f the symptoms although its transmissibility may be high.
Studies showed that while Omicron is good at avoiding antibodies, they are less able to defend against the "second line" defenses of the vaccines and even from previous infections, which are the T-cells and the B-cells.
It is likely that the T-cells of those vaccinated or those previously infected in the past 6 Months- can recognize the Omicron readily and fight it off quickly. This explains why the symptoms and infection are mild.
It is true though that both the vaccinated and unvaccinated can still be affected by Omicron. Its coverage will usually be ONLY the nose and throat areas; affecting the upper respiratory tract (and, therefore, milder) but not the lung whose infection will cause more severity.
According to available data Japanese, American and Belgian scientists tested animals and found out that the Omicron cannot affect their lungs, as well. Their Hongkong counterparts used lung tissues and tested Omiron could not grow on them, likewise.
An added voice of hope comes from an Immunologist of the University of California Monica Gandhi, who said "the virus will always be with us [like the flu?]; but my hope is that the variant will cause so much immunity, it will quell the pandemic."
The twin phenomenon of high transmission rate but with mild infection for most "signal the beginning of the end of the pandemic."
Scientific fact or fiction? Hope lies eternal in the human heart.
---
Former banker Zoilo P. Dejaresco III is a financial consultant, media practitioner and book author. He is a Life and Media member of Finex. His views here, however, are personal and do not necessarily reflect those of Finex and the BusinessMirror. E-mail: dejarescobingo@yahoo.com.
Image credits: Teerachat Aebwanawong | Dreamstime.com