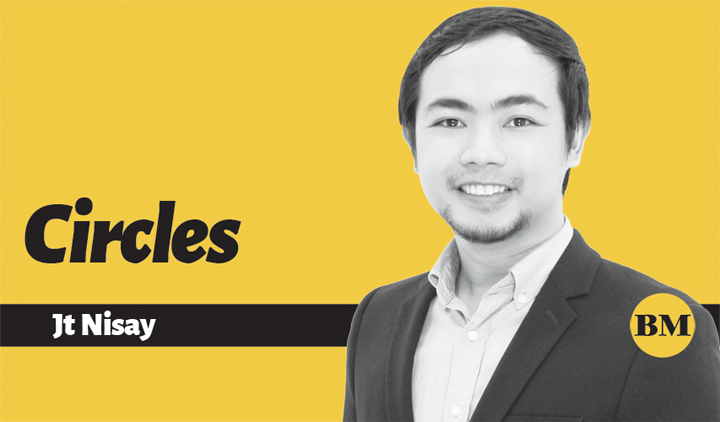 WATER runs deep in the life of Darby Alcoseba as a visual artist.
Beside the Cebuano painter's childhood home runs a river that instilled in him an affinity to the magnificence of light bouncing off liquid. This is why the artist fixates on bodies of water whenever he travels or views a painting. He also grew up in a family of artists who painted using mostly watercolor.
In his second solo exhibition, titled Agua, Alcoseba pays homage to the element. Twelve landscape paintings comprise the show that plays on reflection, while being a reflection itself of the artist's journey. The exhibition is on view at Galerie Anna in SM Megamall until November 5.
Most of the pieces exude tranquility. Much like in Tranquil Day, where a group of three boys play with their dog beside a calm lake, there was a time in Alcoseba's life when everything seems to be in place. He was going to cruise to a life as an artist, following the path of his family.
Upon witnessing his painter father struggle to make ends meet, however, Alcoseba vowed to pursue a different life. He took up computer engineering in college and became a programmer after graduation. It was a change of pace like the one in Water Force, wherein we see not a still puddle, but a gushing waterfall.
The call of art was, however, too strong for Alcoseba that he continued painting as a hobby. When his boss learned of his creations, he was offered to be transferred from programming to graphics at nearly double the salary. He took the post. After a while, the artist realized that his works are better suited to be rendered physically than digitally.
Alcoseba resigned and decided to follow his heart's true desire to be an artist.
"'Yung puso ko," he says, "nasa painting talaga."
Alcoseba studied the works of French impressionist Claude Monet and American portrait painter John Singer Sargent. He developed his
natural talents under the guidance of fellow Cebuano artists, including Orley Ypon and Romulo Galicano, his uncle.
"Sabi ni Galicano sa akin, dapat i-observe ko ng mabuti 'yung nature; dapat isaisip ko lahat ng detalye," Alcoseba said.
The advice is applied across the featured artworks in the show.
Despite the exhibition being titled Agua, every detail in Alcoseba's work is worth noting. There's the strength and stability of the limestone cliffs in Turquoise Treasure. Leaves sway in North Trail, as a man riding a motorcycle returns the viewer's gaze. The artist dares to be bold as well with an eight-panel assemblage of a pond bursting in life as part of his Water Shelter series.
"Gusto ko mapakita sa audience kung ano ang kakayahan ko," Alcoseba said. "Gusto ko ma-surprise sila."
More information on Darby Alcoseba's Agua can be found in Galerie Anna's Facebook account at www.facebook.com/galerieanna.