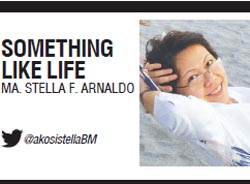 CHEF Robby Goco is a distressed man these days.
Once dubbed the enfant terrible of Philippine cuisine, this talented chef, trained in the ways of French cooking and behind popular restaurants, such as Cyma, Green Pastures, and Tequila Joe's, has been quite busy answering his phone and fending off critics because of government's plan to "standardize" the recipe of adobo.
Yes, nothing quite grates and has the galvanizing and unifying power of food. Whether you are Dilawan or DDS, a Marxist or Leninist, Ilonggo or Ilocano, many have spoken out on this Department of Trade and Industry-initiated project.
"All we are doing is coming up with a baseline recipe. You know, I was trained in French cuisine, and one of their mother sauces is béchamel sauce. The basic recipe for béchamel sauce is milk, flour and butter. And you can use that and add cheese if you want, it will still be béchamel sauce but with cheese. So that's what we're trying to do with adobo and other traditional Filipino dishes. We're writing down the basic recipe for adobo, and using ingredients common to all adobos, which are meat, vinegar, salt and pepper. If you want to put soy sauce, go ahead. Or bayleaf, or gata (coconut cream), it will still be adobo, but for foreigners, we just want to give them the basic recipe," Rob explains. He is vice chairman of the technical committee formed by the DTI's Bureau of Product Standards (BPS) to draw up these "standard," OK, basic recipes.
I get his point. It was French culinary genius Auguste Escoffier, who simplified the béchamel sauce into just three ingredients and published it in the groundbreaking Le Guide Culinaire in 1903. Since then, it's not just French who have benefited from using these so-called mother sauces, but the entire gastronomy world.
I tell Rob I understand where he's coming from, but he must understand where all the hate is coming from as well. You mess with my adobo, you're dead. And, frankly, his group's cause wasn't helped by a sloppily written press release from the DTI-BPS. So much so that Trade Secretary Ramon Lopez had to issue a statement on Sunday, the day after some media picked up the news, and then once more tried to clarify the aim of the project in a news conference on Monday.
"Obviously, it's not [a] mandatory standard because there are thousands or millions of different lutong adobo," Lopez stressed. (See, "Will new govt panel punish you for not following its 'adobo standards'? Nope, swears DTI chief," in the BusinessMirror, July 11, 2021.) But precisely because it is the BPS undertaking the "standardization" of these well-loved Filipino recipes, it wasn't "obvious" to the rest that it wasn't going to be the "mandatory" recipe to follow. After all, it is the BPS that sets the standard for products like Christmas lights, imported seatbelts, motorcycle helmets, cement, and the like. Criteria for quality have to be met before these products are allowed in the market. If they don't, these are declared "substandard" and retailers are penalized. So excuse us for thinking that when the neighborhood carinderia puts an egg in their adobo, the BPS can just swoop down and close down the eatery for not following the "standard" recipe.
Surprised at how much flak they were receiving, DTI Undersecretary for Consumer Protection Ruth Castelo was on DZMM Teleradyo's SRO a few days ago and went on the offensive, saying, "It doesn't have to be a national issue." She added that because of the different adobo versions across the country (e.g. with egg, dried or with sauce, with soy sauce or not, etc.), "what are we going to promote for food tourism?"
But why is DTI involved in food tourism in the first place? It is the Department of Tourism (DOT) that has purview over food or gastronomy tourism. This is why it tirelessly attends food expos and travel trade exhibits abroad to showcase not just our tourist spots but Philippine cuisine as well.
Being a lawyer, Castelo probably realized the root of the problem was the word "standards." So she explained, "It's not exactly standards [for recipes], it is a guidance document that will contain the recipes. It will contain the history [of the dish]. We just really wanted to promote Filipino cuisine. It's part of the job of the DTI to promote this and the guidance document that the technical committee will come out with."
She added, "The guidance documents are part of BPS's job and food is included; it's not limited to ordinary consumer products, cuisine is also included. And of course DOT is included in the technical committee because of food tourism, but this is all for creative industry exports."
No, Usec Ruth, the DOT is not part of the technical committee. Check your agency's own press statement, which has since disappeared from the DTI web site.
Well, this is what happens when celebrated foreign chefs and food critics keep branding the Philippine cuisine as the "next big thing," but our dishes have yet to really make it, unlike those made by the Thais, Vietnamese, Japanese, etc.
Our cuisine might not be a global phenomenon yet, but it is already well-loved by many here and abroad. At the foreign travel trade and food expos I've attended, delegates often make a beeline to the Philippines booth to scarf down our pancit, lumpia, sinigang, adobo, coffee, sorbetes, etc. The long lines at Bad Saint in Washington, D.C., the packed Romulo Cafe in London, and popularity of Pinoy restaurants and food trucks in the US and Canada, show that Philippine cuisine is already "made." It is proof that we don't need a standard recipe, baseline recipe, or guide document, whatever government wants to call it, to show how much Philippine cuisine is appreciated.
Chef Robby said the next dish their committee is taking up is sinigang. Is bulalo a sinigang? How about kansi? Good luck.
Image courtesy of Stella Arnaldo