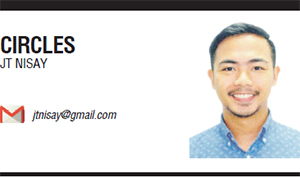 Three solo shows that each deal with themes of transition and passage to some degree fill the latest exhibition lineup of Silverlens.
The shows are on view until July 24 online at www.silverlensgalleries.com and on-ground at the gallery's Makati space. In line with the city's guidelines, Silverlens will not be accepting walk-in guests. Gallery visits could be scheduled through bit.ly/Visit-Silverlens. For more information, contact info@silverlensgalleries.com or 0917-5874011.
'Share Location,' James Clar
Filipino-American light and media artist James Clar found himself on the move once again.
The artist explores the relationship between art and technology, engaging with a range of media from installation, performance and sculpture. From 2006 to 2012, Clar's studio was based in Dubai, where he became an active participant in the arts and culture scene of the globalized city. From 2012 to 2020, he moved his studio back to New York, where he began developing his light systems to create visual sculptural works that combine light and technology during his time at New York University.
Last year, Clar transitioned his studio once more from New York to Manila. It was during that period when Clar developed artworks for his new solo show, his first as a represented artist of Silverlens, titled Share Location.
Inspired by the GPS function of digital devices, the exhibition challenges the notions of presence and connection during these most unusual times. The pandemic not only cripples our mobility in moving from Point A to Point B. At its worst, this crisis forces us to question our place in Point A altogether, transforming our queries of where to introspections of why.
Perhaps this is what Clar implies with his mixed-media installation, titled Ball and Chain. Made with car headlights and LED lighting, the artwork communicates the idea of an overbearing weight that limits something far greater than physical movement.
Elsewhere, the artist captures moments, sights and experiences that were mostly inaccessible during the height of the lockdown. He presents them in the digital space where we, more than ever before, now spend most of our time. Airport terminal TVs reflect our longing to reach places in A New Day/A New Light. A virtual canine roams free in Run Dog Wild, while a person skips and slides on a wet street in Hey I'm Walking Here.
'Threshold,' Luis Antonio Santos
THE fourth one-man show of Luis Antonio Santos with Silverlens stands on the idea of a threshold, the strip of wood, metal or stone forming the bottom of a doorway and crossed in entering a house or room.
Santos usually dwells in these spaces, in the tension between contradictions. He engages with themes relating to identity, using a variety of more established media such as oil painting, screen-printing, and digitally manipulated photography, combined with innocuous materials.
For Threshold, the artist presents artworks that function as demarcation marks, not so much in setting boundaries of defined concepts but in implying the presence of such, if at all.
Void and the Form series, for instance, are canvas paintings of dark drapes, which are often associated with the function of veiling objects in the process of completion. Santos presents the images in a way where the cover—not the covered—is, in itself, the point of interest. The oil-on-canvas creations are worked from a three-dimensional sculptural object, captured as a photograph for reference, and then recaptured as a painting that looks like something actual.
'Volume,' Micaela Benedicto
Artist, architect and musician Micaela Benedicto returns to Silverlens for her second solo show with the gallery.
Since entering the field of visual arts at the turn of the last decade, Benedicto has been working with three-dimensional constructions and photograms to examine the ambiguities of space, memory and loss. The artist remains in this pursuit in her new exhibition, titled Volume.
What is seen in the featured artworks are the artist's familiar geometric subjects, presented with what appears to be a filter of an aged photo, evoking a sense of memory. What is hidden, however, is the tedious, scientific process by which these pieces are created.
Benedicto exploits the alchemical properties of metal and paper to construct the artworks. The effect registers never-to-be-completed processes of ruination, frozen in mid-transformation. As the exhibition note reads: "The photographs in this exhibition have no proper subjects. There is only the photosensitive paper exposed using the photogram method to a localized light source. Prior to exposure, the paper is cut and folded into three-dimensional forms, then disassembled once the photograph is captured. The resulting photograph is both less than and more than a picture or image."
Thus, framed and hanged on the gallery walls are not the products, but the very process itself.