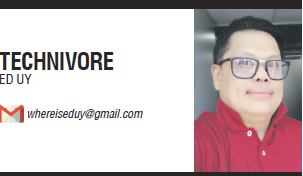 IF you ask me if the Huawei MateBook X Pro is a great Windows alternative to the MacBook Pro, the answer would be an easy yes.
But should you go out and buy one now?
The last time I used a Windows laptop was two years ago and that was the Avita Liber—an entry-0level laptop that I reviewed for a couple of weeks before I excitedly retreated to the comforts of my Macbook Air.
And no matter how powerful those RoGs and Predators are, or how versatile those portable multimode laptops have become, like many who made the switch to MacOS there was just no reason to go back. But as a longtime Huawei user, it was hard to resist the offer to try out the company's very best, so I gave in and took the new MateBook X Pro 2021 for a one-month run.
Now, we can't talk about the MateBook X Pro without mentioning Huawei's "1+8+N" strategy. In fact, one of the most compelling reasons to get the MateBook X Pro is if you are already part of their ecosystem.
The "1" represents the smartphone, the central part of the ecosystem, connecting and controlling the broader devices. The "8" includes Huawei's connected devices such as its wearables, audio devices, tablets, Vision TV and MateBooks; while the "N" consists of all the third-party IoT devices which can be connected using Huawei HiLink and Huawei Share technologies.
With the growing number of IoT ecosystem partners, AppGallery applications, and the release of Harmony OS, Huawei looks to regain its lost momentum bringing it closer to its goal of delivering digital to every home, person and organization, and create a fully connected intelligent world.
But does this MacBook Pro assassin come with enough weapons in its arsenal to lure more users to its ecosystem?
BEAUTIFULLY MACHINED
Let's start with the design. The Huawei MateBook X Pro was made to be the centerpiece of your workstation—wherever that may be. Simply put, the MateBook X Pro's Emerald Green color is a stunner. Its bluish-green hue combined with a metallic gold Huawei logo makes it easily stand out against a sea of mostly silver and black laptops.
In terms of look and feel, it features a durable yet minimal aviation-grade aluminum alloy cut with CNC diamond cutting machine while the sandblasted finish ensures a firm, comfortable grip.
Despite its ultra slim design, the MateBook X Pro has the useful ports you need. In addition to a conventional USB-A port and a 3.5mm headphone jack, the laptop features two full-function USB-C ports that support dual-way data transfer at up to 40Gbps, as well as for charging and display (4K at 60Hz, with a highest resolution of 3840×2160).When Huawei MateBook X Pro is switched off, the USB Type-C port supports Reverse Charging when it's connected to a compatible device.
My only complaint is that the keyboard is bit too prone to sweaty smudges and can be quite difficult to wipe off. If you have oily fingerprints like I do, you might want to use a silicone keyboard cover to preserve its pristine condition.
Not only does the MateBook X Pro look fantastic, its display is equally just as mesmerizing. Thanks to the ultra-slim bezels on all sides, Huawei was able to fit a 13.9-inch Ultra Full View into a 12-inch body. At a stunning 91 percent screen-to-body ratio, the display offers an edge-to-edge, expansive viewing experience supporting up to 3K (3000×2000) resolution at 260ppi. The 3K display means it can natively display full high-definition content and the 3:2 makes the display better for viewing webpages or creating all kinds of documents and presentations.
Complementing that viewing experience is a sophisticatedly designed audio system that utilizes a quad-speaker consisting of two speaker boxes for clear treble and another two for rich bass. You won't need an external speaker as its loud enough for a small room. We're all used to fingerprint authentication on our smartphones that's why I like the fingerprint scanner that's built in on the MateBook X Pro's power button. Instead of having to type in a password every time, you just have to press the power button to unlock your laptop and resume your work.
The one thing I don't think the MacBook will have anytime soon is a touchscreen display. Again, if you're used to working on smartphones or tablets, the 10-Point Touchscreen display of the MateBook X Pro is a joy to use. Instead of having to reach out for a mouse or even the touchpad, you can interface with the device directly simply by tapping on or dragging your fingers across the screen. You can even do a quick three-finger downward swipe on the screen to do a screencap, instead of having to press a combination of keys.
To match your productivity, the MateBook X Pro is powered by the latest 11th Gen Intel Core Processor that ensures an outstanding user experience, plus the new integrated Iris Xe Graphics is more than capable of supporting daily productivity tasks, the occasional multimedia needs and casual gaming.
So how does it fit into Huawei's ecosystem?
While majority of consumers depend on their laptops for serious productivity, most of us also use several other devices for our daily tasks. Work correspondence not only comes via email but also through messaging apps or text messages. This is where Huawei Share comes handy as it enables you to transfer all kinds of files—photos, videos, documents, etc., from your phone to your Matebook X Pro wirelessly, seamlessly, and very fast. Huawei takes it even further with Multi-Screen Collaboration, further bridging the gap between PCs and smartphones.
First you simply have to enable NFC and Wi-Fi on your Huawei smartphone, then tap the back of the device against the touchpad. Follow the screen prompts on both devices to pair.
Once the connection is established, your smartphone's interface will be displayed on the laptop screen, meaning you can control and use both devices within one screen. On top of that, files can be shared between two devices by a simple drag-and-drop or a tap allowing you to view, edit and share files, images and text on both sides. The advantage is that it makes editing files more efficient as you now have access to the bigger laptop screen and keyboard. When connected, you can also answer audio and video calls on the Matebook X Pro. The laptop's camera, microphone and speakers can be used leaving your hands free to do other tasks. For the true multitasker, the multiscreen collaboration features is the perfect fit for you.
Now the camera placement on the keyboard has been quite divisive, as it doesn't present your most flattering angle, but on the upside you can simply hide the camera when not in use, guaranteeing your privacy.
FINAL THOUGHTS
THE Huawei MateBook X Pro 2021 ticks off all the right boxes in terms of productivity and as an entertainment device. It's certainly one of the nicest looking laptops you'll see with the processing power and battery life that can keep up with all your tasks. If you are a Huawei user and don't mind the P89,999 price tag, it's a worthwhile investment that could last you for the next few years.