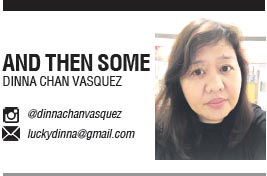 THE beauty world these days is taking a second look at beauty products from China, with a special interest in eyeshadow palettes. The images and videos doing the rounds of social media show beautifully crafted palettes with wearable colors and different textures from matte to glittery.
The Perfect Diary is probably the best-known Chinese makeup brand in the Philippines. It's also well-known globally. Perfect Diary is popular for its lipsticks and exquisite-looking 12-pan eyeshadow palettes.
The eyeshadow palettes contain colors that actually work with each other in terms of shades and textures. They weren't just placed there randomly.
The Red-Crowned Crane palette, for instance, has shades of red and browns from lightest to darkest that allow you to create different looks. The Fancy Carp palette has more varied shades like brown, pink, purple, orange and silver but everything looks wearable. The Perfect Diary has an official store on Shopee (www.shopee.ph/perfectdiary.ph).
Another Chinese brand making waves on social media is Zeesea, which is known for its collaboration with The British Museum. The collaboration produced several 16-pan eyeshadow palettes with names like Ankh, Eye of Horus and Cobra. The collection also has other products such as lipsticks.
The palettes contain pans of different colors and textures. The Papyrus, inspired by the The Great Harris Papyrus, is a warm-toned palette in browns, pinks and yellows. The Gayer Anderson Cat palette has shades of burnt orange, red, gold, bronze and yellow with some shimmer and glitter pans.
Zeesea Cosmetics also has an Alice in Wonderland collection in collaboration with The British Museum and the eyeshadow palettes are definitely worth checking out. You can find Zeesea on Shopee (www.shopee.ph/zeeseaofficial.ph).
In 2018, Perfect Diary also collaborated with The British Museum. Palace Identity is Zeesea's sister brand. It's more expensive and has very elaborate designs. The lipsticks are worth checking out.
Judydoll is an affordable brand that's a favorite on social media. Their Play Colour All in One Makeup Palettes have gotten good reviews for their quality and wearability. The palettes include eyeshadows, blush and highlighter. The brand's Judy Color Lab collaborated with Chinese artist Santu Song, Hello Kitty and The British Museum. Judydoll products can be found on Shopee but there's no official store yet.
There are so many C-beauty brands worth checking out. Another interesting one is Tick & Lick, which is a relatively new brand that has created a lot of online buzz because of its 3D animal highlighters.
HADA LABO LAUNCHES WHITENING RANGE IN PHL
THE Hada Labo lotion has been the No. 1 facial lotion in Japan for 13 consecutive years. Since Hada Labo's Philippine launch in 2019, Filipinos have enjoyed the hydrating powers of the brand's products to give them soft, hydrated and bouncy skin.
Finally, Hada Labo brings the Hada Labo Premium Whitening Range to the country. The line harnesses the hydrating power of hyaluronic acid and combines it with the brightening effect of tranexamic acid for visibly brighter and bouncier skin with a youthful glow.
Tranexamic acid is the active ingredient in the Hada Labo Premium Whitening Range. The ingredient addresses skin discolorations such as melasma, hyperpigmentation, acne scarring and redness.
The Premium Whitening Lotion, which is used after cleansing and before moisturizing, is the flagship product of the range. This watery lotion (which is more liquidy than the original facial lotion) has tranexamic acid to help brighten and prevent dark spots, while vitamins C and E offer protection against free radical damage. To help skin retain moisture, the lotion has also been formulated with concentrated hyaluronic acid.
The Hada Labo Arbutin Whitening Face Wash not only removes dirt from pores but it also purifies for a clearer, brighter complexion. It contains arbutin and plant extracts to help restore and optimize skin's evenness for visibly fair and radiant skin. This face wash is skin pH balanced for low irritation.
If you want to try the products first, get the Premium Whitening Trial Set which includes Premium Whitening Wash (12g), Premium Whitening Lotion (30ml) and Premium Whitening Cream (14g).
With regular use, it will give you brighter and glowing skin. Hada Labo Premium Whitening Range products has no mineral oil, no alcohol, no colorants and no fragrances.
Find Hada Labo at selected Watsons retail stores nationwide and via www.watsons.com.ph, and on Lazada and Shopee.
Tip: If you're not into skin whitening, you can mix the Hada Labo Hydrating Lotion with the whitening variant to fade discolorations and dark spots on your face. You can also use the Hada Labo Whitening Lotion on your elbows and knees to brighten and soften them.
Images courtesy of Tick & Lick on Weibo, Perpect Diary, Zeesea Cosmetics and Judy Color Lab on Weibo