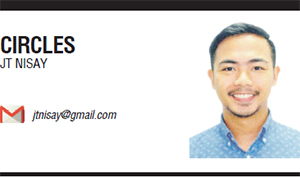 THE prolific design career of Carlo S. Tanseco has seen him break through in the different sectors of the industry. From product design to furniture and commercial creations, the architecture graduate from the University of the Philippines pursues excellence with steely resolve and artistic flair in every venture.
His mantra: "It is about ideas that challenge the system."
At the onset of the pandemic last year, however, when the very system began to do the challenging, the veteran designer, like all of us, was cornered into the unfamiliar. And like those of us who have been fortunate enough at least, Tanseco used the time in lockdown to expand his horizons. He sought for new artistic expressions and found his hand reaching for a paintbrush. After spending many years as a designer, Tanseco began his foray into painting.
Tanseco has garnered multiple awards as a product designer. He is a member of a celebrated design group Movement 8 and has participated in various prestigious trade shows. It is an illustrious list that includes Manila F.A.M.E., Philippines International Furniture Show, Cebu X, Maison et Objet in Paris, Ambiente in Frankfurt, Index in Dubai, along with other exhibitions in Poznan, Krakow and Moscow. One of his greatest achievements was being a featured designer in a high-profile material library for product and industrial designers in New York.
This is the same degree of excellence that Tanseco now attempts to achieve as a painter. Since the lockdown last year, he has been zeroed in on perfecting his craft, surrendering to the process of art making with an approach that has worked for him for many years.
Tanseco continues to build his knowledge in the arts, to familiarize himself with the rules and eventually bend them to his will. Tanseco is now set to showcase the results of his pursuit as a painter through Juxtaposed: Between Order and Complexity, a solo exhibition by Art Cube Gallery that will be presented in the upcoming Art Fair Philippines 2021 Online. The annual showcase is slated to run next month from May 6 to 15.
Tanseco's art reflects his deep-rooted orientation with patterns and order that he consciously presents with the intention to disrupt. Such is the case in his pieces that feature pop art portraits of literary titans like Jose Rizal and art icons like Salvador Dali.
In Dali-Magnifying Glass, Tanseco lulls the viewer in with one style and surprises with another through closer inspection, where the magnified right eye of the Spanish surrealist painter pops out in hyperrealistic depiction. Meanwhile, Tanseco reimagines the mythical labyrinth with heavy 3D design influence in Theseus and the Minotaur.
By applying his design orientation to his
paintings to a degree that still affords creative freedom, rather than letting it dictate his flow, Tanseco is able to present imaginative works that are evidently informed of ratios, patterns and rules. This is what makes breaking them defiantly effective and uniquely his.