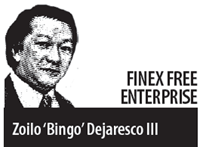 HERETOFORE, the Philippine stock market was largely influenced by foreign players who would quickly opt out even by the mere rise in the interest rates by the Fed. Looming large, locally, were the institutional and employed workforce who were, by a huge measure, not too aggressive in their investment risk taking.
January 2021 awoke us to the new realities in the stock market. In terms of the trading value in the PSE (Philippine Stock Exchange) the local boys who were just 48.7 percent (2014) and 44.6 percent (2015) of the total, began to dominate the market over their foreign counterparts at 58.9 percent (2020) and 73.3 percent (2021 January). Accordingly, retail players went from only 18.2 percent (2019) to 26.8 percent (2020) and finally, 50.7 percent (2021), a clear and marked shift from the dominance of the institutional buyers.
Total stock market accounts actually ballooned from 640,661 (2014) to 1,228,031 (2019) while those who trade with direct market access (DMA) and using electronic facilities rose from just 27.3 percent (2014) to 63.7 percent in (2019).
According to one leading stock brokerage firm, the appetite has shifted to more aggressive non-index trade which propelled up from a mere 54 percent (2019) to a huge 87.6 percent (2021) from 75.6 percent (2020). Among individual players, the 30-39 year olds who dominated in 2019 at (40 percent) gave way to the younger generation of 18-29 year olds (51 percent) in 2020.
The majority share of those employed who stock-traded was being eased out by a growing minority coming from the unemployed, partially employed, small entrepereneurs, OFWs and students.
This rising revolution of the "newbies" was brought about by the availability of online trading (sans broker's commission), more wide education by social media on economics and business, availability of time due to lockdown and work from home, forced savings due to the inavailability of then- easy- to- access postponable goods and services.
Will this new, increasingly bigger powerhouse of "retail investors" repeat what happened to GameStop, a Texas, US-based computer games retailer where they engaged Wall Street biggies who tried to short sell the company in a terrific tug of war for almost a month? By buying stock intensely causing prices to rise at a horrifying 1,600 percent (hike) at one point within January, some short sellers consequently lost their shirts; unable to cover their positions as the stock price rose dramatically.
Likewise, brokers like Robinhood were about to crash themselves due to the new cash requirements on both sides of the trade causing this particular broker to stop entertaining trade of GameStop on January 28 and causing the stock to reduce in trading volume and value tremendously before resuming trade days after.
In a congressional hearing, Robinhood justified that its actuation was not to favor the Wall Sreeters over the rebel retailers when they stopped the trade but, because of the the ensuing circumstances, they had to borrow $3.4 billion to square their position.
GameStop which has been facing decreasing sales and losing money due to the pandemic was only trading between $31.40 and $39.12 per share from January 13 to January 20. When the "rebels" attacked, the share shot to up to $473 at one point before the Robinhood "intervention." When the dust settled, the stock careened to only $51.20 per share in February 11 and was trading at $40.59 per share on February 19.
Greedy onlookers who came in the rising market suffered considerable losses as the market plunged. One 20-year old trader committed suicide allegedly for a mistaken belief he lost $750,000 in the trading frenzy. Again, this is a familiar cause of failures due to "nerding behavior where one stock is overly hyped and overbought" resulting in a clearly overvalued trading numbers.
Or the standard caveat of "buy the business, not the stock" was partially ignored by the players as do most bitcoin traders. Is it better, then, to hark back to Warren Buffett's time- tested motto to "buy only based on intrinsic value" with a long-term view? Or is this conservative "Warren theme" too lame for our newfound maverick retail investors?
"Independent" stock analysts, in fact, place GameStop's "real value" at only about $10 per share to $13 per share. Or is the "true" value representing what the next buyer is willing to pay for the stock?
People in the know say the GameStop saga, which nearly broke the stock trading ecosystem as we know it, could not happen here because we do not have naked short selling. However, words in authority also dislcosed that "short-selling" will soon be a reality here. Even local deterrents, like the minimum broker's fee of .25 bps, might appear meaningless if the stock shoots to the roof by 1,600 times as this stock did.
The newly-formed retailer's majority here is a new-found development but is unlikely to galvanize so soon into a one united front and wage a war of attrition between the "haves" and the "have nots" in the stock market.
In a recent Finex-sponsored virtual forum, experts opined that the same phenomenon can happen here for three other reasons: (a) company free float requirement is only 10 percent; (b) dealer accounts do not pay commission; and, (c) market manipulation conviction is rare.
Aside from the logical strengthening of capitalization of brokerage firms, enlarging the ecosystem to accommodate the increasing volume of trader base and better education of investors in stock valuation, we leave it to to the regulators and shareholders to determine further steps to ensure such a GameStop saga does not happen here.
But one thing sure, the landscape had changed dramatically and for the Philippine stock market, it will no longer be "business as usual, business like before" kind of drama. The pandemic also did generate newfangled, exciting notions in other sectors like this, the Philippine stock market. But it can also either become a blessing or a curse.
Zoilo "Bingo" P. Dejaresco, a former banker, is a financial consultant, media practitioner and book author. Dejaresco is Life Member of the Finex and Media Affairs Committee. His views here are personal and do not necessarily reflect those of Finex and the BusinessMirror. Email him at: dejarescobingo@yahoo.com