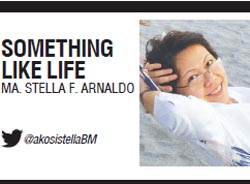 A FEW weeks ago, my 10-year-old ceiling fan gave up the ghost.
It had seen me through three apartments and been stuck on different ceilings for so long, I'd forgotten what brand it even was. (I am guessing "Westinghouse" since it's lived so long; durability after all, is the hallmark of this brand—no celebrity endorsement intended since, well, I'm not a celebrity. Hahaha.) And I had no idea where its service center was located, or if there actually was one. After so many apartment moves, the fan's manual and warranty card had gone missing.
Still, I'm not surprised the fan finally gave out. Having been stuck for six months at home because of this blasted "veerus" that causes Covid-19, I have certainly worked the ceiling fan overtime. After all, I can't very well run the airconditioner 24/7, otherwise my Meralco bill would shoot through the roof. (Actually, mine almost did, although up to the ceiling only—with the estimates the utility company had to do during the enhanced community quarantine, being that meter readers couldn't be deployed.)
So upon waking up, the electric fan is what I switch on. This enables the aircon to also recover its breath in time for the evening use. As many of you have felt, last summer gave us searing, claustrophobic heat even at night, making sleep truly uncomfortable. (Couple that with hot flushes running through my body every so often, which wakes me up every now and then, as my pillows become drenched with sweat, and you can understand why switching on the airconditioner has become a regular part of my nocturnal habit. Yes, even during this monsoon season.)
Thanks to an online sale of a popular and reliable home appliance brand, I was able to purchase a new fan, a desk type this time with what they call banana blades because of their shape, and in lime green no less, with a black body. Unfortunately, it now takes
up more space in my bedroom. But I had no choice really, because I still cannot summon the courage to call my suki electrician/handyman who does minor repairs at my flat. (His barangay had recently undergone an extreme lockdown due to the surge in the number of Covid cases, so I've been wary about getting him to take a look at the ceiling fan, or have him install a new one.)
To be honest, this was my second electric fan purchase for the year. In the middle of the stupid pandemic and lockdown, my frigging Vornado also went kaput. It's actually the one that I had used the most since it sits in the middle of my living room and kitchen, where I normally hang out for daily meals, and where I veg out in front of the TV. But it has only been around for the past three years, and only got abused basically during the community quarantine.
At first I was so impressed with the Vornado, and despite its high tag price, it indeed was able to cool a large part of my home due to its patented technology. But not long after, I already regretted having bought one. It's such a bitch to clean. I had to go back to the seller to find out how to do it. I even consulted YouTube for tutorials.
Basically, you have to dig in deep with your screwdriver to unlock its front frame through the back, before you're able to get to the blades and mechanism for cleaning. Then it's another exhausting story to reassemble it.
In the case of regular electric fans, all you have to do is pop open the frame with a fairly manageable unlocking mechanism, remove the blades, wash and clean, then put everything back together again. So if you're still considering to purchase a Vornado, I'm telling you right now: DON'T.
Another lemon is Dowell's highly-priced box fan with humidifier, which I had purchased two years ago. As I have asthma, I needed a fan which would constantly wet the atmosphere with aerified water. Three months into use, the humidifier stopped working. I brought it back to the appliance store where I bought it, and they had it repaired.
Not even six months later, the fan blades quit turning. Since the appliance was already out of warranty, I didn't want to bring it to the service center, which was quite a distance from my home. It's quite heavy, mind you, and just the thought getting the blasted thing into the back of a taxi or GrabCar made me wince. So that's another appliance brand I have X'ed out of my consciousness.
Meanwhile unsurprisingly, when I shouted out to Twitter to ask who else had bought one or more fans during the lockdown, a number of followers tweeted back. They all said the same thing, basically, overuse and abuse caused their fans' untimely departure from this mortal world.
Some went upscale, bought a Dyson, which has humidifying and air purifying features—it's something I've been lusting after as well. But most have stuck to the basic stand or desk fan. And as many have realized, basic is still the best. Cheaper, easier to operate, and less hassle to clean. I myself went back to an Asahi and have a small industrial fan in the living room-kitchen space, and recently purchased a Standard desk fan to replace my lovingly departed ceiling fan.
Both new fans are just in the P1,000-range and seem to be working well so far. My previous experiences with both brands had been satisfactory, and their life expectancy was quite acceptable, five years at the most. Yet as these experiences have shown, high-tech isn't necessarily practical, and an expensive price tag doesn't mean durability.