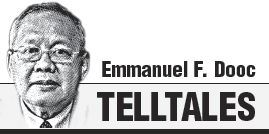 Under the Donald J. Trump administration, Americans live under a poisoned political climate. Partisanship has reached its nadir and every political move taken by one is subjected to a political litmus test by the other side. Every action becomes suspect and any promising leader from the other side of the political fence is marked for political assassination. Every conversation is characterized by insults, prevarications and demagoguery displacing decency, facts and fairness from the public discourse. This sad state was in full display during the first presidential debate between Trump and Biden last week. However, in the long and recent past, we can cite exceptional cases in government and politics where civility and friendship between politicians coming from opposing parties and government officials advocating conflicting ideologies and philosophies had triumphed despite their adversities.
The case of former Vice President Joseph Biden and the late senator and former Republican presidential candidate John McCain is a case in point. The close friendship of the two top leaders belonging to different political parties during their long years in the US Senate was the envy of every politician in Washington. The recent endorsement by the widow of McCain, Cindy McCain, of Biden for the US presidency speaks volumes of the closeness and mutual respect between the Bidens and the McCains. While they were political nemesis and stalwarts of their own parties, the two families when Senator McCain was alive displayed extraordinary friendship, which was unheard of in the political jungle of Washington. After heatedly arguing on the Senate floor and respectively championing their parties' cause, the two senators with their wives Jill Biden and Cindy McCain would have drinks and dinner together, and whenever there was a Senate break, would take trips together. Jill Biden recalled that their husbands would debate and see things under different lights as their parties' opposing advocates but they remained respectful of each other. Jill Biden and Cindy McCain ruefully missed their old days when "there was true civility in government. And that's what I think we should return to."
***
Such amazing friendship and mutual respect was also displayed by two late Justices of the US Supreme Court, Justice Antolin Scalia and the recently deceased Justice Ruth Bader Ginsburg. Their close personal relationship was widely known inside and outside of the Court. It was not surprising because they shared many things in common despite holding diverse legal philosophies. Ginsburg, at the time of her death, was the acknowledged leader of the liberal wing of the Court while Scalia was a staunch conservative Justice. They disagreed in many decisions taken by the Court, particularly on landmark cases, but this did not affect nor deterred their friendship. Their families celebrated holidays and took trips together. They both loved opera. When Ginsburg's husband, Marty, died, it was reported that Scalia "wept on the bench." When Scalia died some years later, Ginsburg declared that "we were best buddies." It is well to remember Scalia's advice to others in the judiciary who once said: "[I]f you can't disagree ardently with your colleagues about some issues of the law and yet personally still be friends, get another job…"
***
John Adams, the second president of the US, and Thomas Jefferson, the country's third president, were the country's fiercest political foes. In the first presidential election after Washington left the presidency, Adams defeated Jefferson by 3 electoral votes. Under the rules at the time, the defeated candidate serves as the winner's vice president. However, Jefferson dislodged Adams from his office when the latter ran for reelection. Although at some point, they abandoned their friendship due to politics, they revived it and kept it until their death. John Adams' son and namesake, John Quincy Adams who also served as president of the US denounced Jefferson's alleged perfidy at the time of his father's and Jefferson's intense rivalry. John Quincy bitterly wrote in his diary: Jefferson's "treatment of my father was double-dealing, treacherous and false beyond all toleration." John F. Kennedy upon reading this much later wrote that John Quincy "did not comprehend how our complicated Federal system of checks and balances operated, nor did he realize that what he regarded as Jefferson's machinations was merely a facet of the latter's genius applied with success to the art and science of government." And Adams' and Jefferson's friendship stood the test of time. Adams unabashedly declared when he was an old man: "I always loved Jefferson, and still love him." This feeling was not unrequited for Jefferson described Adams in a letter to a friend that Adams "is so amiable, that I pronounce you will love him if you ever become acquainted with him." These two immortal men kept their friendship, with some interruptions, for 51 years since they met at the Continental Congress where both figured prominently until their deaths, would you believe, on the same day, July 4, 1826. Even on their death, the two friends connived and had selected the most historic date of all—the 50th anniversary of the Declaration of American Independence. On that day, Jefferson died 5 hours ahead of Adams but the latter mumbled on his deathbed, not knowing of his friend's earlier demise, "Thomas Jefferson survives." His friend, Jefferson, was Adams' last thoughts. Truly BFF.