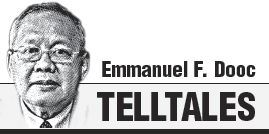 President Donald J. Trump's present imbroglio that he finds himself in, exactly seven weeks before American voters troop to the polling places to elect their next president, was precipitated by a purely human frailty—lying. It seems that American presidents never learned their lessons well. President Richard Nixon not only lied but also tried to cover it up, and that resulted in his unceremonious departure from the White House. President George H. W. Bush has been infamously quoted: "Read my lips: No new taxes." But when he could not negotiate with the Democratic-controlled Senate the budget he needed to meet his pledge, he imposed new taxes. President Bill Clinton as usual, in his smart-alecky way, had said: "I smoked but I did not inhale." And now Trump was caught in his own words several times when his personal interviews with Washington Post investigative reporter Bob Woodmark were heard by the whole world.
Last week, Washington Post top investigative reporter, Bob Woodward, revealed that he interviewed President Trump 18 times upon the President's invitation. The President gave a number of startling revelations about his knowledge of the coronavirus that he later on contradicted in his briefing to the American public. For instance, in a recorded interview given to Woodward as early as February 7, 2020 before knowledge about the virus was widely known, Trump acknowledged that the virus "goes through the air. That's always tougher than the touch. You don't have to touch things. Right? But the air, you just breathe the air and that's how it's passed…. That's a very delicate one. It's even more deadly than even your strenuous flus." Yet until not too long ago, he had been telling that Covid-19 is virtually harmless. He had repeatedly said that as warmer weather comes, the deadly virus shall "disappear like a miracle."
Is lying a part of the President's repertoire? Why do some presidents resort to a state of denial even in the face of blatant untruth? Dr. Charles Ford, a renowned university professor and the author of a book on the psychology of lying, said: "Everybody lies. It is part of human nature, ubiquitous in the animal kingdom. However, some people lie compulsively, often when the truth would serve them better." A President would prevaricate to appeal and look good to the public. More often, it is for self-aggrandizement to demonstrate that he is a better leader than any pretender to his post. And it is very common during election periods when the incumbent is seeking a reelection to embellish his credentials. For instance, during the last Republican National Convention, Trump lied at least 20 times before the audience who listened to his nomination acceptance speech according to fact-checkers who monitored his speech. However, a well-intentioned president may tell a lie, for instance, to keep a nation safe and secure. For instance, President Franklin Delano Roosevelt's deception about his health during the war to preserve the morale of the US troops and his people fits this situation. And to some extent, President George W. Bush's claim that Iraq possessed weapons of mass destruction despite the absence of any solid evidence to justify the US invasion of Iraq is one such example. The invasion removed a tyrant who had been bullying not only his own people but the smaller Arab states. There are noble lies as there are brazen lies. It is the latter which are revolting and offensive such as Nixon's Watergate lies which eventually caught up with him.
Truth is the first casualty in politics. The prevalence of lying among public servants contributes to the irreparable erosion of trust in government. When the governed doubt the integrity of their rulers, there is a breakdown in people's confidence in government. When there is a serious disbelief in the sincerity of their officials, the administration will not succeed. This was the main culprit why the US, despite its huge military superiority, lost the Vietnam War. The American public later learned that the US government under President Lyndon B. Johnson concocted the fiction that the Vietcongs attacked the US naval forces in the Gulf of Tonkin to rationalize the sending of massive military forces to Vietnam. In a poll survey made in the US before the fall of Saigon, the Americans overwhelmingly responded that for the last 10 years, the US leaders had consistently lied to them.
I remember the time after then President Joseph Estrada was ousted from Malacañang and efforts were being made to arrest him to face the plunder charges levied against him. Senator Miriam Defensor-Santiago, in her usual fiery and bombastic statement, said: "I'll jump off a plane without a parachute if the police succeed in arresting President Estrada." After the former president was arrested and placed under arrest in his resort in Tanay, Rizal, the anti-Erap forces challenged Senator Santiago to make true of her promise, but she blurted with her signature hearty laugh and said, "Well, I lied."
Honesty is still the best policy in politics, but it seems that an honest politician is a vanishing breed. One President who reportedly did not lie was Abraham Lincoln, and that's how he got his moniker, "Honest Abe." His political opponent Stephen Douglas tried to debunk it by calling him "two-faced" Abe. Lincoln rebutted it by saying, "If I have two faces, do you think I'd wear this one." We have many two-faced politicians and they are proud of wearing both. Beware!