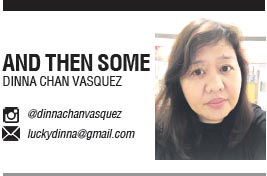 LIKE many people, I am still easily swayed by glowing reviews of hyped products. This is strange considering that I've been writing about beauty for decades and I get to review so many products. It's just so disappointing to pay for something and not be happy about it. It's not only the money but the effort at trying to find the item.
One hyped beauty product that did not disappoint is the Hada Labo Gokujyun Lotion. This is a product that I never looked for because I have a long list of must-tries and somehow I forgot to include this. But I have always wanted to try this lotion, which people think is a toner but is actually an essence. During a trip to Bangkok, I realized that I forgot to pack my day moisturizer so I went to Boots and purchased a small bottle of Hada Labo for myself and a red one (antiaging variant) to give my mom as pasalubong. I was happy with the result of using it for four days in hot and humid Bangkok. It moisturized my skin lightly without making it sticky.
I am always asked what Hada Labo Gokujyun Lotion is. Is it a toner or a moisturizer or a serum? It's an essence, which is a product that you use after applying toner and before your serum or moisturizer.
Another question I am always asked: "What does it do?" You can use it as a standalone moisturizer before applying sunscreen during the day. For nighttime, I still layer it under a serum and/or a moisturizer.
It's actually my drugstore replacement for a more expensive essence from a luxury brand. They're not made from the same ingredients but they have the same consistency and basically lightly moisturize the face and/or prepare it for the other products that will come next.
Hada Labo is a skin-care line that has four times hyaluronic acid, a humectant which can hold up to 2,000 times its own weight in water, keeping skin looking plump, healthy and hydrated. My suggestion for those who want to try Hada Labo but first want to be sure that if won't make them break out is to buy the trial packs, which include around four products, including Gokujyun Lotion. One pack should last for five to seven days and that's enough time to tell you if it will break you out or not.
Launched in the Philippines last year, Hada Labo has been the No. 1 facial lotion in Japan for 13 consecutive years and is one of the top 3 drugstore skin-care brands in Taiwan, Singapore and Malaysia. Hada Labo products are available at select Watsons stores. You can now also order Hada Labo through e-commerce platforms, such as watsons.com.ph and Watsons channels in Shopee and Lazada.
Hada Labo's Hydrating range that's available in the Philippines includes the Hydrating Lotion, Hydrating Face Wash, Hydrating Light Cream, Hydrating Water Gel, Hydra & Whitening Face Wash and Deep Clean & Pore Refining Face Wash. Another favorite, aside from the Hydrating Lotion, is the Hydrating Light Cream (the one in the pink jar). This is a product that I first tried in a trial pack. This is perfect for summer and for our climate in the Philippines in general. It's not heavy but it still moisturizes the skin.
Speaking of moisturizers, there has been a lot of discussion about there not having a need for them. According to an expert, what you need to combat aging are not moisturizers but basically actives to stimulate the production of collagen.
I'm no expert but I have always included moisturizing in my skin-care routine along with sun protection. There really is skin so dry that needs occlusives or emollients, which are basically moisturizers that are heavier than humectants.
Somehow I cannot imagine very dry skin being treated with harsh creams and/or invasive procedures but then, as I said, I'm not an expert on these things.