---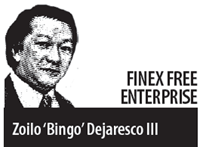 "Health is wealth" is a satirical parody popular in social media these days. It means if one wants to be rich—fitchy rich—be a senior Philippine Health Insurance Corp. (PhilHealth) official.
The insinuation seems to dwarf the former citadels of corruption in the country, namely, the Bureau of Customs (BOC) and the Bureau of Internal Revenue (BIR). They seem to have just been overtaken in the race to hell.
People were, however, not surprised hearing the huge corruption at PhilHealth. Shocked by the humongous amount, yes—but not on the act of corruption.
This is so because their point of reference was the glaring connivance of the then "Medicare" health care program with the various hospitals in the country in the past. The government's health care system has been corrupted ever since with its "partnership in crime."
There were many "ghost patients" claiming millions in fake insurance benefits then and, thus, painted PhilHealth as a "Hall of Famer" in corruption then. It was perpetrated by greedy officials, de facto, pocketing the monthly payment of struggling workers as their contribution to their health insurance program over so many years.
Congress is currently investigating Philhealth, not just for a "whiff" of corruption there but a seeming forest fire with killer fumes that have raged seemingly over many years—allegedly run by a Mafia.
Current Health Secretary Francisco T. Duque III has been a Philhealth "fixture" since 2001 when he was appointed Health Secretary by President Gloria M. Arroyo until today where he sits as chairman—being the top health cabinet official. He has been reportedly dubbed by others as the "Godfather"—the Don Vito Corleone of the Philhealth Mafia who continues, nonetheless, to have the trust of the President.
In defending Duque, the President once aired on TV that "I know the Duque family. They are very rich. Rich men don't steal," or words to that effect. "Tell us about it," the barber on the sidewalk says in jest.
It is possible a chairman can be blindsided by his own Executive Commitee ("the real Mafia" according to Senator Panfilo Lacson); but given the pervading nasty graft talks, it should have behooved the chairman, at the least, to have appointed an "independent director" in-charge of audit to unravel the labyrinth of graft.
Many Philhealth officials are now on preventive suspension or have taken leaves-of-absence while its top two officials (president and executive vice-president) are very ill even as Justice Secretary Menardo I. Guevara heads "Task Force Philhealth," which will wrap up the investigation in 30 days. One whistleblower says the loot is P15 billion.
The accusations include alleged anomalies in the disbursement of the P30-billion advanced IRM (Interim Reimbursement Mechanism) to private hospitals for Covid-19 purposes that went astray to parts unknown. Some P14 billion has been disbursed; others:
the P730-million in questionable information technology projects of the P1.2-billion budgeted multi-year in the same amounts;
the "ghost" dialysis and cataract operations and "up-casing" mere cold cases to pneumonia to secure bigger Philhealth coverage by officials;
the Philippine Red Cross, complained Chairman and Senator Dick Gordon, was only given P100 million of the P700-million budget so the PRC has stopped buying PPEs and setting up testing laboratories.
Where's the money, boys?
The suggestion that "plunder" be filed against the erring crooks is more than just called for. "Yayariin ko kayo," said the anti-graft president [I'll finish you off]. So please have the plunder charges filed against the guilty, Mr. President. Let us not be sidetracked by some of the officials' sanctimonious waiver on the "bank secrecy law" so they can be investigated for ill-gotten wealth.
We do not live in the ancient "Criminal Land" today; pay-offs are never made directly to one's bank accounts now. They're credited to other persons' names or unnamed accounts in the Cayman Islands or some other tax havens. Let's stop this masquerade. All of us readers were not born yesterday.
Now the bright boys at Philhealth do the "squid tactics" and try to strike fear in the heart by saying that Philhealth will go bankrupt in two years, noting potential losses of P90 billion in 2020 and forecasted at P147 billion (2021).
This much we know in finance: insurance companies make money by investing the billions of insurance premiums in various forms. That incompetence in handling the "free investible funds" of Philhealth leading to losses should also be investigated; whether they were invested with arms-length consideration and judicious economic sense.
If not, aside from hanging the guilty by the guillotine (figurative), we should also heed the call of one smart lady congressman from Marikina. This time, we rightly address her "The Honorable" Rep. Stella Quimbo who suggested we may have to "privatize" Philheath to prevent it from being politicized and being converted into a "den of thieves."
Ambassador Babes Romualdez says "stealing is bad enough, but stealing from the sick and the poor…" You, ladies and gents, finish the sentence and send it to Satan for his proper disposal.
Enough said.
Bingo Dejaresco, an ex-banker, is a financial consultant, media practitioner and book author. He is a Life Member and Chairman of the broadcast media of Finex. His views here, however, are personal and do not necessarily reflect those of Finex and the BusinessMirror. For comments, e-mail:
dejarescobingo@yahoo.com.