---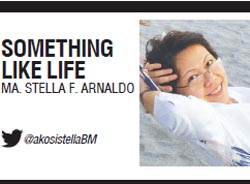 AS attested by the supermarket shelves always near-empty of flour, vanilla flavoring, and other condiments, baking has become the primary preoccupation of many Filipinos trying to fill their extra time while being cooped-up and working at home.
Some do it as a form of therapy, like I do, because I find baking or cooking relaxing. (Knead the worries, uhmmm, dough away!) Some have used it as an alternative to their regular jobs or professions, or just an additional means to pay for living expenses with the drop in one's regular income owing to the Covid-19 community quarantines.
One of Pampanga's best, Chef Sau del Rosario, has worked in restaurants in France and Asia, and has been involved in various dining establishments in Metro Manila, before finally setting up his own in his hometown of Angeles. His latest restaurant iterations are 25 Seeds and Café Fleur, where he has been serving tasty savories. I recall relishing an earthy Sinigang na Ulang (Crayfish in a Soured Broth) at one of his earlier Angeles restaurants.
Of late, he has been busy in his kitchen churning out sweet treats instead.
Chef Sau tells me he started baking only during this pandemic, when the entire Luzon was locked down to contain the spread of the novel coronavirus. "I self-quarantined in our ancestral house in Pampanga. I was pretty much bored, so I started cooking all the dishes my Mom used to cook for us when we were young.
"Then I remembered her cooking some egg pies and buco pie too. So I attempted to bake, which I hate so much, but I thought this would be a good 'killing time' activity and therapy."
He first started baking breads, then went on to whipping up pastries. "I Instagrammed and everybody wanted to order. I started with three buco pies until I got an order of, like, 200 pies in one day! The rest is history!" (His buco pie has eight large pieces of coconut meat in layers, with a custard filling and baked in a French pastry pie crust. Yeah, are you drooling already?)
But let me just admit right now, I'm not a fan of banana cake or banana bread. There's something about the use of overripe bananas in the recipe that just makes me want to hurl. It's been a thing since I was a child, although these past few years, I've been trying to get over my dislike of certain dishes like ube cake and ube ice cream, although I still won't come near ube jam. And it's still a definite "no" to Biya (Gobies) with their eyes that stare at you, ampalaya (bitter gourd), and raisins in embotido. Ewww.
Yet Chef Sau insists overripe bananas are really the best to use in his Vananah Walnut Malagos Tsokolateh Cake because "it's tastier!" He says the best bananas for this cake is the green variety, called bungulan, which is quite difficult to come by these days. So when it isn't available, he turns to the regular lacatan. (He adds saba bananas are just not flavorful enough for the cake, while the cavendish variety is too expensive.)
Chef Sau also incorporates good quality chocolate from Malagos Farms in Davao, whose products have reaped a whirlwind of international chocolate awards over the years. (This is a testament to how the Philippines can be a chocolate powerhouse, if it is able to export enough cacao or raw chocolates to the world.)
He also uses American walnuts, which helps temper the sweetness of the bananas and chocolates, a flavor my palate is particularly attracted to.
Meanwhile, I remember as a child that my Mama used to bring me along to her sojourns to Zurbaran Market. I don't quite recall what her purchases were, probably more kikay stuff, but there was a food stall there that used to sell the creamiest homemade egg pies. My Lola, another layas in the family, used to come home from her lakwatchas with incredibly delectable egg pies from Binondo, as well, along with my favorite mamon and pianono.
Chef Sau, however, elevates the humble egg pie with his use of Malagos chocolate once more, thus its name: Malagos Tsokolateh Heg Fye. Incorporating chocolate in his version brings a touch of whimsy to the egg pie, and speaks to the playful kid in anyone.
Chef Sau is most thankful to his late mom, Garding: "She helped me go through this crisis. She may have passed away 20 years ago, but I still feel her in our house. She is all over me." Amen to the mothers who nurtured us and taught us everything about fine food and cooking.
You may order Chef Sau's Café Fleur Bekeri goodies at 0917-1928343. Delivery schedules are available for Pampanga, Bulacan, Metro Manila, Antipolo and the Southern areas of Alabang, Sucat, and Muntinlupa.
****
AND of course I wouldn't be a good Tita if I didn't write about my niece Nikka's The Weekend Baker's goodies. Nikka started baking during the lockdown primarily to augment her income. While she isn't trained in the august kitchens of Paris and the south of France like Chef Sau, she has been dabbling in cooking and baking for years. Her setting up of The Weekend Baker project is her serious focus on the business aspect of baking, instead of indulging in just a hobby.
So far I have tasted her banana bread with chocolate chips, which also sets it apart from the regular banana breads. Nikka also bakes carrot cake muffins (with cream cheese frosting) and banana walnut muffins. Follow The Weekend Baker on Instagram and Facebook, where you can order her yummies.
If you're friendly enough, you can probably persuade Nikka to cook and deliver her tuna spaghetti as well, a family favorite. Such wonderful treats for the weekend, di ba?
Image credits: Facebook