---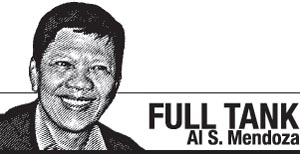 THE vicious virus is without pity, this time knocking down the Metro Rail Transit (MRT) 3, the train system traversing Edsa from North Avenue, Quezon City, to Baclaran and back. So, if our commuters continue cursing Covid-19, can you blame them?
With some 186 of MRT's personnel suddenly testing positive for Covid-19 this week, the railway was forced to shut down for a minimum of at least five days beginning on July 7.
A good number of ticket sellers were among those infected, paralyzing the sales force and putting thousands of passengers in peril of having to grapple for bus seats as they go about their daily grind from home to office.
The MRT work force, almost about 3,200, will have to be tested without delay, and management said it needs at least 1,300 of them to test negative to at least keep operations humming—even on a limited basis.
As I write this, the staff was still short of 964 employees of management's target for work deployment in aiming for a speedy restart, hopefully, on Saturday (July 11).
Even before the shutdown, only 10 to 12 trains were operating from MRT's full force of 16 to 19 trains plying 13 stations at Edsa.
Of the nearly 200 employees infected as of Monday, 166 were maintenance workers at the railway's underground depot at QC's TriNoma. Ah, that virtual cave. I was there once when Gen. Berroya was still MRT 3 chief and, God, the cavernous atmosphere there could choke a claustrophobic to death.
Crippling as the situation is now at the 21-year-old MRT 3, Transport chief Art Tugade rose to the occasion and swiftly dispatched 90 buses to assist thousands of affected train commuters, with 150 buses more to be added in the Edsa artery beginning on July 13 from Monumento to PITX (Parañaque Integrated Terminal Exchange).
Indeed, it is during a crisis when true leaders surface to unleash their wares, or what's left of their wits.
Volvo's 3Ms
COME now Volvo's three Ms: Merriment, Magic, and a Million pesos off.
In celebration of this cherished Swedish midsummer month tradition, Albert Arcilla, the affable lawyer top gun at TCCI, said Volvo Philippines has offered up to P1 million off on select Volvo units including T8 Plug-In Hybrid variants.
This also includes the elegant Volvo S90 sedan, dynamic Volvo XC40 crossover SUV, the sophisticated Volvo XC60 compact SUV, and the luxurious Volvo XC90 midsize SUV.
"More than the reduction in prices," said Arcilla, "it is Volvo's desire to share with the motoring public the advantages of driving a car that has been designed with people in mind. The T8 Twin Turbo Plug-in Hybrid models on offer are not like any regular vehicle. These are Volvos that have been meticulously crafted to deliver freedom of movement in a personal, sustainable, and safe way."
With Volvo's world-famed plush and ergonomic seats, Arcilla said passengers will breathe clean air through a system that prevents up to 95 percent of incoming air particles from entering the cabin.
"Switching to electric powertrains and plug-in hybrid cars are also one of the ways to contribute to a healthier environment," Arcilla said.
He concluded: "While you can't dance around a maypole, share platefuls of pickled herring, and down jugs of flavored schnapps yet [let's still observe social distancing during celebrations], you can still celebrate the summer solstice through the amazing P1 Million Off Volvo Midsummer Offer."
The Volvo Concierge is available online through the Volvo Philippines Facebook page at www.facebook.com/volvophilippines.
Alternatively, customers may also reach Volvo PHL at +63 917 623 6366 and +63 922 859 3216, through e-mail at volvoph@volvophils.com, or at the Volvo Philippines web site at www.volvocars.ph.
PEE STOP From Honda's Arianne Colene Jalalon: "Honda Cars Philippines Inc. [HCPI] will voluntarily recall 10,136 units of 2018-2019 Accord, BR-V, Mobilio, City, Civic, Jazz, HR-V and CR-V models due to faulty fuel pumps containing defective impellers. The initiative aims to ensure customer safety and address fuel pump-related vehicle concerns such as the inability to start-up or becoming inoperative. For further details, please go to www.hondaphil.com/recall." I am deeply touched, Arianne. How can I not bow to this? Here's to Honda for a genuine gesture of deepest love and concern for its customers. Bravo!… Birthday greetings (July 9) to Malaya M. Sadiwa, from Ricky, MayaSoh & Ikap; Coach D, Shang, Mayo, Dada & Migel; and, writer Sol F. Juvida. Cheers!