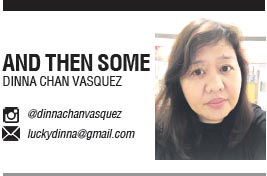 IF you're still working from home, this is the best time to embark on a skin-care routine, if you don't have one yet. I am always asked what my routine is. For day, I cleanse using Simple Moisturizing Facial Wash (this changes depending what is available). After that, I apply Estee Lauder Micro Essence Skin Activating Treatment Lotion. This is not a toner but a pre-serum that would help your skin absorb products better. I don't use a cotton round to apply this. I just pour on my fingers and pat it gently on my face, neck and chest area.
I let the Estee Lauder Micro Essence dry and after a few minutes, I spray on the Shiseido Ultimune Defence Refresh Mist. This is a new product that I've been using only for a few days. It's the spray mist form of Shiseido's best-selling Ultimune Power Infusing Concentrate. I apply Cetaphil Sun Light Gel SPF 50+ as my last step. Whenever I am asked what my skin-care secret is, I always say that it's sunscreen. Sunscreen is the most important step of any skin-care regimen. You should wear sunscreen to avoid premature aging and the potential risk of skin cancer.
For nighttime, it's almost the same base routine except that I also use micellar water and remove the Ultimune mist and sunscreen. After cleansing, I apply the Estee Lauder Micro Essence and follow that with the NIOD Multi-Molecular Hyaluronic Complex MMHC2. I follow this with the Shiseido Ultimune Power Infusing Concentrate on my face, neck and chest and The Ordinary Argireline Solution 10 percent under my eyes, between my eyebrows and all the other areas on my face.
Thrice a week, I apply The Ordinary Alpha Lipoic Acid 5 percent as my last step. Once a week, I use The Ordinary AHA 30 percent + BHA 2 percent Peeling Solution. Please note that I am a longtime acid user. This thing is very potent.
Use only if you will follow instructions and not fall asleep or forget about it. You apply this evenly across your face and neck with your fingers, avoiding the eye area. Leave on for no more than 10 minutes and then rinse thoroughly. I normally clean my face before applying this so I just rinse after and just apply La Mer Moisturizing Cream.
I've been using acids since the 1990s. I was also a longtime Tretinoin user. The peeling products in the 1990s were quite harsh. I remember using Airol, then a topical Tretinoin in liquid form. If my memory serves me right, you were supposed to apply Airol every night for two weeks (it was very painful, by the way) and wait for your skin to start peeling. The whole experience was painful and uncomfortable but the effect was worth it. I would call using The Ordinary AHA 30 percent + BHA 2 percent Peeling Solution a better experience. This mask, by the way, is the blood-like product that has gone viral on Instagram.
As the Deciem web site explains it, "Alpha hydroxy acids [AHA] exfoliate the skin's topmost surface for a brighter and more even appearance. Beta hydroxy acids [BHA] also exfoliate the skin with an extended function to help clear pore congestion. This combined 32 percent AHA/BHA solution offers deeper exfoliation to help fight visible blemishes and for improved skin radiance. The formula also improves the appearance of skin texture and reduces the look of fine lines with continued use."
My friend Rae (she is also a longtime acid user) applies The Ordinary AHA 30 percent + BHA 2 percent Peeling Solution on her face for a few minutes everyday and she told me that her skin looks so good that her husband thought she was wearing foundation. I've been using it for a while now and my skin has never looked better. Maybe it has but I don't remember. Just remember: If you're not familiar with acids, don't use this. You are better off getting a chemical peel from your dermatologist.
Used properly, The Ordinary AHA 30 percent + BHA 2 percent Peeling Solution will get rid of dead skin cells and other stuff that cause clogged pores. Also, don't apply this product the Instagram way (directly from the dropper onto your face). Put a few drops on your palm and apply over the face.