---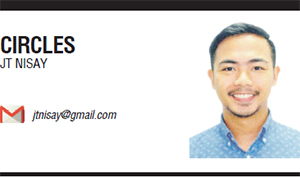 THE art gallery Vinyl on Vinyl unveiled over the weekend its first set of new exhibitions in three months.
The Makati-based art space went on hiatus following strict community quarantine measures, but is now back with four solo shows, featuring Dennis Bato, Anjo Bolarada, Isola Tong and Faye Pamintuan.
The gallery did not host an opening reception for the launch of the new lineup, but they are welcoming limited visitors by appointment throughout the shows' run throughout June. All works will be featured online.
'A LINE STARTS & ENDS AT A POINT,' DENNIS BATO
"AN object," Bato writes in the own exhibition notes, "will always start in a stationary position and will exhibit movement with the help of an outside acting force. Once the force acting upon it weakens, it will then move back to its stationary position."
Bato proceeded to divulge to us his metaphor and talked about life—about how our journey begins at birth and concludes at death. Outside the directness of knowing Points A and B, however, is an impossible complexity of outcomes wherein one choice, one turn, may affect not only our own lives but those of others, as well.
That said, Bato's latest show, titled A Line Starts & Ends at a Point does not start and definitely does end with the matter of life and death. The artist is not solely interested in the course of one line. Rather, he wants to explore what happens when all these stories intersect, overlap and interact.
"People within the society move around a dimension of physical space at a specific time of existence," Bato said, adding that these footprints turn into memories, which then comprise what is called the "the psychic value" of a place.
"Rather than just assessing a place within its natural qualities, the historical aspect that was captured in that location adds to the value of it. The psychic value of a place piles up like layers that exist atop the physical one."
Bato, who has dabbled in installation and street art, has shown a penchant to explore what is beneath a concept's surface. The artist is an architecture graduate whose works and thinking reflect the principles of deconstructivism, an architectural movement that, as Merriam-Webster puts it, "encourages radical freedom of form and
the open manifestation of complexity in a building rather than strict attention to functional concerns and conventional design elements [such as right angles or grids]."
The same is true for Bato's pieces featured in his latest solos show—where the use of acrylic, aerosol spray paint, oil on canvas conjures layered depth—reflecting not just on the path of one life, but with the interactions of many within a network, within a "dimension of physical space at a specific time of existence."
'FOR/AGES,' ANJO BOLARADA
BOLARADA is talented enough to afford compelling artistic expression through different genres, from drawing to painting, from mural to installation, from video to performance. He deals with the relationships of man with himself, with one another, and with his environment.
For his latest exhibition, the chosen topic is food security, and the weapon of choice are spoons.
Bolarada takes the cue from the cliché "born with a silver spoon," creating a group of expressionless, human-faced spoons, representing the widened social-economic divide due to the current pandemic.
The show is titled For/Ages, a play on the word "foraging," or the process of gathering food; and "for ages," signifying the time spent on the relentless cycle of hunger and satiation.
'FOREST OF AGENCIES,' ISOLA TONG
Forest of Agencies is Isola Tong's convergence of interests. Inclined to transgender politics and ecosystems, the artist is also an architect who's part of a larger research project on the Arroceros Forest Park, tagged as "Manila's last lung" cared for and preserved by the women of Winner Foundation.
Tong reimagines the project and looks into the relationship between urban life and the flourishing forest, consistent with her inclination to animate environments. In turning our attention to this exemplary ecology, we are transported to "a chimeric locationality outside the heteronormative time-space constructs, rife with anachronisms, multiplicities, moments and becomings."
For the show, Tong created six paintings that depict cellular cartography.
'UGH,' FAYE PAMINTUAN
RECENT news events have been taxing, to say the least. It takes a toll on everyone, and Pamintuan is no exception.
The young artist spent her formative years in Texas, and is currently residing in Bulacan. Having to deal with places on opposite sides of the world led Pamintuan to question the idea of barriers and to fill the space in between.
Such was her task in her latest exhibit, wherein the artist tried to fill the gaps and make sense of everything that has been happening.
The result is a show titled with the monosyllabic sigh of defeat: ugh. Using gestural brushstrokes and color combinations that communicate her textured feelings, Pamintuan produced pieces that tackle aspects of living during these uncertain times.
One deals with makeshift living; another talks about body clock. But through the artist's articulate interpretation, each piece successfully conveys the very emotion of the show's title.