---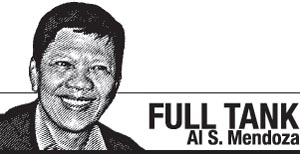 WE have practically stopped producing vehicles and, instead, we are now restructuring, if not reshaping, our mobility partners in the transport sector. The bus will now be half-full—or half-empty? Whichever, the vicious virus has so ordered.
Same with the jeepney. Half-full or half-empty, we must abide. The vicious virus is merciless: It prohibits us, from hereon, to be close to one another.
The taxi has not been spared, either. Its four passengers minus the driver will be reduced to three: Two at the back and one in front (passenger seat).
The new cab, like the bus and the jeepney, has to be reconfigured, too, as to put a divider between the driver and the passenger-seat rider. The same divider—a plywood maybe, a glass, whatever—shall be installed to separate the backseat passengers, whether they're lovebirds or complete strangers to each other.
The tricycle is to have just one passenger.
Bicycles and motorcycles are solo ride business, too.
Other transport modes like the calesas for tourists will have a maximum of at least two passengers only, minus the driver.
The new normal will see fares rise astronomically to make business stay afloat—naturally.
Because of this, trips will now be planned with utmost care. Social travels are no longer palatable; a spur-of-the-moment trip to the country a fling no more.
As to private vehicles, physical distancing is strictly enforced as five-seaters become four-seaters at least and seven-seaters reduced to four-seaters, too, and so on and so forth.
Adjust and adapt is the name of the game, or the vicious virus rules forever.
Honda reopens
ALL Honda dealerships have reopened, including its after-sales operations.
Strict health and safety protocols will be implemented, including daily inspection and sanitation in high activity areas, such as the showroom floor, vehicle delivery, vehicle maintenance and repairs, and business transaction areas.
All customers and dealer-associates will be scanned for body temperature before entering the dealership premises. Those with a body temperature of 37.5 degrees Celsius and above will not be allowed to enter.
Customers will be required to wear face masks while inside the dealership and must sanitize their hands before entering and while inside the dealership premises. Dealer associates will be required to wear prescribed PPEs.
Social distancing (1 meter apart) shall be observed throughout. All common areas will have demarcation lines to ensure this is strictly followed.
BMW new protocols
FROM Nico Ylanan of BMW, this:
"SMC Asia Car Distributors Corp. [SMAC], the official importer and distributor of BMW in the Philippines, is pleased to announce the reopening of its dealer network in the country. With the national government announcing new work guidelines and a reclassification of community quarantines in several regions, BMW dealerships have adapted modified working hours and adjusted personnel in order to offer the best customer brand experience.
"Select dealer partners have opened as early as May 16 to begin disinfecting procedures in their facilities and start catering to guests. While these showrooms will be ready to accept guests, after-sales services such as vehicle maintenance and warranty work, must be scheduled via the official BMW Philippines Aftersales Portal at: http://aftersales.bmw.com.ph/.
"The complete schedule for all operating showrooms and service centers across the BMW network can be found at BMW Philippines's official Facebook page.
"The BMW network now implements a comprehensive set of safety protocols that must be observed by dealership personnel and guests at all times. This is to ensure a safe, comfortable, and enjoyable experience for everyone moving forward:
1. A single entry and exit point will be designated at BMW dealerships;
2. Guests are required to wear facemasks at all times;
3. Guests must wash their hands at a provided wash basin and utilize the footbath for disinfection;
4. Guests must undergo a temperature check upon entry;
5. All guests must fill out a simple health questionnaire for contact tracing purposes;
6. Serving of coffee and snacks are suspended, but bottled water may be requested;
7. Test drive opportunities remain available. We ensure that every vehicle is properly disinfected before and after use;
8. Expect dealership personnel to implement social distancing and the wearing of face masks and face shields with every interaction; and
9. Frequently touched surfaces in each facility are sanitized every two hours. "While we are excited to restart the BMW business, the safety of our team members is of paramount importance," said SMC Asia Car Distributors Corp. President Spencer Yu. "We hope our guests can bear with us as we make your dealership experience as safe and enjoyable as they can possibly be. We enjoin everyone, from our own personnel to our valued guests, to do our part. In doing so, we can help bring the country a step closer to healing."
PEE STOP Healing and heading towards recovery, if not resurrection. We must all do our part in rebuilding what was destroyed—and still being destroyed, seemingly—by Covid-19, which is the solid trust and confidence we had always entrusted to all the players in the industry—from the painter to the producer, designer to the dealer, engineer to the entrepreneur, messenger to the manager, pathfinder to the president. Together, we can.… Thank you again to Toyota & Lexus Chairman Alfred Ty. Our secret stays…