---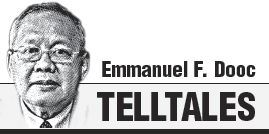 Karol Josef Wojtyla was born on May 18, 1920—exactly a century ago yesterday. He is better known as Pope John Paul II, the first non-Italian Pope in over 400 years. He was the Prince of the Catholic Church from 1978 and his Papacy ended upon his death on April 2, 2005. He was born in Wadowice, outside the city of Krakow, the former capital of Poland. His life was attended by heartbreaking deaths of all his immediate family members before he attained full adulthood.
His only sister died at infancy before Wojtyla was born while his mother died when he was barely three years old. But it was the death of his elder brother, Edmund, which greatly saddened him. Edmund was a doctor who died young when he contracted scarlet fever, a raging epidemic in Europe at that time. He was a frontliner who was infected by one of his patients. Pope John Paul II recalled his brother's tragic death later when he was a Pope and admitted that the circumstances of Edmund's death affected him more than his own mother's death earlier who died of heart and kidney problems.
Wojtyla's father and relatives never had an inkling that he would become a priest. He was a highly spirited young man. He loved football and served as a goalkeeper. He even played for the Jewish team in their community despite the strong anti-Jewish sentiments then whenever the local Jewish team lacked players. He excelled in other sports as well like skiing and swimming, and in academics studying both Greek and Latin. With his athletic and handsome looks, he considered becoming an actor when he was a teenager. At this period, he had a beautiful Jewish girlfriend who was an actress. When he was 15, a young prankster pointed a gun at him without knowing that the gun was loaded. Wojtyla escaped death when the gun narrowly missed him. But in 1981, an assassin shot him twice right in St. Peter's Square while he was blessing the huge crowd. He survived the attack and forgave his assailant.
He was ordained a priest after the war. The horrors of the hostilities changed Wojtyla. He witnessed the sufferings around him and the cruelties inflicted by the Nazis to his people. He studied priesthood in an underground seminary instead of pursuing his dreams to become an actor. At the same time, he supported the underground forces operating in Poland by passing anti-Nazi propaganda materials. He hid until the war ended when the Nazis put him on the wanted list. He pursued further studies in Rome earning degrees in Philosophy and Theology. In 1967, he became a cardinal and installed as the Archbishop of Krakow. Meanwhile, he continued to challenge the communist regime in Poland and encouraged the opposition elements made up mostly of the powerful pro-democracy labor unions. He succeeded Pope John Paul who died in 1978 and whose name he adopted to honor his predecessor.
He was one of the most traveled and active Popes of all times. He had made 102 foreign trips and 142 travels within Italy. He delivered more than 3,000 homilies and speeches and wrote 14 encyclicals. Wojtyla was an activist Pope. He once intoned that "(W)hat justifies the existence of any political activity is service to man." He admonished that the Church "seeks the truth, which is not always the same as the majority opinion. She listens to conscience and not to power, and in this way she defends the poor and the downtrodden." Pope John Paul II was admired around the world even by non-Catholics for his capacity to identify the ethical and social issues of his time and relate them to the doctrines of the faith. Likewise, his affinity with and love for the youth carried universal support. He organized World Youth Day around the globe where on one occasion, he proclaimed, "(T)his is no time to be ashamed of the Gospel. It is the time to preach it from the rooftops." And noting the rise of authoritarian governments, he sharply pointed out, "as history demonstrates, a democracy without values easily turns into open or thinly disguised totalitarianism." As a respected world leader, he worked to bring about political change particularly in his native country, Poland. Time Magazine reported that on June 7, 1982, he and President Ronald Reagan met and clandestinely planned to overthrow communism in Eastern Europe, starting with Poland. Working together, the pro-western labor unions, American pro-democracy forces, the CIA and the Catholic Church supported the Solidarity movement uprising in Poland, which installed Lech Walesa as the new leader. The revolution became widespread, reaching other communist countries in Europe, including Russia.
In the face of the Covid-19 pandemic, let's recall to mind his stirring words, "(D)do not abandon yourselves to despair. We are the Easter people and hallelujah is our song." He died in 2005 at the age of 84 in the Vatican. He was canonized as a saint on April 27, 2014, together with Pope John XXIII, in an official ceremony led by Pope Francis.