---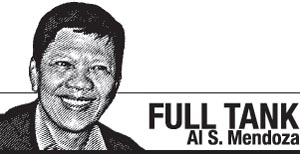 I receive numerous stories day in and day out. Two items caught my eye this week. One came from Jon Hernandez of San Miguel Corp. (SMC) and the other from Nadinne Capistrano of Toyota Motor Philippines (TMP). They dealt on heroic efforts to combat Covid-19—naturally.
First, from SMC's Jon:
"SAN Miguel Corp. completed construction of 10 emergency quarantine facilities for Covid-19 patients, with help from the Armed Forces of the Philippines [AFP].
"The buildings have 15 beds each for a total of 150 beds.
"We thank the AFP for allowing us to build these facilities beside their military hospitals," said SMC President and COO Ramon S. Ang. "This collaboration will help the government save more lives, including our military personnel working as front liners during this pandemic.
"The facilities were constructed in Westmincom Hospital in Zamboanga [April 22], NOLCOM Hospital in Tarlac [April 23], Eastmincom Hospital in Davao City [April 23], SOLCOM Hospital in Lucena City [April 24], Philfleet in Cavite City [April 28], Veterans Memorial Medical Center in Quezon City [April 29], Centcom Hospital in Cebu City [May 1], Joint Task Force-NCR in Camp Aguinaldo [May 1], CJVAB Hospital in Pasay City [May 6], and WESCOM Hospital in Palawan (May 6).
"Mister Ang said it is important to have these facilities ready should the need to isolate more Persons Under Investigation [PUI]arise. He also said SMC is looking to build more such facilities in more areas.
"Earlier, SMC turned over five sets of testing machines and test kits to the Department of Health [DOH]. These RT-PCR machines allow for an additional 11,000 tests a day.
"The company also donated additional 20,000 testing tests to the Research Institute for Tropical Medicine [RITM], San Lazaro Hospital, Vicente Sotto Medical Center in Cebu, and Southern Philippines Medical Center in Davao. The company also donated over 54,000 sets of personal protective equipment (PPEs) to over 100 hospitals nationwide and the Office of Civil Defense.
"SMC also donated an additional 10,000 locally sourced and produced PPEs from local garment manufacturers to the Philippine General Hospital."
Thank you to Mr. Ang for his usual philanthropic ways.
From Toyota's Nadinne:
"BEING the perennial good corporate citizen, Toyota Motor Philippines\energetically chaired by Alfred V. Ty has thrown its support behind Department of Transportation's (DOTr) 'Free Ride for Health Workers Program."
"In collaboration with the Toyota Mobility Foundation (TMF), an independent not-for-profit organization aimed at enabling mobility for all, TMP has provided sanitized, 'Just-In-Time' transportation services to our frontliners at Philippine General Hospital.
"Under this free-of-charge mobility support, up to 10 connected and sanitized shuttles are provided around the clock to cater to the different shifts of the workers to ease their burden. Equipped with a Just-In-Time booking app, this service allows greater certainty in the pick-up time at locations close to home for workers for enhanced security.
"To reduce the risk of infection, these shuttles are equipped with air purifiers and disposable seat covers replaced periodically, in addition to being frequently cleansed. Drivers and cleaning crew will don personal protective equipment as well.
"Said Atsuhiro Okamoto, president of TMP: 'To express our appreciation to the frontliners for their courage and sacrifice, Toyota partners with the Department of Transportation to support our modern-day heroes. We will continue with our commitment to improve the quality of life of Filipinos, especially in these trying times.'
"Pras Ganesh, program director for Asia Region of TMF, added: 'Using our expertise in mobility solutions, TMF aims to support the Philippines's health-care workers in their daily commute, by providing a solution that offers peace of mind to maintain their well-being with this sanitized, Just-In-Time free shuttle service.'"
"The shuttle service will start from mid-May and operate for a period of three months, with the potential to be extended based on necessity.
"Separately, TMP has also allocated 49 vehicles to various government hospitals, local government units, and other volunteer groups to transport frontliners and other health workers.
"Other efforts to help the community include Toyota Motor Philippines Foundation's [TMPF] donation of PPEs and distribution of rice and grocery packages to families. TMP employees also pooled personal resources voluntarily to provide more PPEs, basic food supply to the less privileged, and monetary support to non-regular employees.
"In addition to this, Metrobank Card Corp. is giving Petron fuel rebates to frontliners who are Toyota Mastercard holders."
Do I see Tini Arevalo, the TMP vice president, giving Nadinne a pat on the back for another job well done?
PEE STOP I can see that we're making progress in our determined bid to lick this scourge seemingly in grim grip of the world by the throat. United, we will win. In full faith, God will give us back the life we used to know—and love.