---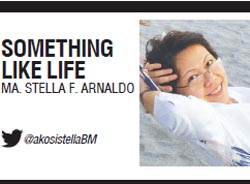 NUTRITIOUS food is one of the best ways to help us beat this coronavirus (Covid-19) monster in our midst.
So if you're on a 14-day self-quarantine after having been exposed to a person under monitoring (PUM) or a person under investigation (PUI), or just stuck at home because of the enhanced community quarantine in Luzon, two of our chef-friends have gladly helped out in advising what food ingredients we must absolutely have in our refs. They are also sharing two very simple recipes we can follow to whip up flavorful and nutritious dishes for us and our families.
Pampanga-based Chef Sau del Rosario (25 Seeds) says we need to fuel our bodies with a lot of food rich in vitamins to help achieve a strong immune system. So he suggests buying a lot of fruits (pomelo, lemon calamansi, mango and pineapple). For proteins, buy chickens, eggs, tofu and beef.
He also recommends yogurt, coconut juice, electrolytes and water, and stocking up on broccoli, almonds, loose-leaf infused teas like moringga, green tea, turmeric, garlic, and ginger.
BEEF BROCCOLI CASSEROLE
(six to eight persons)
Ingredients:
1 kg beef tenderloin, cut into cube
1 kg broccoli florets
100 g garlic, minced
100 ml olive oil
1 tsp chili flakes
Salt, pepper to taste
2 tbsps butter
Procedure:
1. Blanch the broccoli in a hot salted water. Set aside. Half-cooked only.
2. Meanwhile, season beef with salt and pepper.
3. In a hot sauté pan over medium fire, place the garlic and cook for three minutes. Add the beef but do not stir, let all sides get brown.
4. Add broccoli and season with salt, pepper and chili flakes.
5. Cook for another two to three minutes and finish with 2 tbsps of butter.
Meanwhile, Cebu's very own Chef Myke "Tatung" Sarthou (Talisay The Garden Cafe) suggests making soup as "it is the most nourishing and easy to do."
Here's a quick recipe he has shared.
CHICKEN SOUP (four persons)
Ingredients:
1 whole chicken
6 slices ginger
1 onion, cubed
2 potatoes
1 carrot
1 head pechay or cabbage
1 tsp pepper
Patis to taste
Procedure:
1. Wash chicken pieces and put in a pot with water with ginger, carrots and onions. Cook over medium fire for 30 minutes.
2. Add potatoes, and season with some patis.
3. Before potatoes are fully cooked, add cabbage or pechay, and cook for a minute to two minutes.
4. Add pepper and serve. (You can also add other veggies of choice, says Chef Tatung.)
These past few days, I, too, have been busy in the kitchen, cooking my own meals to avoid ordering. While I'd like to support our neighborhood restaurants, I also want to lessen the burden on the food preparation workers and the delivery guys, so as not to put their lives at risk by being constantly out there. Prior to the Metro Manila lockdown, aside from the fresh meats already mentioned by Chef Sau, I also stocked up on cans of corned beef, canned tuna in water, soy milk, instant soups, bottled sardines, spaghetti noodles, 2.5-kilo bag of brown rice, coconut sugar and the like.
Just to explain, instant soups like Knorr's line of cream of mushroom/corn/asparagus, etc., are the quickest way to get nutrition in your body. With one pack, you get at least five servings. Also, a pasta dish is one of the fastest to prepare; all one needs is to heat a can of tomatoes and mix in a tablespoon of butter, and half an onion. (For particulars, google "Marcella Hazan's tomato sauce recipe.")
For variation, another easy pasta sauce is to mince garlic, and sauté in olive oil. Add some chili flakes, then sprinkle salt and pepper to taste. Just top on cooked spaghetti noodles. (You don't have to completely drain the water from the boiled pasta, as the water helps flavor the sauce, as well.)
I also had to buy cleaning items like wet wipes, soap, disinfectant, dishwashing paste, and laundry detergent. Since I live alone, I didn't have to buy 10 shopping cart-loads of consumer goods and supplies, like how a wanna-be socialite bragged on her Instagram account. My bill was just a little over P3,000 on goods just to tide me over the 30-day lockdown—I'm sure there will be a few left over I can pack in my regular calamity panic basket. While supermarkets are allowed to operate, I didn't want to risk leaving the house anymore. (And I suppose we all wish we had enough funds to pay for a million-peso grocery tab. Unless that tab accounts for sharing these purchased items with those in need, and not just for stocking up our home pantries.)
Of course, the bill on my maintenance medicine for some minor health issues is a different story altogether, and is almost three-fourths of my grocery bill. (Oh, the pitfalls of living in a country where pharmaceutical firms produce basic drugs at expensive ++ prices!) Mercifully, Healthy Options has already restocked their zinc tables after some people apparently purchased box loads of it as well.
It still being Lent, I have no potato chips or any munchies at home. It was one thing I promised to give up for the period even before the lockdowns were announced. So watching Netflix and Amazon Prime movies or TV shows has been nerve-wracking. Good thing there's a bottle of whisky nearby to calm me down. (They did say to stock up on alcohol, right?)
Yes, this is going to be one looooong month. We need to keep ourselves properly nourished, as well as get enough sun and exercise. I'm sure there are other things we can do to keep ourselves occupied—reading books, cleaning the house, doing the laundry, or Marie Kondo-ing the crap out of your attic or garage.
And if you can't cook, well, this is probably the best time to expand your culinary repertoire beyond boiling an egg. Cooking is a life skill, as a celebrity chef once said.
We'll get through this, guys.
Image credits: Contributed photo