---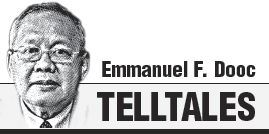 There's something wrong in a society that hoards toilet papers. A news report a week ago showed that Americans are panic-buying toilet paper by the tons. This was triggered by rumors that the commodity will be in short supply. To us Filipinos, the lack of toilet paper will not cause us loss of sleep, as long as we have our ever reliable tabo. I know a couple who does not leave our country without it when they travel abroad. It's indispensable like credit cards for some people. Years ago, before the advent of the toilet paper, it was reported that sailors used the frayed end of the rope dipped in sea water to clean themselves. Many households in the rural areas used corn cobs or dry grass. It's not uncommon for one to use newspaper pages, which makes him a literate ass.
People, however, preferred the yellow pages since they were softer and finer. You have to be choosy to avoid piles. It was a New Yorker, Joseph Gayetty, who invented the first commercial toilet paper. Its soft and gentle feel earned the patronage of customers. But Irvin and Clarence Scott revolutionized it when they manufactured toilet papers on rolls, now a leading brand called Scott paper. Many Americans cannot live without toilet paper, which has become a basic necessity for them. In fact, some politicians had placed their political ads on the roll wrappers, like what President Donald Trump did in 2016. Ever wonder why he has toilet-humor and his administration stinks to high heavens? Let's hope that the $1 trillion financial package, which the Republicans have crafted to deodorize the Trump rule, will work wonders.
****
Headlines read: "SM Supermalls to waive tenant rentals nationwide;" "Gokongwei sets P100M Covid-19 relief fund, waives mall rental;" "Banks offer grace period for loans during Luzon quarantine;" "Jollibee gives P100M food for Covid-19 front-liners;" "MetroBank and GT pledge P200M for Covid-19 response efforts;" "Alliance Global donates 1M liters of disinfectant ethyl alcohol to hospitals;" "Jollibee Group Foundation gives P100M worth of food to frontline health workers and checkpoint personnel;" "Ayala Group of Companies allots emergency response package of P2.4B;" "MVP Group donates disinfectant alcohol, face masks, PPE and multiple benefits to employees;" "SMC revives Nutribun for communities in need (this is in addition to hundred million worth of donation packages earlier made);" "Pag-IBIG offers 3-month moratorium on all loans;" "SSS and GSIS grant loans to members in billions;" "SSS will extend unemployment benefits to displaced workers." On of of these, many more responsible private companies and nongovernment organizations are helping out to help Filipinos suffering from economic difficulties. This is corporate social responsibility in action. The worst of times brings out the best in us.
****
We should thank our brave and selfless health workers—the doctors, nurses, and the PRC volunteers who fight the frontline battles daily against the coronavirus. Many of them do not even have their own means of transportation to take them to their places of work. Their heroic work to contain and prevent the spread of the virus exposes them to grave risks. They put their lives on the line serving the public. They even lack the basic protection gadgets like surgical masks, sanitizers, personal protective equipment and body shields to minimize the dangers that they face. Unfortunately, they have no hazard pay to justly compensate them for their risky jobs. I am glad that both the public and the private sectors are now recognizing their miserable plight. Among others, there are now vehicles provided to transport them to and from their work. Many private companies have donated the wherewithal to prepare and equip them properly in discharging their hazardous duties. Authorities are now discussing giving them hazard pay.
What is laudable is the recent action by brewers and distillers across Europe and America in switching part of their production facilities from manufacturing liquors and alcoholic drinks to hand sanitizers and alcohol. Some companies even temporarily stopped their production of spirits and intoxicating products in favor of hand sanitizer. Now, many famous brands like Absolut Vodka, Texas Whiskey and Rabbit Hole have joined the efforts. Locally, Ginebra San Miguel has adopted this move and switched some of their production to alcohol.
With this move, I shall now switch my allegiance to its PBA team, Barangay Ginebra. Not to be outdone, LVMH, the world's largest manufacturer of luxury goods, has started manufacturing hand sanitizer and distributed them free of charge. I just hope LVMH does not commit the mistake of putting alcohol in the perfume and cosmetic bottles under the brand of Christian Dior, Guerlain and Givenchy.
****
With social distancing becoming de rigueur, we cannot be thankful enough to anyone "who touches our life." This commonly used phrase will banish in our speech and writing during this age of pandemic.
****
Have you heard of the latest joke about Trump? Trump's brain has two parts, "left" and "right". On the left side, there's nothing right. On the right side, there's nothing left."