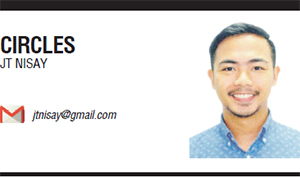 THE textured yellow in his sunflowers comes alive in one corner one moment, while the great detail of his self-portraits can almost be touched in the next instant.
The highly anticipated Van Gogh Alive exhibition opened in Manila over the weekend, which is set to present to Filipinos over the next six weeks the life of the master artist through the phases of his art.
"Vincent van Gogh's art has not just arrived in this exhibition, it has been infused with a fresh, new dimension," said Maria Isabel Garcia, managing director/curator of the Bonifacio Art Foundation Inc. (Bafi), one of the presenters of the show, along with One Bonifacio High Street.
Tagged as "the world's most-visited multisensory exhibition," Van Gogh Alive has toured over 50 cities globally. The show features a 45-minute narrative of Van Gogh's life between 1880 to 1890, when the distinct changes in his use of color, light and style reflected the underlying changes in his state of mind.
Breathing life to the show is SENSORY4, a unique system that combines multichannel motion graphics of 3,000 Van Gogh images and cinema quality surround-sound of classical music for a dynamic multisensory experience. The technology is developed by Van Gogh Alive creator and promotor Grande Exhibitions, a company that specializes in the creation, design, production, promotion and installation of large-scale exhibitions.
Van Gogh Alive is not Grande Exhibition's first project in the country. In 2013, the Australian group presented Da Vinci: The Genius with The Mind Museum, which is among the conceived and operated projects by Bafi, along with the BGC Arts Center and the BGC Public Art Program.
Garcia said they continue to put up such projects because the Filipinos do not deserve anything less.
"I always think that whenever we can figure out a way to create experiences like these, whether international or local, we have to do it because we deserve it," she said. "When things like Van Gogh Alive go to Paris or New York, people don't ask why is it there. We Filipinos deserve to get the best of experiences."
The exhibition begins in an antechamber that briefs guests of Van Gogh through mounted panels that contain information about his greatest works and his life. Along the hallway of texts stands out an eye-catching 3D installation: an interactive, life-size recreation of Van Gogh's Bedroom in Arles in its full color and intricacies.
The piece is inspired by Van Gogh's 1888 painting, which is among his most popular works and personal favorites. The Bedroom, as the artist simply called the piece, depicts Van Gogh's space in the Yellow House, a building in Arles, France, that he envisioned to be an artists' "Studio of the South."
Visitors will be then led to the main exhibition space: a dark room with 40 projectors and as many screens.
"The images are giant and they're on walls," Garcia said. "It's like being in a maze, except it's Van Gogh's works wherever you go. There's a perspective offered depending where you look."
She added that reception for the show has been great, as some weekend tickets have already been sold out.
"Van Gogh Alive is not Van Gogh gaining new relevance 150 years later, but the same genius up close and personal, navigating your soul in the language of nuanced light—from tender to cobalt blues, reticent creams to raging yellows, with the musical genius of Bach, Schubert, Vivaldi, among others," Garcia said.
For ticket information, visit www.vangoghalive.ph. Van Gogh Alive runs at the 4th level of One Bonifacio High Street until December 8.