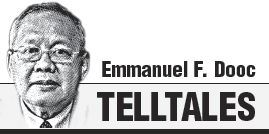 AS a law student many decades ago, I attended a forum where some faculty members spoke before the students. One speaker in his early 40s struck us, not just with his intensity and eloquence, but for his courage and conviction to speak out his mind against the Martial Law regime, and we were only a couple of hundred meters away from Malacañang. He admonished us to zealously guard our liberty and not to be cowed by the repressive regime that reigned in our land. I still recall his parting words, which he quoted from US Judge Learned Hand: "Liberty lies in the hearts of men and women; when it dies there, no constitution, no law, no court can save it; no constitution, no law, no court can even do much to help it. While it lies there, it needs no constitution, no law, no court to save it."
"Principled politician," "fightingest mayor," "fearless parliamentarian," and "stalwart of democracy" are some of the appellations added to his name, and no politician has deservingly earned them as Aquilino "Nene" Q. Pimentel Jr., as he was fondly called, had been part of our political consciousness when Filipinos were living dangerously during the Martial Law years. He first came to our attention when he represented Misamis Oriental at the 1971 Constitutional Convention. He strongly opposed the proposed provisions in the Constitution that betrayed the people's interests and exposed designs to perpetuate the ruling dictatorship in power. He was arrested and released shortly before the draft Constitution was signed by the farmers thereof. Pimentel, along with few other delegates, refused to sign the document, which further drew the ire of the dictator.
He hardly attended our class in 1978, particularly after he joined the Laban slate led by jailed Ninoy Aquino to contest the 21 seats in Batasang Pambansa for the NCR. But we followed him in his campaign trail. When the KBL slate swept all 21 slots amid allegations of massive fraud, a dozen intrepid classmates participated in the Protest March from Welcome Rotonda organized by the opposition, with him and some of his losing party mates leading the march. Our group was forcibly dispersed in front of the UST campus, and we found out later that he and the other leaders were arrested and incarcerated in Camp Bicutan, Taguig. And he had been in and out of jail since. While mayor of Cagayan de Oro City, he was arrested on charges of rebellion for giving P100 to an NPA commander. Again in 1985, he was arrested for his alleged role in an ambush in Cebu City.
Despite the threat to his life and security, he never wavered in his conviction to oppose tyranny and fight for our freedom. He continued to defend the oppressed and the poor. He was very visible in street demonstrations and protest movements. He was the founder and president of PDP-Laban, the dominant opposition political party that fought against the well-oiled political machinery of Marcos. He even won as city mayor of Cagayan de Oro City when Marcos allowed to hold the first local elections since the declaration of Martial Law on January 30, 1980, to deodorize his regime. His entire ticket swept the mayoralty and the city council race.
After Edsa, he served as the minister of the Interior and Local Government. He was first elected senator in 1987 where he authored several landmark legislations, which included the Local Government Code.
He resigned his position as Senate President when the Senate, acting as impeachment court, voted not to open the second envelope during the Estrada impeachment trial. He addressed Chief Justice Hilario Davide, who presided over the impeachment trial, and said: "Because of this development, Mr. Chief Justice, I believe that the 'Nos' have it. And therefore, I resign my presidency of the Senate as soon as my successor is elected." A rare act in politics where self-interest is the name of the game. He served three Senate terms (1992, 1998 and 2004) and briefly as Senate President. He was a champion of Federalism, an advocate of local government autonomy, a nemesis of election fraud and a staunch supporter of a ban on political dynasties. He was among the Magnificent 12 Senators who voted against the extension of the Philippines-United States Bases Treaty. He ran for vice president in 1992 in tandem with Sen. Jovito Salonga under the coalition banner of LP and PDP-Laban, a perfect combination in an imperfect political world. They lost without the support of President Cory Aquino. He made a comeback but was cheated out of victory in the 1995 senate electoral contest in the infamous Dagdag-Bawas Scheme. His quixotic protest was vindicated when he was eventually declared the winner.
His political odyssey is a story about courage, integrity and incorruptibility. He had confronted risks, embraced unpopular causes, opposed unbeatable foes and fought quixotic battles. Despite the high and powerful positions he held during his, more or less, five decades as a public servant, he did not amass wealth and died poor. He did not pander to popular demand, nor took the easier path. He has been consistent and unyielding in his principles since he entered public life. He lived and died by the words of Justice Learned Hand. Senator Nene, you are a profile in political courage.