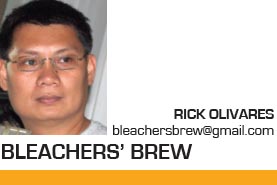 AFTER the National University (NU) Bulldogs crushed the Far Eastern University (FEU) Tamaraws, 61-39, last week in the ongoing University Athletic Association of the Philippines Season 82 men's basketball tournament, the former's Head Coach Jamike Jarin brought the entire team to the media room for the post-match press conference room.
Not only was that a first to have an entire team to bask in the afterglow of a badly-needed win, but it was classic Jamike Jarin.
Since he came up with the Ateneo Blue Eaglets where he won a smattering of titles (he also won coaching the San Beda Red Lions in the NCAA), he has never placed the spotlight on himself. He would only stay for a minute or two to be interviewed then turn it over to his players.
Jarin though has always been one of the most quotable coaches. His quotes are funny and insightful as is his basketball mind. One of the game's characters, I do hope his team does better because he does deserve better.
The Bulldogs are at the lower tier of the standings with a 1-5 record, but they could easily be at 5-1 had they not crumbled in the final minute of play in four of their five losses.
I have reasoned in the past and have done so this year that these Bulldogs are still too young. Last year, with players like John Lloyd Clemente and Dave Ildefonso coming up, it was learning to play together. Look, save for one or two players everyone else was the man on their respective high-school teams. Finding their place on the team or knowing their roles isn't something that can be accomplished overnight. That takes a huge paradigm shift.
This season, I have maintained that it is finding their legs—meaning I still don't think they would do well. It is by next season where they will finally gain some traction. It depends also what movements are made in the off-season.
I think this team is one solid power forward from seriously making a game out of it. Jonas Tibayan has played better this year, but he needs to be more consistent. He will given a bit more exposure and him gaining confidence.
I wasn't crazy about the addition of Troy Rike as a one-and-done player. That was a gamble. I thought that NU would have been better served had Tzaddy Rangel, Matt Aquino and Tibayan been given more minutes. Am not saying that in hindsight. I am just not crazy at this rule of one-and-done players because it does make a mockery of the college game.
Looking at this NU team and having closely followed them since the 1980s (I do have a lot of history with this team as their late Coach Sonny Paguia was my neighbor and I have been close friends with Manny Dandan and Eric Altamirano and have also worked with the school in some capacity), I think they are on the cusp of being a very good basketball team. They will add a few more pieces, but this is a good team.
If their junior players in Carl Tamayo, Kevin Quiambao and Gerry Abadiano move up, that will give them even more help.
Yet, that is in the future. By no means is the season over for these Bulldogs. They have to keep on winning ballgames to have that chance for a Final Four slot.
It would be nice to see Jarin bring the entire team again for that post-match presser. Maybe more.