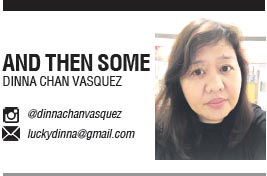 ONE of the good things about technology in relation to beauty is that we get to use and enjoy products that do more than just moisturize the skin. Thanks to technology, we have creams and serums that lift, eliminate dark marks, improve the skin's texture and many other things that 10 years ago or more seemed like a dream. We have oral sunscreen and peels that erase all the beauty mistakes (eating chocolates and drinking alcohol are examples) of our past.
NeoStrata is one of the brands that has benefited from advances in technology, thanks to its founders, Dr. Eugene van Scott and Dr. Ruey Yu, who discovered ingredients that have advanced the science of dermatology. I first heard of this brand in the 1990s, thanks to my dermatologist. The serum I used was expensive at P4,500 but it really helped even out my blotchy skin tone.
The name "NeoStrata" translates to "new layers" and these two words describe the brand's skincare philosophy and belief that visible results come from renewing layers of the skin. The brand's team of researchers has been studying topical skincare ingredients for over four decades, discovering and patenting some of the best-known technologies, like glycolic acid, which are licensed.
NeoStrata recently announced a rebranding that would divide their products according to skin concern, whether it is wrinkles, acne, dryness or whatever problem. The NeoStrata Skin Active line is a collection of premium products designed for maximum, noticeable results in potent formulations that work over time. This collection features benefit ingredients that are often combined into "complexes" to address the multiple concerns encountered while aging.
The includes different regimens to address different skin concerns. Each product within every regimen is formulated with potent, high quality performance-driven ingredients proven to work.
OK, this is what I have learned. You need to be patient when it comes to skin care. Nothing works overnight.
For instance, the Skin Active Tri-Therapy Lifting Serum contains the brand's proprietary triple antiaging complex of Aminofil, Gluconolactone, and Hyaluronic Acid. It claims to volumize slack skin, renew skin tone and smooth the skin. You start to see results after 12 weeks of use.
Look at the ingredients of NeoStrata Skin Active Tri-Therapy Lifting Serum:
Low Molecular Weight Hyaluronic Acid 0.5 percent to smoothen the skin. Due to its unique small size, it penetrates the skin's surface to attract moisture, which visibly improves skin texture.
Aminofil 1.25 percent is the brand's patented amino acid derivative that will volumize slack skin by reinforcing its matrix and targeting the skin's Hyaluronic Acid to volumize, plump and firm up the skin for a more lifted appearance.
Gluconolactone 8 percent is a hydrating Polyhydroxy Acid and chelator to help reduce oxidative damage and gently increase cell turnover for a more even skin tone.
DMark Beauty Corp. has been providing "Beauty Solutions Beyond Compare" for more than 20 years. Under the leadership of its CEO Nikki Tang, the company has brought well-known beauty and skin-care brands like NeoStrata to the Philippines. Trusted by medical professionals and consumers all over the country, DMark Beauty Corp. is the market leader in the distribution of effective antiaging skin care and minimally invasive skin rejuvenation treatment.
The company's products are available nationwide in dermatology clinics, aesthetic centers, beauty and personal-care stores, and e-commerce sites.
DMark Beauty Corp. has been NeoStrata's official distributor in the Philippines for over two decades. Thanks to this partnership, Filipinos are able to enjoy and experience for themselves NeoStrata's products.
"All women are beautiful, but sometimes, we have to polish that beauty to bring out the best in it.
I know that there are few women who are truly satisfied and content with their skin, and that's why I'm happy to have been partnering with NeoStrata for all these years. Together, DMark and NeoStrata work together to help our customers combat the effects of aging, and to help them be vigilant in protecting their bodily assets. I am so happy that DMark is the official distributor of NeoStrata in the country, and that there is so much more to come from this exciting friendship," said Tang.
Image credits: Nonie Reyes